Insights > New Schools for Baton Rouge: an Entergy Charitable Foundation Success Story
New Schools for Baton Rouge: an Entergy Charitable Foundation Success Story
03/21/2018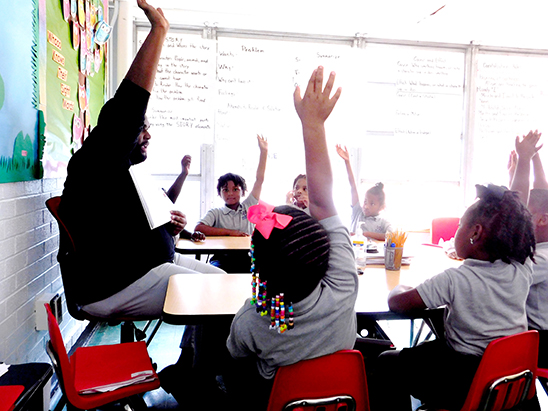 BATON ROUGE, La. – Support from the Entergy Charitable Foundation has helped New Schools for Baton Rouge respond to the community's demand for excellence in public education by helping transform underperforming schools in the capital city.
Entergy recently announced $1.1 million of new Entergy Charitable Foundation grant awards, provided to community improvement partners in states where the company operates. The new awards bring the program's total 2017 contributions to $2.4 million. A list of new recipients can be viewed here.
The Entergy Charitable Foundation is just one of a variety of Entergy programs that support nonprofits in local communities. In total, Entergy Corporation supports more than 2,200 nonprofits annually with charitable contributions of approximately $16 million.
For New Schools for Baton Rouge, a longtime partnership and multi-year grants through the Entergy Charitable Foundation totaling more than $1 million have helped recruit and launch proven, high-performing school organizations to provide quality options for students in the Baton Rouge community. Joining forces with Teach for America and City Year, NSBR has partnered with communities in North Baton Rouge to improve schools, provide high-quality teachers and increase support for students at greater risk of dropping out.
The teamwork has launched seven new schools, and NSBR remains committed to improving school options for underserved students in the North Baton Rouge area.
"The support of corporate partners like Entergy is critical to advancing our goal of ensuring an excellent school for every child in our community," said New Schools for Baton Rouge CEO Chris Meyer. "We believe that quality schools change lives, and we are proud to partner with Entergy to build a better future for Baton Rouge."
"Investing in public education is one of the most important ways We Power Life and brighten futures in our communities," said Phillip May, president and CEO of Entergy Louisiana. "New Schools for Baton Rouge is helping to expand quality choice school options for some of Louisiana's highest-need students and preparing students for success beyond high school graduation."
---