Insights > Providing Relief to Those in Need
Providing Relief to Those in Need
08/27/2018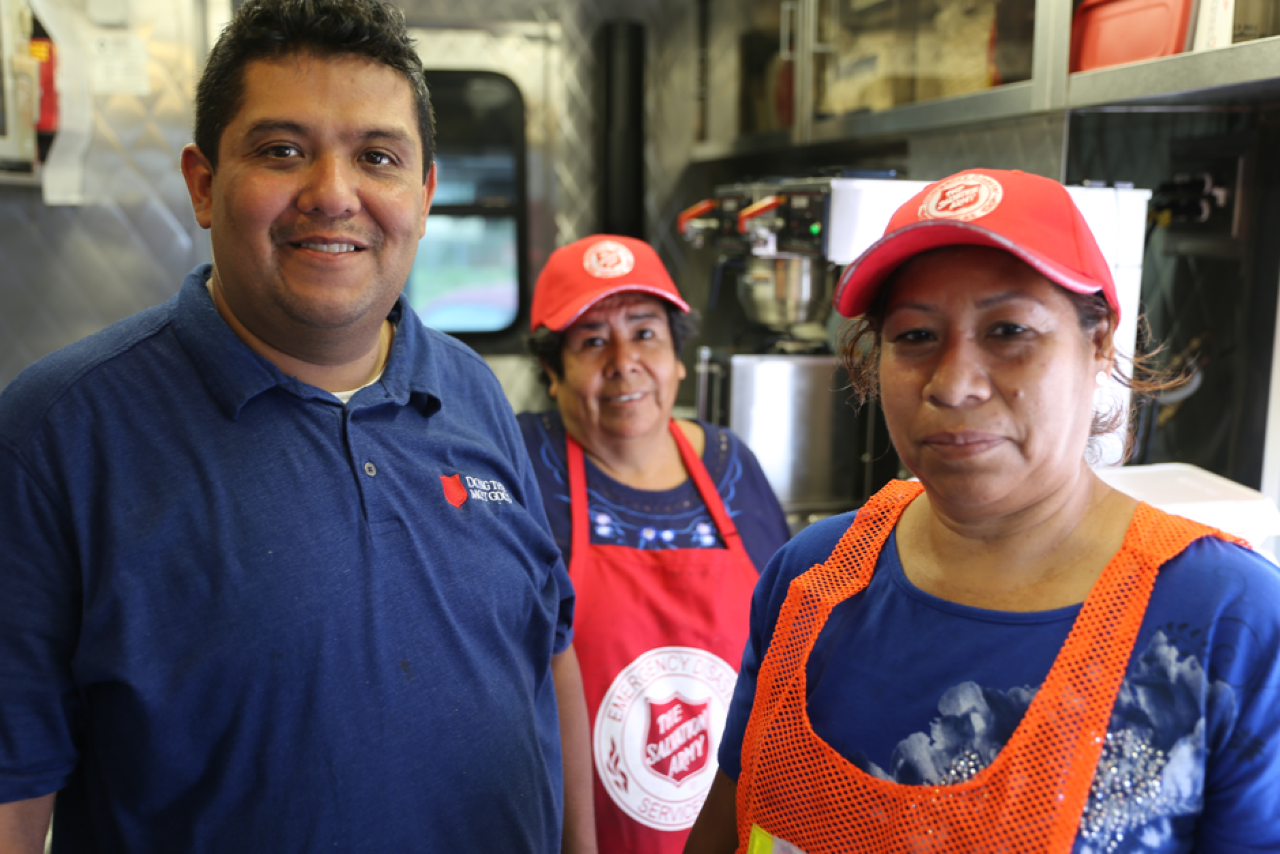 One year after Harvey, we're still inspired by the resilience of our communities. The devastation from the storm brought out the best in people. We wanted to share just a few of the inspiring stories and people that make Southeast Texas strong.
In the quiet of a prayer service, Capt. Donald Marvels took a moment for reflection. This relative calm came during an assignment to Beaumont following Hurricane Ike. Capt. Marvels thought about his 14 days in Beaumont and all that he had seen. "Someday, I'd love the opportunity to be assigned here and serve the Beaumont community again."
Ten years later, he had his chance.
Capt. Marvels and his family had arrived back in Beaumont on June 19, 2017. He had gotten his wish and would be starting as the Commanding Officer for the Salvation Army Beaumont. Two months later, Tropical Storm Harvey tested him as it blew across the Golden Triangle.
In those days following Harvey, uncertainty hung thick in the air. Even though the rains had passed, whole communities had been swallowed by flooding and residents were uncertain if more was to come. The storm had resulted in power outages, and Beaumont had lost its water supply.
"The most immediate need was getting food and water to people," said Capt. Marvels. "We must have had 1,500 cases of water that we were able to distribute. And people kept coming to our shelter as we opened up more spaces to accommodate."
As people got a hot meal and a shower in that crowded facility, it was the simple expressions of humanity between strangers that stuck with him the most.
"Even though all these people had their lives ravaged by the storm, you could see the love from people," recounted Marvels. He recalled a woman and her son. "Her son was in a wheelchair and she was having some difficulty helping him. Immediately, three strangers stood up to lend her a hand. In that moment, you could see her tears go from anguish to gratitude."
Those moments of compassion followed Marvels throughout his time responding to Harvey. Following the storm, supplies from across the country poured into Beaumont. The Salvation Army received truckloads of supplies from places as far off as Ohio and Hawaii. Workers crisscrossed the region distributing hot meals and supplies to help the rebuilding effort.
"Harvey didn't care who you were, whether you were affluent or poor. It took its toll on everyone, but the community came together to overcome. Everywhere we went, people were so grateful to see us and thank us for not forgetting them. When I think back, I still hear people's relief when they saw us coming."
One year later, Marvels and the Salvation Army are still working to help those in need. While shelter may be less crowded, families across Southeast Texas are still in need. The Salvation Army has given $2.8 million to help residents in the Golden Triangle. This includes rebate programs with M&D Supply, Ashley Furniture and JCPenny for residents still piecing their lives back together.
---