Insights > River Bend Station Welcomes New Neighbors
River Bend Station Welcomes New Neighbors
04/19/2018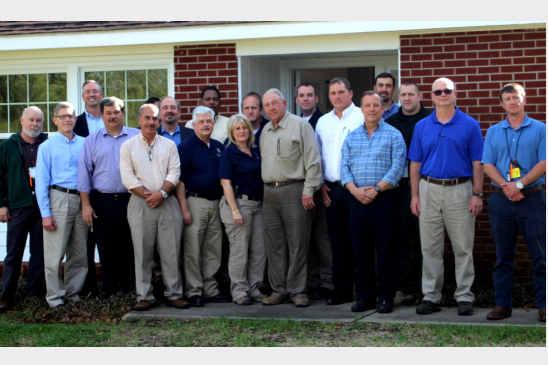 West Feliciana Parish Sheriff's Office moves personnel to site building.
When the West Feliciana Parish Sheriff's Office needed new office space for its criminal investigation division, River Bend Station came through with a perfect solution. The station allowed parish personnel to move into an unused building onsite that formerly housed River Bend's human resources department.
"River Bend Station values the community we serve, and we depend on local organizations like the Sheriff's Office to protect our community and support our emergency plan," said Site Vice President Bill McGuire. "We were more than happy to help."
Sheriff Austin Daniel approached River Bend leaders to inquire about the vacant building after the parish's rented office space was put up for sale. With time running out, they needed to find a new space for their detectives and support staff.
River Bend Station leadership agreed to allow the parish to use the space but wanted to improve the condition of the building first. The building had been vacant for several years and needed some upgrades. The site's projects team helped renovate the building, and the parking lot was repaved and relined. Sheriff's Office personnel moved into their new office in early 2018.
From left, River Bend Station Engineering Director Sergio Vazquez, West Feliciana Parish President Kevin Couhig, Sheriff Austin Daniel, RBS Vice President Bill Maguire and River Bend Station General Manager Steve Vercelli are shown in front of the new criminal investigation division office.
River Bend Station employees renovated an unused building onsite and repaved the parking lot to prepare it for Sheriff's Department personnel.
---