Insights > Rogers, Griffin and Enriquez Honored with President's Lifesaving Award
Rogers, Griffin and Enriquez Honored with President's Lifesaving Award
06/27/2019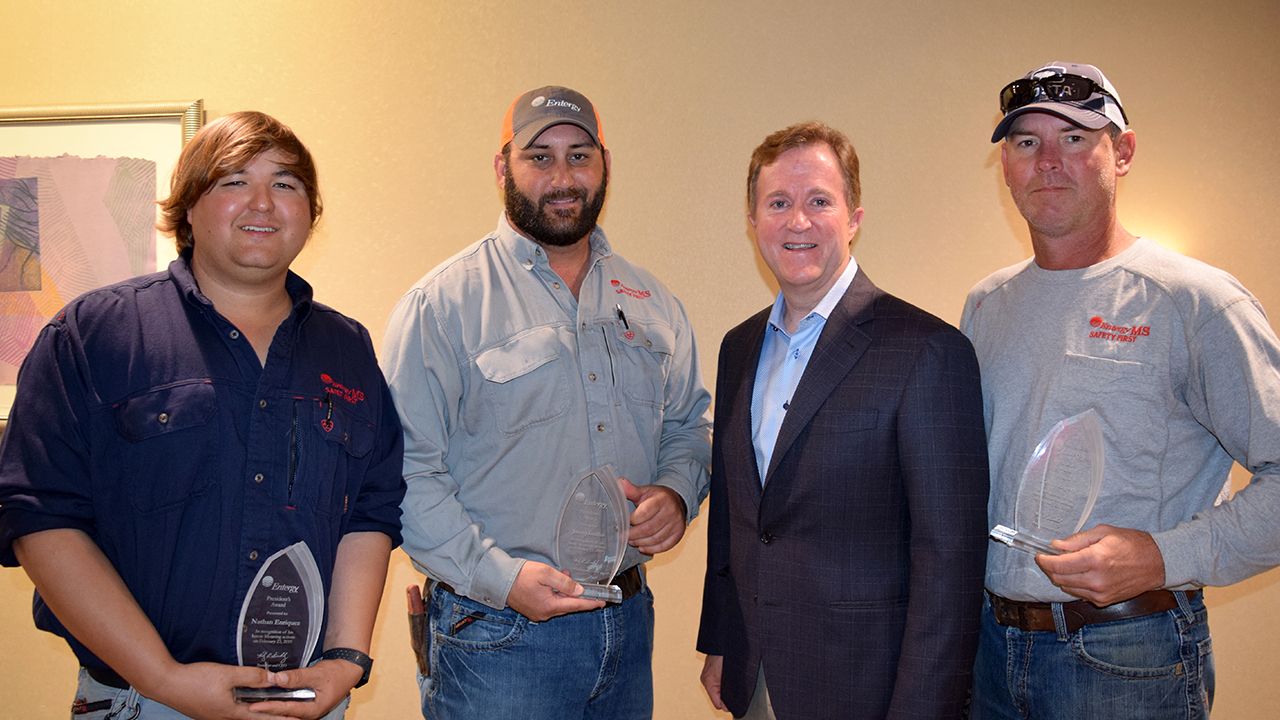 Three Entergy Mississippi linemen from Cleveland, Mississippi became social media superstars when they saved a motorist from floodwaters in late February. Now, they've earned official hero status. Haley Fisackerly, president and CEO of Entergy Mississippi, awarded Kevin Rogers, senior lineman, Justin Griffin and Nathan Enriquez, both lineman first class, the company's President's Lifesaving Award on May 7.
The crew was on their way to restore an outage in the middle of the night and it was pouring rain. Parts of the Mississippi Delta were flooded and because they were alert, they saw a motorist in terrible trouble just north of Parchman, Mississippi. He was standing on the roof of his car, the water was up to his chest and he couldn't swim. Rogers, Griffin and Enriquez sprang into action, brought the man out of danger to dry ground and then made sure he got home safely. Their actions saved his life.
"It would have been easy for Kevin, Justin and Nathan to call someone else to come help this man," Fisackerly said. "Instead they assessed the situation and used their equipment safely to rescue him and get him the care he needed. The way they handled this risky situation says a lot about who they are as individuals. I'm proud we have people like them on our team."
All three were humbled to receive the honor.
"It feels good to be appreciated for doing what, in my opinion, is the right thing," Rogers said.
"Kevin hit the nail on the head," Griffin added. "It is nice to be recognized, but we were just doing what we've been trained to do. I hope it's what anybody would do in that situation."
And, Enriquez echoed their sentiments.
"This a great honor," he said. "I'd do it again in a heartbeat."
Read the full story of their heroic rescue.
---