Insights > Telling the nuclear story
Telling the nuclear story
05/15/2023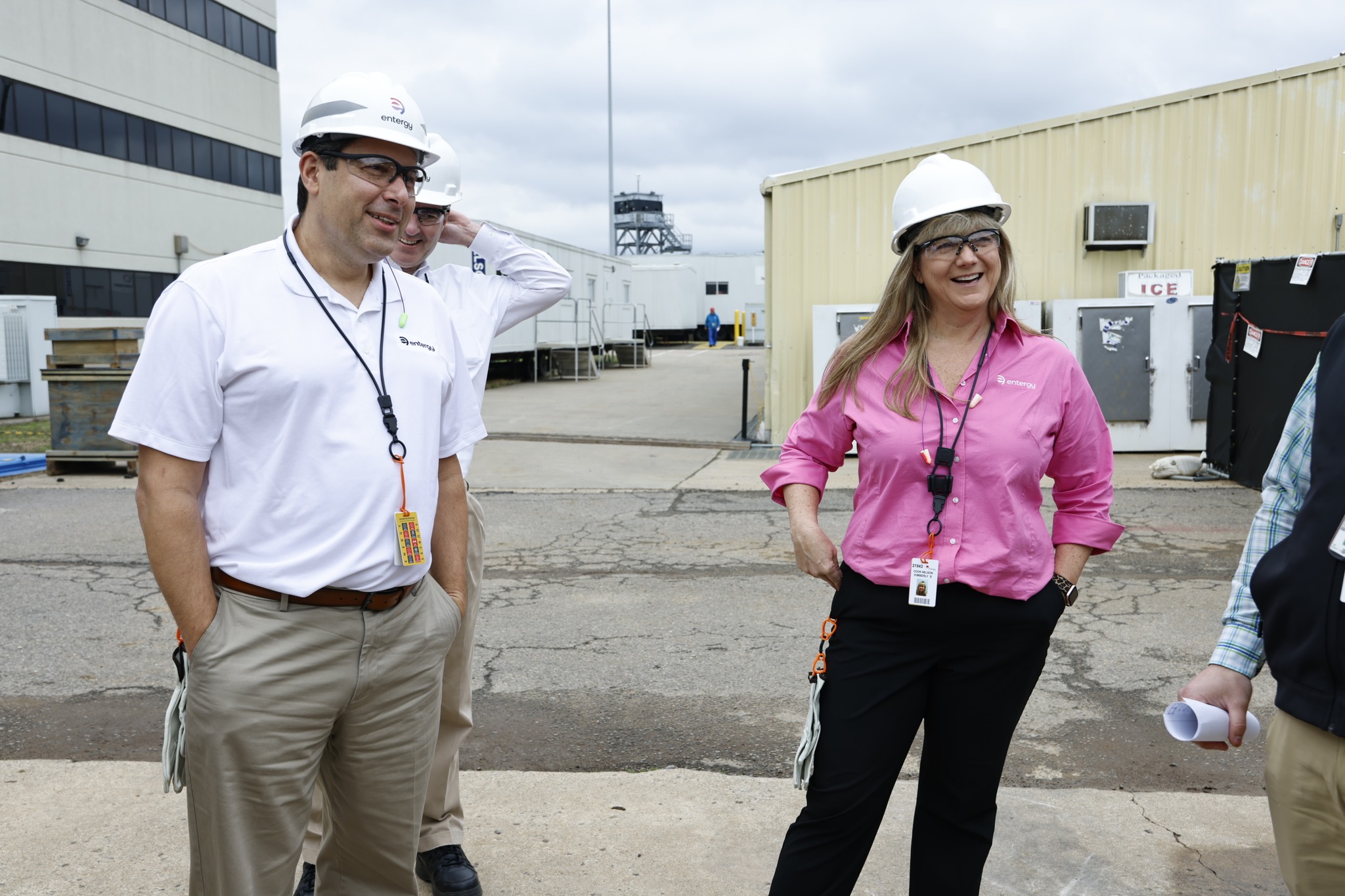 Entergy's Cook-Nelson oversees operations for three states
Kimberly Cook-Nelson recently sat down for an interview with the Delta Business Journal's Jack Criss to discuss the benefits of nuclear power and her journey to become one of only three female chief nuclear officers in the country. 
Cook-Nelson was named Executive Vice President of Nuclear Operations and Chief Nuclear Officer of Entergy in November of 2022, where she is responsible for the safe, secure and reliable operations of Entergy's four nuclear power plants and five reactors located in Arkansas, Louisiana and Mississippi. Entergy Nuclear is headquartered in Jackson, Mississippi. 
As a member of the company's office of the chief executive, Cook-Nelson is also engaged in building and strengthening relationships with external stakeholders. Prior to her current role, she served as chief operating officer, nuclear operations from 2021 to 2022 with responsibility for Arkansas Nuclear One, River Bend and Palisades nuclear generating stations. She served as Entergy's vice president, system planning and operations from 2019 to 2021, where she was responsible for the local balance authority, energy marketing, commercial operations/origination, energy settlements, non-nuclear fuel purchasing and scheduling, long-term capacity planning and more.
In 2016, Cook-Nelson—a Massachusetts native—moved to the Entergy Nuclear headquarters office as vice president, operations support, where she was accountable for the line corporate functional area managers, training, performance improvement, organizational effectiveness, and business planning. She previously held various leadership positions of increasing responsibility in system engineering, continuous improvement, maintenance, nuclear safety assurance and operations. She was the general manager of plant operations at Waterford 3 from 2011 to 2014. She also completed a rotational assignment at the Institute of Nuclear Power Operations, where she qualified and functioned as an organizational effectiveness team leader and a corporate evaluator. Cook-Nelson began her career in 1996 as a design engineer at Entergy's Waterford 3 nuclear plant in Killona, La., later moving to the nuclear safety analysis group where she focused on work in probabilistic risk assessment and risk-informed applications. She moved into plant leadership in 2001 as a mechanical maintenance first-line supervisor, followed by operations, receiving her senior reactor operator license in 2003.
She has an MBA, a master's degree in engineering management and a bachelor's degree in mechanical engineering from the University of New Orleans. She also attended the Advanced Management Program at the Harvard Business School. She is a licensed professional engineer and received her senior reactor operator license from the U.S. Nuclear Regulatory Commission for Waterford 3. 
DBJ: Congratulations on your new job and promotion! You've spent your entire career with Entergy, moving up to the top nuclear position as one of only three female chief nuclear officers in the country. Tell me about those years.
I've worked with Entergy for twenty-seven years and was in the nuclear realm for all of those years but two. So, given that, I knew I was on the trajectory to my new position and, honestly, I am so happy to be at this pinnacle of my career. I'm thrilled to work with the people I do and am thrilled to be in my new role. As a female executive, I've been in a male-dominated field and, while I've never been treated differently, it's a pleasure to be seen as a role model and inspiration to young women. We're "always learning," as we put it here at Entergy.
DBJ: What is your day-to-day focus now?
My focus is on our people and our long-range strategy. We want to empower our employees—everybody. My goal is for all of us to be better people physically and spiritually, with a strong purpose with the company and the communities we serve. Fulfillment is the key. I interact with people a lot, on a regular basis, and I love doing that.
DBJ: Have you discovered or learned anything new in your current role?
I am learning more about what our people on the ground are doing on a daily basis and how the nuclear unit can help them. It may sound simple, but it's the truth. Going forward, I think nuclear power is an exciting option and I am constantly meeting with people in politics and business about potential options. My challenge is to present the case for nuclear in the most positive, pro-economy way I can. And I'm up for that! 
DBJ: So what are the economic benefits of the nuclear program? 
Nuclear fuel is less expensive, for one thing, and we are able through nuclear to weather any possible disruptions to service. Additionally, we are providing well-paying jobs to thousands of Mississippi residents and residents in the other states where we have plants, and we are also committed to giving back to the communities we serve. That commitment is well-documented, and we are happy to help those in our service areas. As am I: my father was employed in the nuclear energy industry and I actually did a sixth-grade project on the benefits of nuclear so you could say it's in my DNA!
There's another significant economic and environmental benefit that nuclear offers: it's clean, carbon-free energy that is extremely important to helping Entergy meet its goal of net-zero carbon emissions by 2050. Lowering our carbon emissions can't be achieved through renewables alone, although those are important, too. Increasingly, industries are committing to reducing their carbon footprint, and when they look to relocate or expand, it's one of the first questions they ask:  how clean is the energy you provide? It's become an economic recruiting tool.
DBJ: Given the possible misconception by the public about the safety and reliability of nuclear energy, how do you assuage those misgivings or fears?
Our safety requirements are incredibly stringent and the record shows that nuclear power is very safe. There was a Forbes article a few years back that noted that the safest job in America is in the commercial nuclear industry because it's easy to measure and guard against radiation and because the extreme safety protocols at nuclear plants are the best in the world. What we have in place is very rigorous concerning safety, and we also work very closely with local political officials on training and response in the extremely rare case/event that some problem could occur. We are totally prepared. However, that is a preemptive measure. The benefits of the 24/7 carbon-free energy that nuclear can provide far outweighs any perceived negative perceptions. 
---