Insights > Terry Clark Receives Presidential Life-Saving Award for Heroic Rescue
Terry Clark Receives Presidential Life-Saving Award for Heroic Rescue
07/10/2018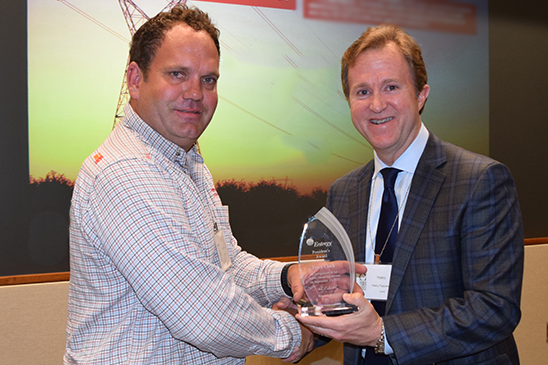 Terry Clark never planned on being a superhero. His instincts led him to that role while he was on the job late one afternoon last fall. He was behind an 18 wheeler on Highway 8 near Cleveland, Mississippi when two cars crashed in a head-on collision just ahead of the semi. It never occurred to him to run away from the danger; instead he jumped into action and helped save a woman's life.
After the crash, one of the cars came to rest in the ditch against a utility pole and was filling up with smoke. Clark and the truck driver both pulled over, blocking the road so other vehicles would not be in danger. He called for emergency responders over the radio and ran to the smoldering vehicle. Inside he found an unconscious woman in the driver's seat. The car's motor was running and the driver's foot was pressed down on the accelerator. The two men had to think and act quickly. Clark cut the seatbelt off and cut the airbag out. Then, he turned the ignition off so they could free the woman from the car and move her to safety. It wasn't long before the car was engulfed in flames.
What compelled Clark to stop and help? Humanity.  
"That's what we're supposed to do," he said. "If everybody helped somebody this would be a great world to live in. I wasn't involved in the accident and I could have sat there and watched. I had no reason to help other than it was the right thing to do."
Haley Fisackerly, Entergy Mississippi president and CEO, recently presented Clark with the company's Presidential Life-Saving Award in recognition of his heroism. Clark said he was doing the right thing and hopes others will do the same if faced with a similar situation.
"Don't be a bystander," he advised. "If somebody needs help, then help them. There's nothing worse than looking back tomorrow and saying 'I wish I could have' or 'I wish I did.' That's not the way to live life. I live life thinking 'I'm glad I did.'
---