Insights > Twenty-One Graduate from Transmission Boot Camp
Twenty-One Graduate from Transmission Boot Camp
09/10/2015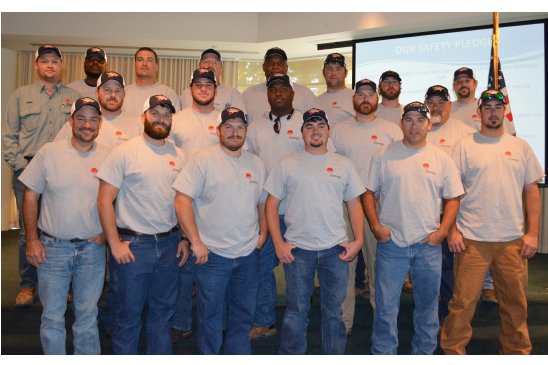 Class celebrates, prepares for a new chapter
In late August, the newest group of Entergy employees gathered to celebrate their achievements and start a new chapter in their careers. Twenty-one transmission linemen-in-training were joined by transmission leaders and safety and training staffers for this year's second transmission boot camp graduation.
"The past six weeks have been a great learning experience for all of us," said Lester Qualls, a boot camp graduate, to cheers and applause from the audience. "We've had wonderful instructors and a primary focus on safety. Each one of us brought our own unique style to the table, and everyone had something to give."
Now that they've graduated from the program, these new employees will go to home offices throughout the Entergy system. There, they'll begin on-the-job training and the certification process, in addition to doing their part to help keep the lights on for Entergy customers.
"We're so excited to have you on our team, and I look forward to working on serious issues with each of you," said Mike Vaughan, vice president of transmission asset management. "You have an important job, and we're committed to continuing to develop you. We need you to commit to learning all you can about your work. If you have a question, just stop and ask. Work with us to keep increasing your professional knowledge and expertise."
Employees celebrated with diplomas, class photographs, special awards and a group lunch. The gathering was the capstone event for the boot camp, which was held at the company's training center in Clinton, Mississippi.
The new employees are the second class to benefit from transmission's new craft curriculum, which is being rebuilt to align with evolving operational requirements. In addition, planning is underway for a training substation to be constructed in Mississippi, allowing relay and substation employees another venue for hands-on learning.
"During this boot camp, I've met some of the best co-workers and guys I could ask for," noted Blake Shano, a boot camp graduate. "From fellow students to instructors, everyone's been great. I always knew Entergy was a really good company to work for."
---