Insights > White Honored for Community Development Work
White Honored for Community Development Work
08/22/2019
Tandee White, community development project coordinator for Entergy Arkansas, was presented the 2018 SOAR Partner Award "for her exemplary service to the Breakthrough Solutions program and the people of Arkansas," according to a news release from Breakthrough Solutions, a community development program of the University of Arkansas System Division of Agriculture.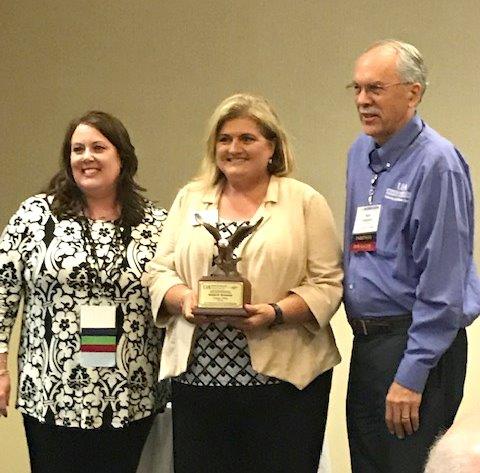 SOAR Award recipient Tandee White (center) is shown with Shelley Short of the Arkansas State Chamber of Commerce and Mark Peterson, coordinator of Breakthrough Solutions.
"Tandee's commitment to the program and our community partners sets the bar for what we aim to accomplish. We genuinely appreciate her and Entergy's commitment to our entire state through these efforts," said Dr. Mark Peterson, coordinator of Breakthrough Solutions and professor of community and economic development.
The Breakthrough Solutions SOAR Award is given to communities, regions or individuals who best exemplify the Breakthrough Solutions principles and spirit in their community development work.
Breakthrough Solutions is based on the premise that incremental improvement is insufficient for communities and regions to move forward and prosper. Communities and regions will be most successful if they seek to create breakthroughs on strategic issues that can impact and transform an entire community.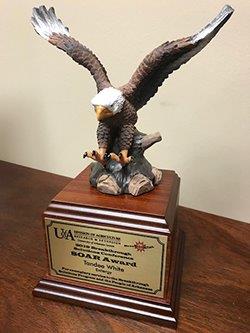 White joined Entergy Arkansas in January 1995 and has worked in marketing, corporate communications, regulatory affairs and customer service. The majority of her time with Entergy has been spent in economic development, where she is responsible for the design and coordination of community development programs. She consults with communities on site identification, development and certification, community and economic development education and training and community and economic development planning.
White has an MBA from the University of Little Rock with a concentration in marketing. She is a graduate of the Economic Development Institute and the Community Development Institute through the University of Central Arkansas in Conway. She received her Professional Community and Economic Developer designation in 2003. White is a member of Arkansas Economic Developers and Chamber Executives and serves on the advisory committees of the UCA CDI and Breakthrough Solutions. She also serves as treasurer of the Arkansas Community Development Society.
---