News Release > Arkansas Nuclear One Unit 2 Returns to Service
For Immediate Release
Arkansas Nuclear One Unit 2 Returns to Service
07/12/2017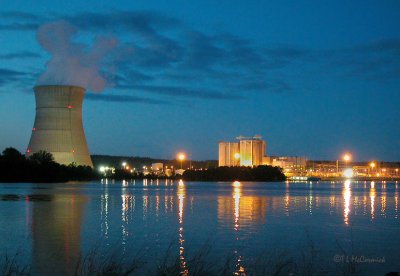 Contacts:
Lakyn Phillips (ANO)
479-858-5558 office
479-647-9444 cell
lphill4@entergy.com
Mike Bowling (Fleet)
601/368-5655 office
601/214-8808 cell
mbowlin@entergy.com
RUSSELLVILLE, Ark. – Operators synched ANO's Unit 2 to the electrical grid Saturday at 2:55 p.m. successfully marking an end to the unit's 25th refueling and maintenance outage.
Every 18 months, ANO Unit 2 shuts down to refuel the reactor and perform maintenance and modification work that continues to modernize the station's systems and components. This year, in addition to replacing one-third of the reactor's fuel, workers upgraded the plant's equipment by executing more than approximately 1,778 maintenance and improvement activities. The station also replaced two safety shutdown cooling heat exchangers, requiring the coordination of hundreds of activities.
"The team at ANO worked safely to perform the preventative maintenance, improvement and upgrade activities that were a scheduled part of this Unit 2 refueling outage," said ANO Site Vice President Rich Anderson.
To support outage efforts, the station added the specialized skills and expertise of approximately 1,800 additional workers, several from our community and many of whom traveled to ANO from outside the area, providing a significant boost to local businesses such as hotels and restaurants.
"I am proud of the work we completed during this outage, and of the team's flexibility in our ongoing efforts to enhance the condition and reliability of the plant," Anderson said. "Together we are making significant strides in our mission to improve our performance and regain excellence."
Entergy Corporation is an integrated energy company engaged primarily in electric power production and retail distribution operations. Entergy owns and operates power plants with approximately 30,000 megawatts of electric generating capacity, including nearly 9,000 megawatts of nuclear power. Entergy delivers electricity to 2.9 million utility customers in Arkansas, Louisiana, Mississippi and Texas. Entergy has annual revenues of approximately $10.8 billion and nearly 13,000 employees.
-30-
www.entergy.com
Facebook: Entergy Nuclear
Twitter: @EntergyNuclear
---