News Release > Blue Cross, Healthy Blue and Entergy sponsoring 200,000 meals for Louisiana families
For Immediate Release
Blue Cross, Healthy Blue and Entergy sponsoring 200,000 meals for Louisiana families
01/04/2023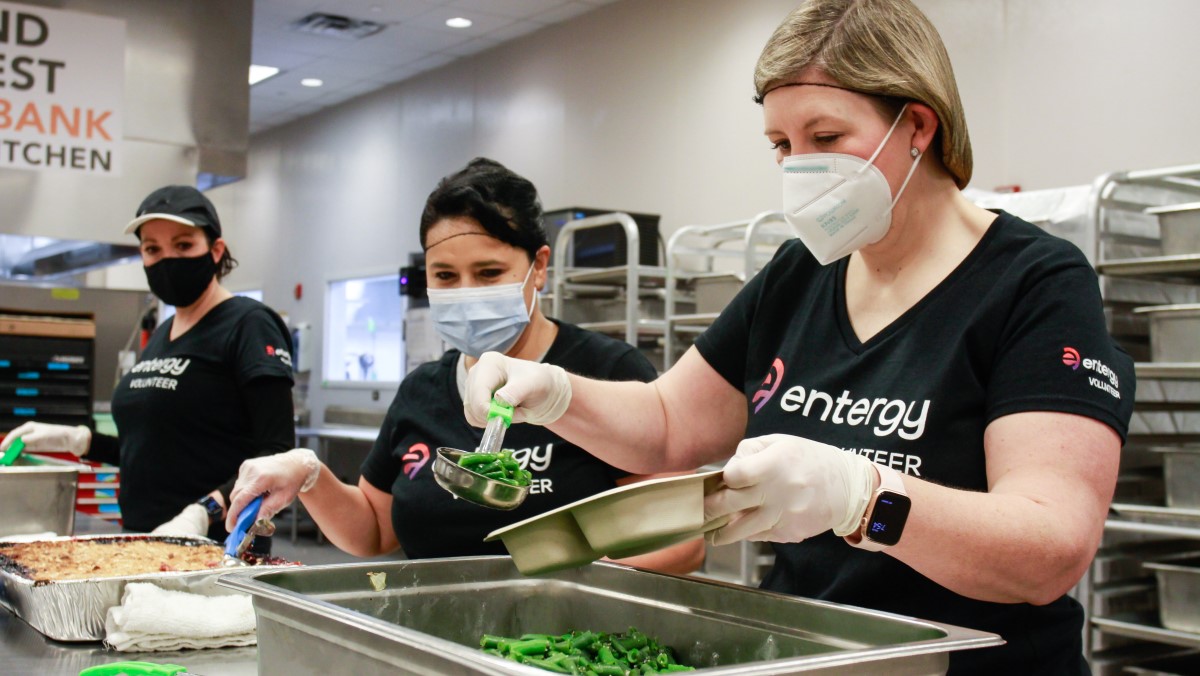 Events statewide will honor Martin Luther King Jr. National Day of Service

BATON ROUGE, La. – Blue Cross and Blue Shield of Louisiana, Healthy Blue and Entergy have committed to sponsor 200,000 meals at food banks statewide. Volunteers from these organizations will pack the meals at a series of events benefitting Louisiana food banks in recognition of Martin Luther King Jr. Day, which is a National Day of Service.
"We know food insecurity is a challenge for many families in our state, and the stresses of the past two years have left many Louisianians struggling to access healthy meals," said Michael Tipton, head of Community Relations for Blue Cross and Blue Shield of Louisiana and president of the Blue Cross Foundation. "We are looking forward to bringing our employees together, along with our partners at Entergy and Healthy Blue, to fulfill our mission to improve the health and lives of Louisianians by giving our time to our communities and, in doing so, honoring Dr. King's legacy of service."
"Improving health for everyone across Louisiana is possible, and it begins with addressing our residents' most critical needs to drive improved health outcomes – particularly increasing access to nutritious food," said Dr. Christy Valentine Theard, president of Healthy Blue Louisiana. "Healthy Blue's collaboration with Blue Cross and Blue Shield of Louisiana and Entergy is just one way we can make a profound impact on improving lives, and we look forward to many more opportunities during this new year to redefine health, reimagine the system and strengthen our Louisiana communities."
Last year, volunteers from Blue Cross, Healthy Blue and Vantage Health Plan went above and beyond their initial commitment to sponsor 125,000 meals in 2022, donating more than 170,000 meals to food banks statewide. Blue Cross Team Blue volunteers have packed more than half a million meals since 2018.
This year, Entergy is teaming up with Blue Cross and Healthy Blue to increase the statewide meal commitment. The organizations are joining in honor of their recognition as the two Louisiana businesses included among The Civic 50. This is an annual designation from the Points of Light Foundation of the 50 most community-minded companies in America. Blue Cross has been recognized for the past four years, and Entergy has been recognized for the past seven years.
"According to the most recent research from the ALICE project, more than 50 percent of Louisiana households are unable to afford a basic household survival budget. This means that families who are struggling to pay rent, utilities and other bills find themselves unable to afford healthy, nutritious meals," said Patty Riddlebarger, vice president of Corporate Social Responsibility for Entergy. "Entergy is committed to addressing food insecurity in our communities, and we are proud to honor Dr. King by joining with our community partners and Blue Cross for service days statewide."
"We are so proud to have played a role in this endeavor," said Phillip May, Entergy Louisiana president and CEO. "Any time we can step up for those who need it most, that's something Entergy wants to be a part of. We don't just work in the state of Louisiana, but we live here, too. Helping build stronger communities is what we do, and there is nothing more important than being there when we're needed most."
"Supporting our communities is part of who we are at Entergy," said Deanna Rodriguez, Entergy New Orleans president and CEO. "No family should ever have to go hungry. That is why it's vital that we not only contribute funding to support critical community services, but we also volunteer  to prepare and deliver meals for families in need."
Entergy embraces the United Nations Sustainable Development Goals, and the company has adopted UNSDG goal number 2, "No Hunger," as one of its major initiatives, committing to provide 2.6 million meals and dedicate 30,000 hours of volunteer service to hunger relief efforts by 2025.
Meal-packing Events Taking Place Jan. 16-21
Through FeedingLouisiana and The Pack Shack's "Feed the Funnel" program, Blue Cross, Healthy Blue and Entergy volunteers will prepare and distribute the 200,000 meals among area food banks and other organizations addressing hunger in Louisiana. Food-packing parties will take place in each region of the state Jan. 16-21 in an extended celebration of Dr. Martin Luther King Jr. National Day of Service on Jan. 16.
"We are so excited to see these organizations come together and continue the tradition of sponsoring meals for families in need," said Pat Van Burkleo, Feeding Louisiana executive director. "With rising food and living costs, support like this is needed now more than ever. We are proud to work alongside these amazing volunteers and hope that this incredible gesture will inspire more people to get involved. It's initiatives like this that help us create a better future where everyone in Louisiana can put a healthy meal on the table."
Curious about how a pack party works? Check out footage from the 2022 events in this video (1:03).

Media are invited to attend these events, film video or take photos, and interview representatives of Blue Cross, Healthy Blue, Entergy and the participating food banks.
Monday, Jan.  16 - Baton Rouge
Greater Baton Rouge Food Bank, 10600 S. Choctaw Drive, Baton Rouge, LA 70815
10 a.m. – noon
Tuesday, Jan. 17  – New Orleans
Second Harvest Food Bank, 700 Edwards Ave., New Orleans, LA 70123
This event includes volunteers from New Orleans Pelicans
10 a.m. – noon
Wednesday, Jan. 18  – Monroe
Vantage Tower Banquet Room, 130 DeSiard St., Monroe, LA 71201
Benefitting Northeast Louisiana Food Bank
10 a.m. – noon
Wednesday, Jan. 18 – Thibodaux
Good Samaritan Food Bank of Thibodaux, 100 Birch St., Thibodaux, LA 70301
10 a.m. – noon
Thursday, Jan. 19 – Lafayette
Second Harvest Food Bank, 215 E Pinhook Road, Lafayette, LA 70501
10 a.m. – noon
Thursday, Jan. 19 – Lake Charles
Second Harvest Food Bank, 2309 Highway 397, Lake Charles, LA 70615
2-4 p.m.
Saturday, Jan. 21 – Shreveport
Food Bank of Northwest Louisiana, 285 Mount Zion Road, Shreveport, LA 71106
9-11 a.m.
Follow Blue Cross on social media @BCBSLA to see live photos and posts from the food-packing events and updates on progress. Blue Cross posts regularly on Facebook, Twitter, LinkedIn, Instagram and TikTok. Visit the Blue Cross and Blue Shield of Louisiana YouTube channel to see short videos on health and wellness topics. Subscribe to know when new videos are added.

About Blue Cross and Blue Shield of Louisiana
Blue Cross and Blue Shield of Louisiana is committed to our mission to improve the health and lives of Louisianians. Founded in New Orleans in 1934, we are a tax-paying nonprofit health insurer with offices in every major region to serve our customers. We have been recognized for the past four years as an honoree of The Civic 50, named by Points of Light as one of the 50 most community-minded companies in the United States.
Blue Cross and Blue Shield of Louisiana is an independent licensee of the Blue Cross and Blue Shield Association. We are a private mutual company, owned by our policyholders, with an independent Louisiana Board of Directors and no shareholders. We invite all Louisianians to visit our website at www.bcbsla.com or talk to us on social media @BCBSLA.
About Healthy Blue
Healthy Blue is a managed healthcare provider that has been serving the state since 2012, and currently serves the state's Medicaid, Medicaid Expansion and LaCHIP programs. Healthy Blue, a joint venture between Blue Cross and Blue Shield of Louisiana and Anthem Partnership Holding Company, LLC (parent company, Anthem, Inc.), recognizes the challenges low-income and underserved individuals face, and tailors its programs such that health plan members are assured care that is not only accessible, but also accountable, comprehensive, integrated and patient-centered. Healthy Blue provides ongoing community relations and outreach to encourage members to become active participants in their healthcare. Also, through health education programs, members are empowered to choose and sustain healthy lifestyles. To learn more about Healthy Blue, visit www.myhealthybluela.com and follow the company on Facebook and Twitter @HealthyBlueLA and LinkedIn @healthy-blue-louisiana.
About Entergy
Entergy, a Fortune 500 company headquartered in New Orleans, powers life for 3 million customers through its operating companies across Arkansas, Louisiana, Mississippi and Texas. Entergy is creating a cleaner, more resilient energy future for everyone with our diverse power generation portfolio, including increasingly carbon-free energy sources. With roots in the Gulf South region for more than a century, Entergy is a recognized leader in corporate citizenship, delivering more than $100 million in economic benefits to local communities through philanthropy and advocacy efforts annually over the last several years. Our approximately 12,000 employees are dedicated to powering life today and for future generations. Learn more at entergy.com and follow @Entergy on social media. #WePowerLife
---