News Center > Chevron Phillips Chemical Receives $38,190 in Incentives
For Immediate Release
Chevron Phillips Chemical Receives $38,190 in Incentives
09/24/2018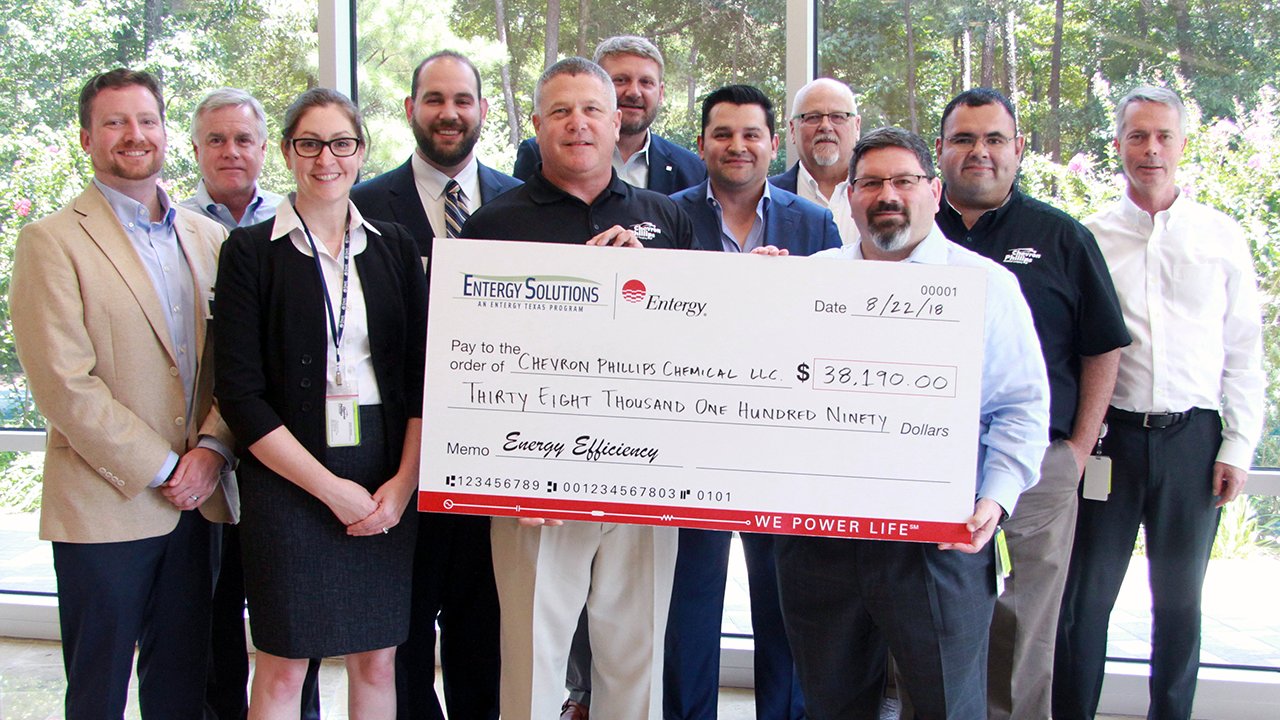 THE WOODLANDS, Texas – Chevron Phillips Chemical Company LP and Entergy Texas, Inc. recently partnered to improve energy efficiency and drive energy savings at Chevron Phillips Chemical's headquarters in The Woodlands. This project, through the Entergy Solutions program, helps work with customers to provide unique solutions to take advantage of energy savings. 
As part of this project, Entergy Texas presented an incentive check for $38,190. The incentives are awarded for commercial customers who implement projects to reduce energy usage. 
The 202,000-square-foot Chevron Phillips Chemical headquarters building was constructed in 2004. Chevron Phillips Chemical began working with the Entergy Solutions Program in 2016 to evaluate energy efficiency opportunities. The company partnered with Hunton Services to design and install a secondary HVAC system to help cool the building's electrical rooms.
These upgrades include a new 52-ton auxiliary chiller, variable frequency drives for more efficient pumping, dedicated air handlers for electrical areas, and additional cooling system automation.  This secondary system helps to reduce peak and after-hours electricity use.
"We have a long history of partnering with Chevron Phillips Chemical to provide reliable and affordable power," said Steve Pilgrim, director of business and economic development. "Whether it's this latest project in The Woodlands, or facilities across the Golden Triangle, Entergy Texas is focused on working collaboratively with our customers to meet their energy needs."
"The Entergy Solutions Program helped us reduce our energy use and lessen our carbon impact on the environment. This program is a great resource for companies looking for ways to manage energy costs and operate responsibly," said Jeff Briggs, Headquarters Property and Business Services Manager for Chevron Phillips Chemical. In addition to the environmental benefits, the company will save an estimated $7,620 in energy costs annually from this project.
"Chevron Phillips Chemical has shown dedication to making smart energy choices and Entergy Texas is proud to be able to support their efforts toward efficiency and sustainability," said Entergy Solutions Commercial Program Manager Mark Delavan.
Learn more about our Entergy Solutions program.
Entergy Texas, Inc. provides electricity to approximately 458,000 customers in 27 counties. Entergy Corporation is an integrated energy company engaged primarily in electric power production and retail distribution operations. Entergy owns and operates power plants with approximately 30,000 megawatts of electric generating capacity, including nearly 9,000 megawatts of nuclear power. Entergy delivers electricity to 2.9 million utility customers in Arkansas, Louisiana, Mississippi and Texas. Entergy has annual revenues of approximately $10.8 billion and nearly 13,000 employees.
-30-
Twitter: @EntergyTX
Facebook: Facebook.com/EntergyTX
---