News Center > Entergy Advocates for More Energy Assistance for Low-Income Customers
For Immediate Release
Entergy Advocates for More Energy Assistance for Low-Income Customers
02/28/2016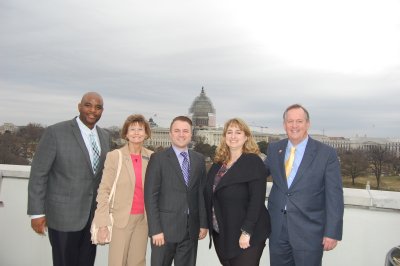 LIHEAP Action Day in Washington helps raise awareness of need
NEW ORLEANS, LA. -- During LIHEAP Action Day March 2, Entergy Corporation representatives and community partners will be making the case for increased funding of the Low Income Home Energy Assistance Program. The funding goal is at least $4.7 billion for 2017.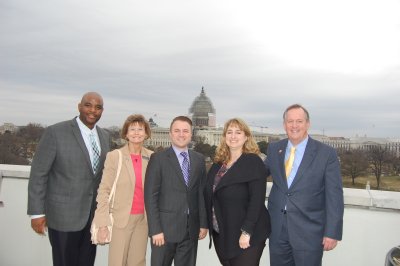 Entergy representatives and advocates like this team who championed for additional LIHEAP funding in Washington last year will be back on the Hill March 2 to raise awareness of the needs of low-income customers in hot-weather states. 2014 participants included from left: Patrick Johnson of TXU Energy, Karen Swenson of GETCAP, Brian Garcia of Entergy Texas, Kim Campbell of TXU Energy and Vernon Pierce of Entergy Texas.
Face-to-face meetings with congressional leaders on Capitol Hill will address the need for better funding for hot-weather states through the federal program. Advocates will also highlight the current method of distributing available funds, which leaves many families in the hottest, poorest states struggling to meet basic needs such as heating and cooling costs.
Funding of LIHEAP has dropped by a third from $5.1 billion in 2009 to $3.4 billion today. This reduction limits the level of assistance available for the more than 3.8 million qualifying households in Arkansas, Louisiana, Mississippi and Texas -- the four states in which Entergy's utility customers reside.
Restoring funding could result in an estimated $450 million in assistance, capable of helping thousands of qualifying households in Entergy's utility service area of Arkansas, Louisiana, Mississippi and Texas. In 2015, these states received an estimated $210 million from LIHEAP.  Within Entergy's utility service territories, more than 185,500 families were assisted.
"The $240 million difference reflects the magnitude of need that cannot currently be met unless Congress properly and better funds this program," said Elizabeth Brister, manager of Entergy's low-income initiatives. "Participating in LIHEAP Action Day is one of the many ways we power life for our customers, including those in need."
Read more about Entergy's low-income initiatives here.
Entergy Corporation is an integrated energy company engaged primarily in electric power production and retail distribution operations. Entergy owns and operates power plants with approximately 30,000 megawatts of electric generating capacity, including nearly 10,000 megawatts of nuclear power. Entergy delivers electricity to 2.8 million utility customers in Arkansas, Louisiana, Mississippi and Texas. Entergy has annual revenues of approximately $11.5 billion and more than 13,000 employees.
-30-
Entergy.com
Facebook.com/Entergy
Twitter.com/Entergy
---