News Center > Entergy Arkansas and NextEra Energy Resources Announce New Solar Project
For Immediate Release
Entergy Arkansas and NextEra Energy Resources Announce New Solar Project
03/18/2019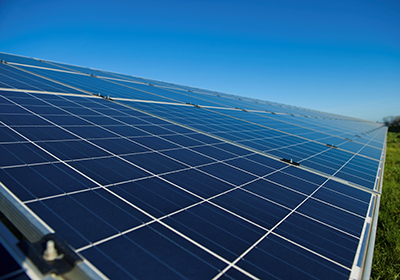 LITTLE ROCK, Ark. – Entergy Arkansas, LLC, (NYSE: ETR) and NextEra Energy Resources, LLC, a subsidiary of NextEra Energy, Inc. (NYSE: NEE) announced today plans to build a 100-megawatt solar energy facility in White County near Searcy. This project, pending approval by the Arkansas Public Service Commission, will be the largest utility-owned solar facility in the state and the first to feature a battery for storing solar power. This will be Entergy's third large-scale solar project in Arkansas and would allow the company to offer Entergy Arkansas customers a total of 281 megawatts of solar energy, enough to power about 45,000 homes.
The project, which is expected to be in service by 2021, will be designed and built by a subsidiary of NextEra Energy Resources, and, upon completion, will be purchased by Entergy Arkansas. The emissions-free, renewable energy facility will be built on approximately 800 acres east of Eastline Road (US 67, Exit 44) in Searcy.  
"As the largest solar provider and a leader in renewable energy in Arkansas, Entergy is proud to bring a third large-scale solar project to the state that will allow our customers to benefit from the economic and environmental advantages of renewable energy, while at the same time learning about the benefits of battery storage," said Laura Landreaux, president and CEO of Entergy Arkansas.
Currently Entergy Arkansas purchases 81 MW of solar energy from NextEra Energy Resources at a solar facility near Stuttgart. The company also will purchase another 100 MW of solar energy from NextEra Energy Resources' Chicot Solar project at Lake Village when the plant comes online in 2020. The construction phase of the Stuttgart Solar Energy Center created approximately 200 construction jobs, and Chicot Solar is expected to employ a similar number of workers. Combined, the projects are estimated to generate $900,000 per year in property taxes.
The Searcy solar project is the next step in Entergy Arkansas' continuing expansion into solar.  Entergy Arkansas also is seeking additional resources through a request for proposals for renewable energy projects.
"Our customers want to see solar in our resource portfolio, and we are listening and responding," said Landreaux. "We want all of our customers to have the benefit of solar energy, and we also want to help individual customers meet their renewable energy goals.   In addition to adding solar to our generation mix, we've also received approval of a Solar Energy tariff from the Arkansas Public Service Commission, which will give our customers the option of purchasing solar power to help meet their renewable energy objectives. It's really an exciting time as we look to meeting the future energy needs of our customers."
The Searcy project consists of building both a new solar plus battery generation powered by an array of lithium-ion batteries capable of storing up to 30 MW hours of electricity.  The stored energy is expected to be charged and discharged daily to maximize the value of the solar energy.
Entergy Arkansas and NextEra Energy Resources will host a public open house Tuesday, April 2, from 5 to 7 p.m. in Cone Chapel at Harding University's American Heritage Center, located at 915 E. Market Street in Searcy. At the open house, interested community members will be given an opportunity to learn more about the project.
Entergy Arkansas provides electricity to approximately 700,000 customers in 63 counties. Entergy Arkansas is a subsidiary of Entergy Corporation (NYSE: ETR), an integrated energy company engaged primarily in electric power production and retail distribution operations. Entergy owns and operates power plants with approximately 30,000 megawatts of electric generating capacity, including nearly 10,000 megawatts of nuclear power. Entergy delivers electricity to 2.8 million utility customers in Arkansas, Louisiana, Mississippi and Texas. Entergy has annual revenues of approximately $11.5 billion and more than 13,000 employees. For more information, visit www.entergyarkansas.com.
-30-
---