News Release > Entergy Charitable Foundation Awards $68,500 to Mississippi Organizations
For Immediate Release
Entergy Charitable Foundation Awards $68,500 to Mississippi Organizations
03/15/2018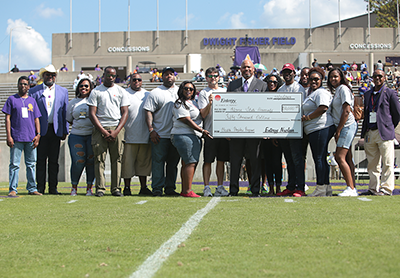 ECF's 2017 Mississippi grants total $142,500
JACKSON, Mississippi – First- and second-graders in Jackson's public schools will get a little extra help learning how to read this year from middle and high school students who will serve as reading mentors. In exchange, the mentors will gain valuable leadership skills, earn community service hours and act as change agents in their communities. This is just one example of a community program funded with an Entergy Charitable Foundation grant.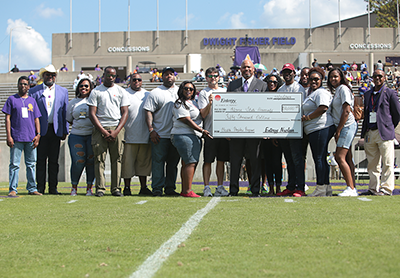 Alcorn State University's health physics program is one of several initiatives in Mississippi supported by grants from the Energy Charitable Foundation. The photo shows a $50,000 donation presented by Entergy Nuclear representatives during Alcorn's 2017 homecoming football game. Photo courtesy of Alcorn State University.
In all, sixteen Mississippi organizations will share $68,500 in grants awarded in the second cycle of Foundation grant giving.  These new awards bring the program's total 2017 contributions to $142,500.
Other grant recipients include:
Cleveland Music Foundation
W. Watson Elementary School (Claiborne County)
Christian Volunteer Service, Inc. (Claiborne County)
City of Port Gibson
Claiborne Public Schools
Jobs for Mississippi Graduates
Community Foundation of Northwest Mississippi (DeSoto County)
Keep Jackson Beautiful
Quitman Elementary School
Quitman County Public Schools
Life Enhancement and Achievement Program, Inc. (Rankin County)
The Salvation Army (Warren County)
Vicksburg Little Theatre Guild
Mission Mississippi
SR1 (Madison County)
"Investing in our communities is one of the most important ways we power life and brighten futures," said Valarie Mabry, Entergy Mississippi public affairs analyst. "It supports our mission to add value to the communities we serve."
The Entergy Charitable Foundation awards grants twice a year.  The Foundation is just one many Entergy programs that support nonprofits in local communities. In total, Entergy Corporation supports more than 2,200 nonprofits annually with charitable contributions of approximately $16 million.      
Entergy Mississippi, Inc. provides electricity to approximately 445,000 customers in 45 counties. Entergy Corporation is an integrated energy company engaged primarily in electric power production and retail distribution operations. Entergy owns and operates power plants with approximately 30,000 megawatts of electric generating capacity, including nearly 9,000 megawatts of nuclear power. Entergy delivers electricity to 2.9 million utility customers in Arkansas, Louisiana, Mississippi and Texas. Entergy has annual revenues of approximately $10.8 billion and nearly 13,000 employees.
-30-
---