News Center > Entergy grant to help transport and house patients receiving cancer treatment
For Immediate Release
Entergy grant to help transport and house patients receiving cancer treatment
06/23/2022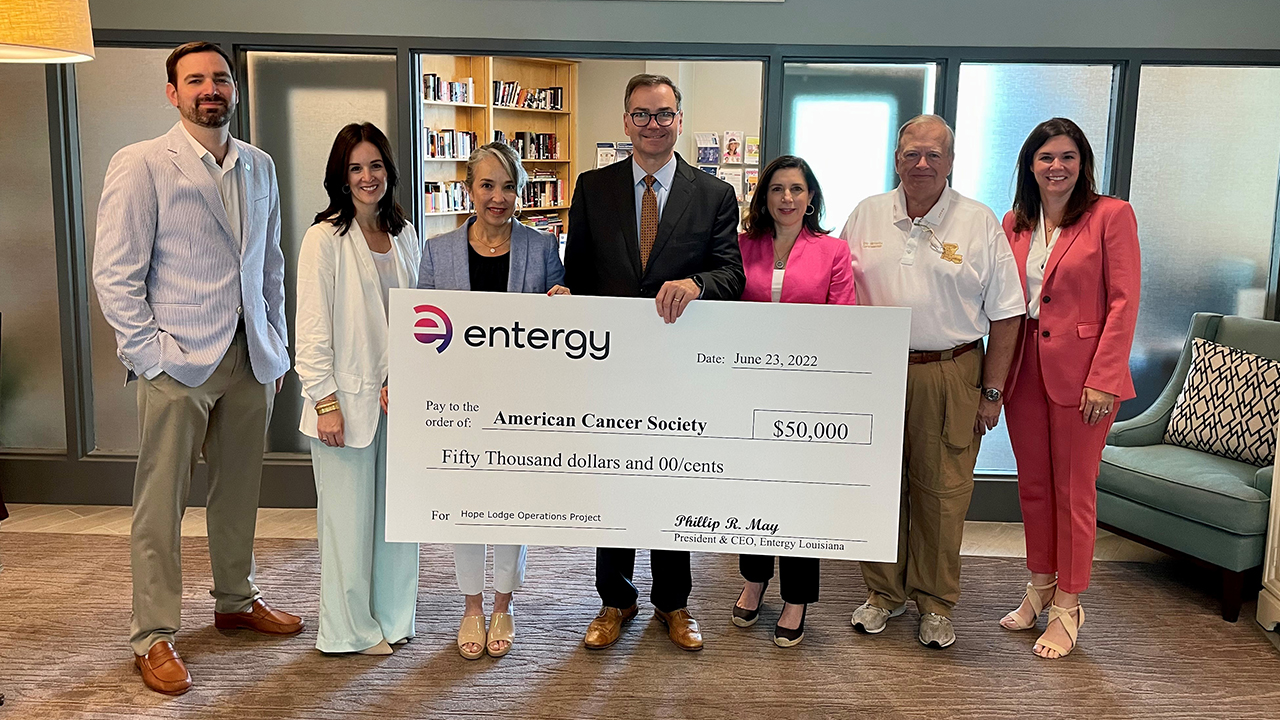 Entergy has long worked to make sure the communities it serves are healthy and safe. The company recently provided a $50,000 contribution to the American Cancer Society's Patrick F. Taylor Hope Lodge Foundation that will go toward helping transport and house patients receiving cancer treatment. 
Each year, according to the American Cancer Society, approximately 200,000 patients battling cancer must travel 40-plus miles to receive treatment. For some, transportation and lodging challenges can create barriers to receiving proper treatment. Many people require daily or weekly treatments, for extended periods, and providing help and resources can fill critical gaps in receiving proper care.
Entergy's contribution will provide more than 240 free lodging nights and rides to treatment for patients and their caregivers.
"Entergy is committed to providing tools and resources to our communities so that our friends and neighbors can live a healthier life," said Phillip May, Entergy president and CEO. "The Hope Lodge program is a key resource for Louisiana families who need a home away from home during cancer treatments, and who not may otherwise be able to afford lodging. Lifting this financial burden will provide them comfort to focus on healing."
"Supporting community partners such as The American Cancer Society helps to ensure our local communities stay healthy and safe," said Deanna Rodriguez, Entergy New Orleans' president and CEO. "The last thing anyone wants to worry about while they are battling cancer is 'how do I get to my treatments?'. The more we can do to help those in need, the better they are able to persevere and focus on caring for themselves."
"We want to thank Entergy for their generosity and helping give hope a home at our Patrick F. Taylor Lodge in New Orleans," said Errin Viguerie, American Cancer Society Louisiana and East Texas executive director.
About the American Cancer Society
The American Cancer Society is on a mission to free the world from cancer. We invest in lifesaving research, provide 24/7 information and support, and work to ensure that individuals in every community have access to cancer prevention, detection, and treatment. For more information, visit cancer.org/LA. Follow us on Facebook, Instagram, Twitter.
About Entergy New Orleans
Entergy New Orleans, LLC provides electricity to more than 209,000 customers and natural gas to more than 110,000 customers in Orleans Parish, Louisiana.
About Entergy Louisiana
Entergy Louisiana, LLC provides electric service to more than 1 million customers in 58 parishes and natural gas service to more than 94,000 customers in Baton Rouge, Louisiana.
Entergy New Orleans and Entergy Louisiana are subsidiaries of Entergy Corporation, a Fortune 500 company headquartered in New Orleans. Entergy powers life for 3 million utility customers across Arkansas, Louisiana, Mississippi and Texas. Entergy is creating a cleaner, more resilient energy future for everyone with our diverse portfolio of low-carbon and carbon-free energy sources. With roots in the Gulf South region for more than a century, Entergy is a recognized leader in corporate citizenship and delivers more than $100 million in philanthropy and advocacy efforts to local communities each year. Our approximately 12,500 employees are dedicated to powering life today and for future generations.
---