News Center > Entergy helping drive economic development in Acadiana
For Immediate Release
Entergy helping drive economic development in Acadiana
11/30/2022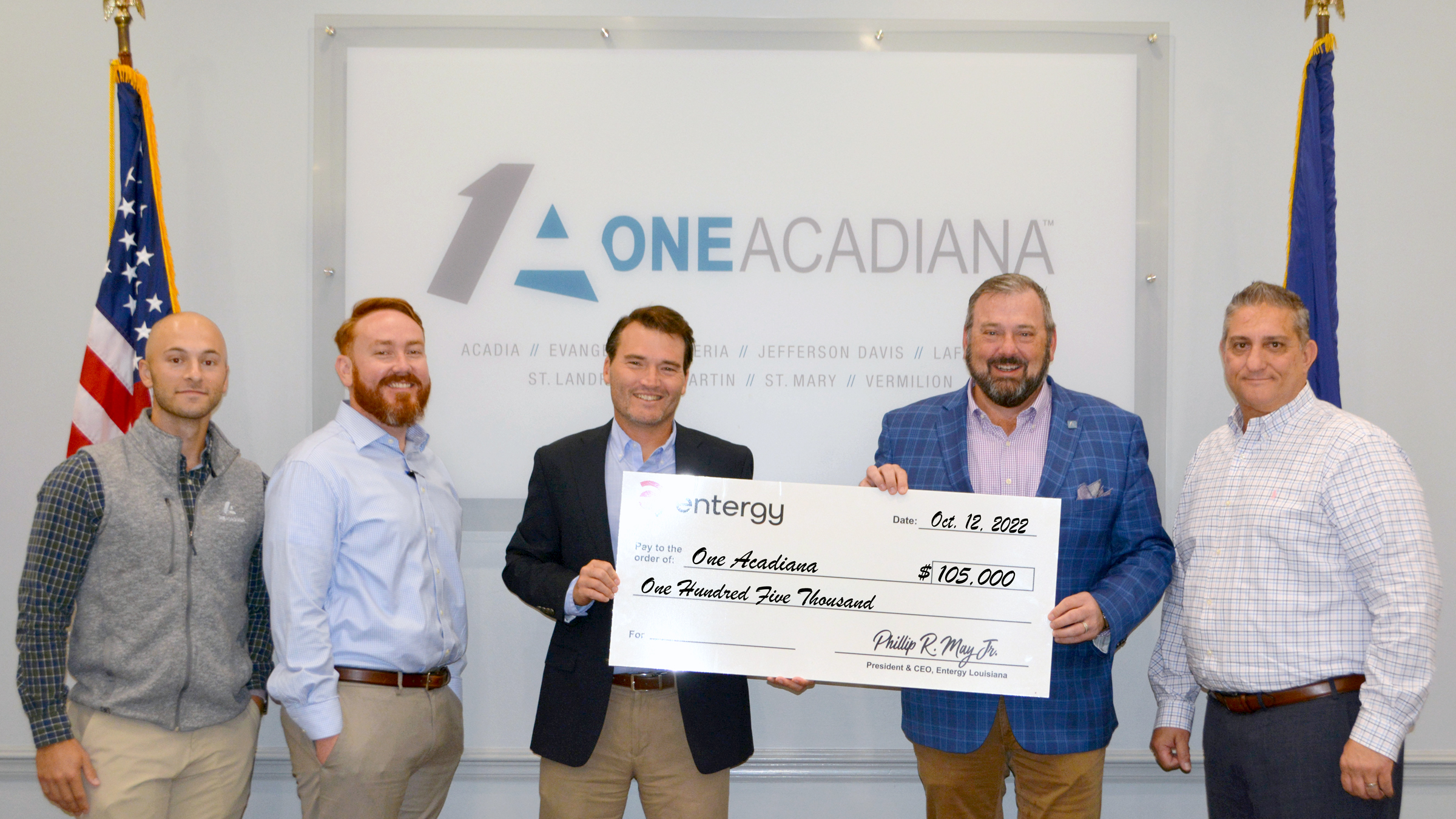 LAFAYETTE — Entergy Louisiana is continuing to partner with regional organizations to help areas of the state like Acadiana grow and prosper through economic development. One of the organizations helping us create a more vibrant economy is One Acadiana.
The company recently provided approximately $105,000 to One Acadiana to help fund initiatives around retaining businesses and jobs and attracting new companies and industries to the area, as well as meeting future needs of the state and energy sector in the parishes of Acadia, Evangeline, Iberia, Jefferson Davis, Lafayette, St. Landry, St. Martin, St. Mary and Vermilion.
"One Acadiana is committed to making Acadiana one of the most sought-after places in the South for emerging businesses and professional talent, and our partnership with Entergy is vital in creating momentum for that vision," said Troy Wayman, president and CEO of One Acadiana. "As the economic development organization for nine parishes, we are grateful for Entergy's partnership and continued investment in Acadiana which is helping to raise our region's profile while powering economic growth."
Through its business and economic development team, Entergy works with state and local government agencies like Louisiana Economic Development, economic development organizations like One Acadiana and community partners to support businesses from site selection to groundbreaking, including those operating at the national and global level.
To help businesses determine where to locate or expand, Entergy developed and maintains a buildings and sites website called the Site Selection Center. The site includes details about development-ready land, including available utilities and transportation access. This year, Entergy, One Acadiana and several other partners were successful in having the 64-acre Loul's Landing site designated as development-ready, accounting for the Acadiana region's twenty second certified site.
To support site development, Entergy provides in-depth research and analyses regarding workforce availability, construction and transportation, to name a few. A local example of helping an existing business includes the partnership between Entergy, One Acadiana and Acadia Parish Chamber to support the expansion of Supreme Rice's facilities. To learn more about the services provided by the company's business and economic development team, visit goentegy.com.
Beyond the business and economic development team's efforts and the company's partnership with organizations like One Acadiana, Entergy is also driving economic development by:
"We're excited to continue our partnership with One Acadiana and help a region that's primed for development grow," said Perry Pertuit, Entergy Louisiana new business development manager. "To provide people in our communities with opportunities and a more vibrant economy, we must continue to drive every aspect of economic development, and that's exactly what One Acadiana sets out to do."
Over this last decade, Entergy has actively participated in more than 130 announced economic development projects in Louisiana, totaling more than $106 billion in capital investments and creating approximately 17,380 new direct jobs. For 15 years running, Site Selection magazine has named Entergy Corporation as one of the nation's top utilities in economic development.
In addition, Area Development magazine recognized Louisiana with a silver shovel award for local economic development efforts and Business Facilities magazine placed Louisiana first for customized training and second for manufacturing output in their 17th annual rankings. 
To learn more about how Entergy partners with LED and regional organizations to help the state grow through economic development, visit the Entergy Newsroom.
About Entergy Louisiana
Entergy Louisiana, LLC provides electric service to more than 1 million customers in 58 parishes and natural gas service to more than 94,000 customers in Baton Rouge, Louisiana. Entergy Louisiana is a subsidiary of Entergy Corporation, an integrated energy company engaged in electric power production, transmission and retail distribution operations. Entergy delivers electricity to 3 million utility customers in Arkansas, Louisiana, Mississippi and Texas. Entergy owns and operates one of the cleanest large-scale U.S. power generating fleets with approximately 30,000 megawatts of electric generating capacity, including 7,000 megawatts of nuclear power. Headquartered in New Orleans, Louisiana, Entergy has annual revenues of $10 billion and approximately 12,000 employees.
---