News Center > Entergy in Louisiana Powers Life in Louisiana Communities
For Immediate Release
Entergy in Louisiana Powers Life in Louisiana Communities
07/02/2019
Lee Sabatini
|
504-576-4132
|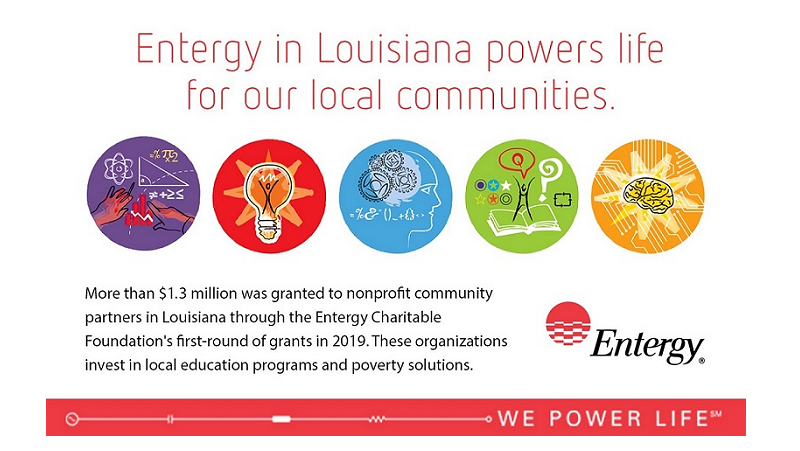 More than $1.3 million in grants awarded to local nonprofits; deadline for next round is Aug. 1
Entergy is committed partnering with organizations, like Start the Adventure in Reading based in New Orleans, to help ensure that all our customers – even the youngest – have access to a quality education.
Nonprofit community partners, such as Start the Adventure in Reading, were recipients of more than $1.3 million awarded by shareholders through the Entergy Charitable Foundation's first round of grants in 2019.
"Entergy strives to contribute to a society that is healthy, educated, environmentally safe and productive. These grants power life by supporting vital programs and services in our communities that otherwise might not be available," said Patty Riddlebarger, vice president of corporate social responsibility. "Thanks to our outstanding network of nonprofit community partners, we are able to continue making a positive impact in our local communities."
The foundation's focus areas of funding are education and workforce development, poverty solutions and environmental programs. Around Louisiana, Entergy's first-round grant recipients include:
Entergy shareholders continue to provide funding and support for initiatives that help build stronger, healthier and more vibrant communities through the Entergy Charitable Foundation. This year's first grant cycle awarded more than $2 million to 73 nonprofit organizations in Arkansas, Louisiana, Massachusetts, Michigan, Mississippi, New York and Texas.
In 2018, Entergy Corporation and the Entergy Charitable Foundation awarded grants totaling more than $18.4 million to more than 2,000 nonprofits, and employees logged more than 112,000 volunteer hours. Learn more about the company's community investments.
Entergy Charitable Foundation grants are awarded twice a year. The first grant cycle opened Jan. 1 and closed Feb. 1, and the second grant cycle opened July 1 with an Aug. 1 deadline. Visit our website for more on the grant application guidelines.
Entergy Louisiana, LLC provides electric service to more than 1 million customers and natural gas service to more than 93,000 customers in the greater Baton Rouge area. The company has operations in southern, central and northeastern Louisiana.
Entergy New Orleans, LLC is an electric and gas utility that serves Louisiana's Orleans Parish. The company provides electricity to more than 200,000 customers and natural gas to more than 106,000 customers. Both companies are subsidiaries of Entergy Corporation.
Entergy Corporation is an integrated energy company engaged primarily in electric power production and retail distribution operations. Entergy owns and operates power plants with approximately 30,000 megawatts of electric generating capacity, including nearly 9,000 megawatts of nuclear power. Entergy delivers electricity to 2.9 million utility customers in Arkansas, Louisiana, Mississippi and Texas. Entergy has annual revenues of approximately $11 billion and more than 13,000 employees.
---