News Center > Entergy Louisiana Among Louisiana Clean Fuel Leader Award Winners
For Immediate Release
Entergy Louisiana Among Louisiana Clean Fuel Leader Award Winners
04/21/2016
Ann Shaneyfelt, Executive Director, Louisiana Clean Fuels
|
|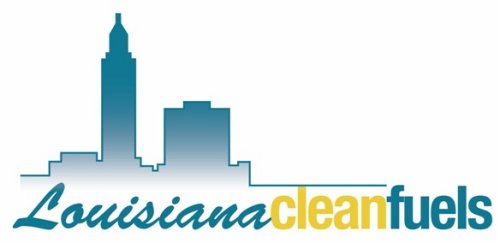 LAFAYETTE, La. – Entergy Louisiana, LLC was among the companies honored by Louisiana Clean Fuels for its work to reduce emissions from its vehicle fleet.
The company received the Utility Fleet of the Year award during the recent Louisiana Clean Fuels annual conference and expo at the Lafayette Cajundome. LCF, a designated U.S. Department of Energy Clean Cities Coalition, awards the top alternative fuel users in the organization's territory each year.
Ann Shaneyfelt, executive director of LCF said, "Entergy Louisiana is a true supporter of the alternative fuel industry in Louisiana.  We are proud to honor their work, and look forward to their support in future projects across the state."
Entergy Louisiana received its award for recording the highest reduction of greenhouse gas emissions (GHG) among Louisiana utilities and second highest GHG reductions overall. Entergy operates natural gas and ethanol-powered vehicles and reduced miles traveled in their vehicles powered by gasoline or diesel fuel. These efforts combined resulted in a 2015 reduction of GHG emissions of 838 tons.
David Chemin, Entergy's director of engineering and field support said, "Through Entergy Corporation's Green Fleet Initiative, our team executes a number of strategies built around short-term ownership, lighter weight materials, fuel economy, alternative fuels and telemetry. These programs have enabled our fleet to deploy more efficient assets, increase positive driving behavior, and ultimately realize the tangible results that have been highlighted by Louisiana Clean Fuels.  We are honored to receive this award as recognition for Entergy Louisiana's achievements to date, and we are confident that the team's continued hard work will allow us to meet our 2020 goal of reducing our fleet's total carbon footprint by 20 percent."
The Louisiana Alternative Fuels Conference and Expo is a free event for attendees. Stakeholders in the alternative fuel industry participate to learn about the use, safety and best business practices associated with alternative fuel vehicles and technologies. Learn more about LCF at louisianacleanfuels.org.
###
About Louisiana Clean Fuels
LCF is a 501(c)3 non-profit US Department of Energy Clean Cities Coalition that promotes alternative fuels in transportation to reduce Louisiana's dependence on foreign oil and to reduce greenhouse gas emissions. LCF receives support from the Louisiana Department of Natural Resources and local private and public members. louisianacleanfuels.org
---