News Center > Entergy Louisiana Donates $920,000 to The Power To Care
For Immediate Release
Entergy Louisiana Donates $920,000 to The Power To Care
07/24/2017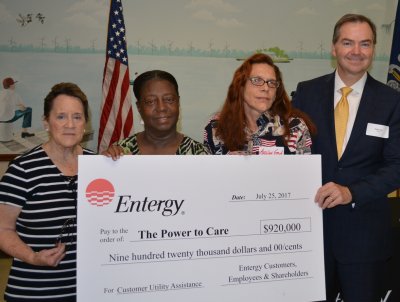 HARAHAN, La. – The heat index is hitting the triple digits on a regular basis and driving increased electricity use as Louisianians try to stay cool. And that means many elderly and disabled Entergy Louisiana customers will need extra help with energy costs in the coming weeks.
Thanks to the generosity of customers, Entergy employees and shareholders, those elderly and disabled Louisiana customers who need help with their utility bills have a place to turn – The Power to Care.
Entergy Louisiana teams with the Salvation Army and Councils on Aging statewide to provide the program.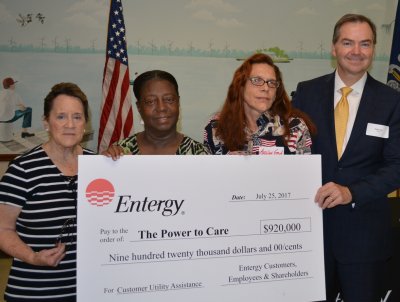 Power to Care recipients (left to right) Joan Bradley, Alita Griffin and Marilyn Ford joined Entergy Louisiana President and CEO Phillip May during Tuesday's ceremony to express their appreciation for the help they received through the program.
Entergy Louisiana President and CEO Phillip May presented a $920,000 check for the program during a Tuesday ceremony at the Harahan Senior Center.  The money will be distributed through local councils on aging and Salvation Army locations to help qualifying customers pay their utility bills.
"For many of our disabled and elderly customers, meeting everyday financial needs is a struggle. It frequently comes down to having to make decisions whether they can pay their medical bills, buy food or buy medicine," May said. "The Power to Care exists to help ensure the most vulnerable among us don't have to face that choice."
May presented the ceremonial check to customers who received help through The Power to Care program. They used the opportunity to express their appreciation for the assistance.
"I am so thankful for the help provided by The Power to Care," said Joan Bradley of River Ridge. "I had a medical emergency and needed help paying my utility bill. I am very grateful for the assistance I received through the program."
To Derricka Griffin, the program is an important emergency lifeline for senior citizens like her mother Alita Griffin of River Ridge.
"The Power to Care is much needed, especially for seniors like my mother who live on a fixed income and can find themselves short on bills. The cost of living keeps increasing, but it seems like the fixed incomes seniors receive are staying the same. If there is an unexpected expense it puts them in a real bind," Derricka Griffin said.
On hand for the event were state Sen. Conrad Appel, R-Metairie; state Rep. Kirk Talbot, R- River Ridge; state Rep. Polly Thomas, R-Metairie; Jefferson Parish Councilman Paul Johnson, Harahan Mayor Tina Miceli, and members of the Jefferson Council on Aging board of directors.
The Power to Care program is funded by contributions from customers, employees, and shareholders. To donate to The Power to Care or for more information, click here.
One of the ways to help fund the program is by participating in the annual The Power to Care charity golf tournament. This year's golf tournament is scheduled for Oct. 30 at the University Club of Baton Rouge. Sponsorships and teams are still available. Please contact Nicole Grille at 225-381-5854 for information.
Entergy Louisiana, LLC provides electric service to more than 1 million customers and natural gas service to more than 93,000 customers in the greater Baton Rouge area. With operations in southern, central and northeastern Louisiana, the company is a subsidiary of Entergy Corporation.
Entergy Corporation is an integrated energy company engaged primarily in electric power production and retail distribution operations. Entergy owns and operates power plants with approximately 30,000 megawatts of electric generating capacity, including nearly 9,000 megawatts of nuclear power. Entergy delivers electricity to 2.9 million utility customers in Arkansas, Louisiana, Mississippi and Texas. Entergy has annual revenues of approximately $10.8 billion and nearly 13,000 employees.
-30-
 entergylouisiana.com
facebook.com/EntergyLA
Twitter: @EntergyLA
---