News Center > Entergy Louisiana Investing More Than $3 Million in Electric System in Webster Parish
For Immediate Release
Entergy Louisiana Investing More Than $3 Million in Electric System in Webster Parish
07/26/2021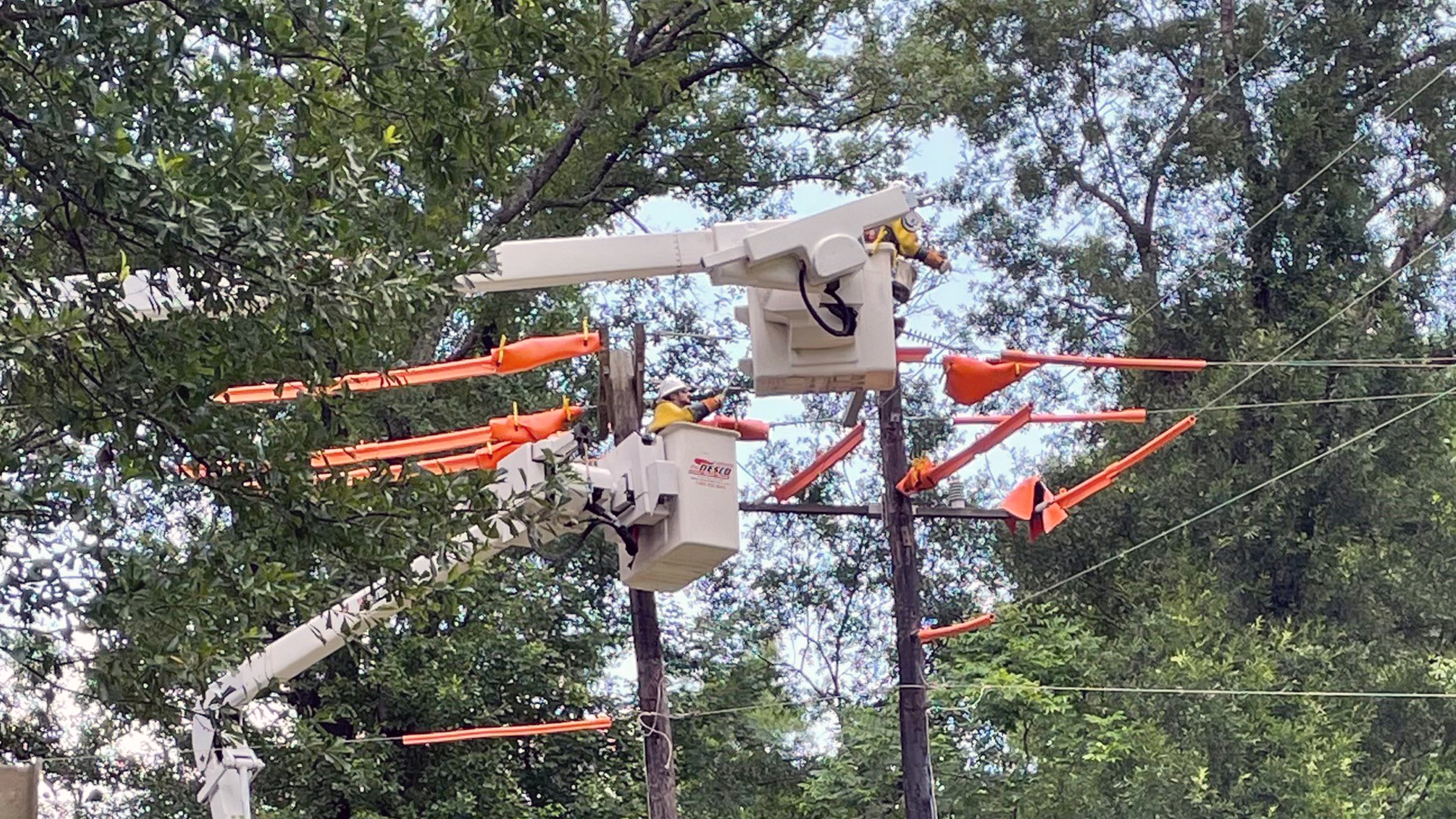 Upgrades Reflect Commitment to Increasing System Resiliency, Providing Reliable Power
Sarepta, La. – As part of its commitment to providing reliable power, Entergy Louisiana is investing more than $3 million to bring a stronger, more resilient electric system to Webster Parish.
Crews will continue making significant upgrades throughout the remainder of the year and into 2022 to a portion of the electric system that stretches from Sarepta to Cotton Valley.
Upgrades include substation enhancements and the installation of approximately 200 new utility poles, miles of powerlines and smart devices like switches and reclosers. Reclosers, for example, sectionalize the electric system to prevent power outages while also helping protect it from damage. These devices give the electric system an opportunity to keep power flowing following temporary impacts like a tree limb falling onto a powerline.
Most of the work will take place along U.S. Highway 371, and Entergy Louisiana is asking that motorists exercise caution if they encounter a utility crew working beside a roadway. Traffic will be directed safely around any work sites where necessary.
Maintaining and improving the electric system is an ongoing process. Entergy Louisiana's reliability experts routinely inspect and evaluate components such as poles, powerlines, transformers and switches and use data to make strategic decisions around the replacement or enhancement of equipment.
"Our objective is always to keep the lights on and prevent power outages before they occur, and we do that through a robust reliability program," said Cindy Gordon, Entergy Louisiana customer service project manager.
She added, "I'm excited about the work we're doing to build a more resilient electric system in Webster Parish. We want to not only meet our customers' expectations but exceed them, and this is another example of how we're working to achieve that goal."
Entergy Louisiana, LLC provides electric service to more than 1 million customers and natural gas service to more than 93,000 customers in the greater Baton Rouge area. It has operations in southern, central and northern Louisiana.
Entergy Corporation (NYSE: ETR) is an integrated energy company engaged in electric power production, transmission and retail distribution operations. Entergy delivers electricity to 3 million utility customers in Arkansas, Louisiana, Mississippi and Texas. Entergy owns and operates one of the cleanest large-scale U.S. power generating fleets with approximately 30,000 megawatts of electric generating capacity, including 7,000 megawatts of nuclear power. Headquartered in New Orleans, Louisiana, Entergy has annual revenues of $10 billion and approximately 12,500 employees. Learn more at entergy.com and follow @Entergy on social media.
###

entergy-louisiana.com/
facebook.com/EntergyLA
Twitter: @EntergyLA

-30-
---