News Center > Entergy Louisiana Kicks Off Super Tax Day Super Bowl Weekend
For Immediate Release
Entergy Louisiana Kicks Off Super Tax Day Super Bowl Weekend
01/31/2017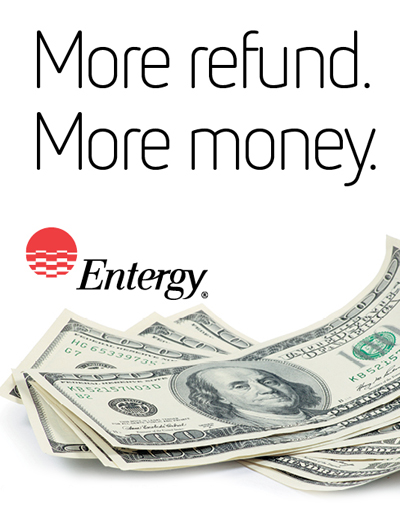 Company teams with Capital Area United Way to provide free tax prep
BATON ROUGE, La. - On Super Bowl weekend, Entergy Louisiana and the Capital Area United Way volunteers are kicking off the tax season by making sure the big winners are local customers who claim their Earned Income Tax Credit.
On Super Tax Day, scheduled for Feb. 4 in Baton Rouge, La at local VITA sites, Entergy Louisiana and the Capital Area United Way are providing free tax preparation for working families. In addition to tax preparation assistance, Entergy's local community partners are also offering a number of programs designed to help families use tax refunds to increase savings and financial well-being.  Programs such as financial coaching, budget workshops, free legal services, healthy food and lifestyle choices and matched savings accounts for qualified families are some of the many services offered at Super Tax Day.  
"Providing assistance in securing Earned Income Tax Credits through Super Tax Day events helps our customers and our communities," said Phillip May, Entergy Louisiana President and CEO. "New tools and programs mean Entergy's Super Tax Day events have long-term benefits that help power customers' lives now and in the future. This Super Bowl weekend, visitors to our VITA sites will be the real winners."
Entergy's support of the VITA program in the four states the utility serves – Arkansas, Louisiana, Mississippi and Texas – has resulted in approximately 93,000 customers receiving $162 million through the EITC program since 2011. In Louisiana more than 33,465 have received $2,961,152 since Entergy Louisiana launched the program by partnering with local advocates six years ago.
To learn more about Entergy's support of Super Tax Days, please visit entergy.com/freetaxhelp.
Entergy Louisiana, LLC provides electric service to more than 1 million Louisiana customers. Additionally, the company provides natural gas service to nearly 93,000 customers in the greater Baton Rouge area. With operations in southern, central and northeastern Louisiana, the company is a subsidiary of Entergy Corporation.
-30-
entergylouisiana.com
facebook.com/EntergyLA
Twitter: @EntergyLA
---