News Center > Entergy Louisiana Recognizes Capital Region with We Power Life Celebration
For Immediate Release
Entergy Louisiana Recognizes Capital Region with We Power Life Celebration
10/17/2016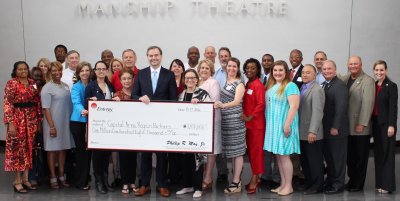 Additional grants to five agencies awarded
METAIRIE, Louisiana – Entergy Louisiana celebrated local organizations and non-profit agencies who have received 120 Entergy grant contributions over the past two years.
Dozens of people were on hand for the special We Power Life – Capital Region event with Entergy leaders today at Manship Theatre at the Shaw Center for the Arts.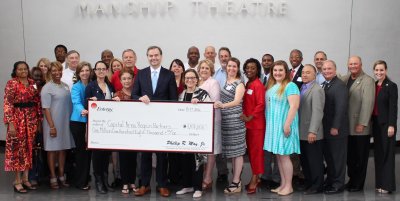 Over the past two years, the grants that have been awarded to agencies in the south Louisiana region totaled $1,108,000. The monies have gone toward many major projects that run the gamut from education and poverty to economic development and the environment.
In the past year, Entergy awarded approximately 120 grants in the capital region totaling nearly $1,108,000.
"We rely heavily on the partnerships with local agencies in the communities we serve," said Phillip May, Entergy Louisiana president and CEO. "Today, we recognize and thank them for the hard work they do to achieve our shared goal of improving the lives and outcomes of our citizens, our communities, our customers.  Together, We Power Life."
In 2015, Entergy shareholders awarded more than $15 million to local nonprofits through various grant programs. Over the past 10 years, Entergy Corporation has donated more than $150 million.
As a special thank you, the agencies were invited to enter a drawing to win an additional $5,000 in partner appreciation grants. To win, all they had to do was submit a photo of one of the events that Entergy helped sponsor. Those agencies winning $500 grants each were the Capital Area United Way and the JL Foundation. Agencies that won $1,000 grants each were the Foundation for Womans and the Louisiana Youth Seminar. Winning the grand prize grant of $2,000 was the Big Buddy Program.
 Entergy Louisiana, LLC provides electric service to more than 1 million customers and natural gas service to approximately 93,000 customers in the greater Baton Rouge area. With operations in southern, central and northeastern Louisiana, the company is a subsidiary of Entergy Corporation.
Entergy Corporation is an integrated energy company engaged primarily in electric power production and retail distribution operations. Entergy owns and operates power plants with approximately 30,000 megawatts of electric generating capacity, including nearly 10,000 megawatts of nuclear power. Entergy delivers electricity to 2.8 million utility customers in Arkansas, Louisiana, Mississippi and Texas. Entergy has annual revenues of approximately $11.5 billion and more than 13,000 employees
-30-
entergylouisiana.com
facebook.com/EntergyLA
Twitter: @EntergyLA
---