News Center > Entergy Louisiana Teams with United Way for Super Tax Day
For Immediate Release
Entergy Louisiana Teams with United Way for Super Tax Day
01/25/2018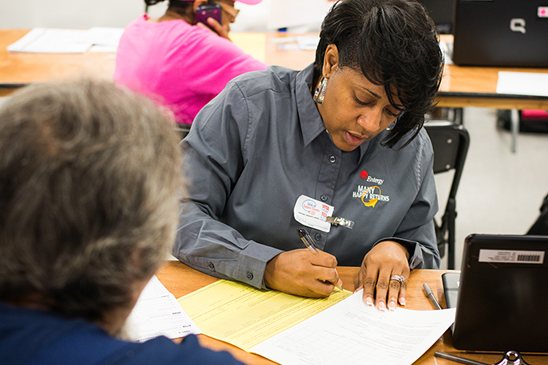 Volunteers to provide free tax prep for qualifying customers

Baton Rouge, La. – Entergy Louisiana customers can receive free tax prep assistance during Super Tax Day, scheduled for 8 a.m. to 5 p.m. on Feb. 3, at the East Baton Rouge Main Library, 7711 Goodwood Blvd., Baton Rouge.

At local Volunteer Income Tax Assistance sites, Capital Area United Way and Entergy volunteers help qualified residents claim federal Earned Income Tax Credits.

EITC is one of the nation's most effective means of lifting needy Americans out of poverty. In Arkansas, Louisiana, Mississippi and Texas, Entergy has helped approximately 111,000 customers receive $195 million through the EITC program since 2011.

"Services provided through Super Tax Day and the VITA program help power lives for customers, who can gain long-term benefits by claiming EITC," said Jody Montelaro, vice president of public affairs for Entergy Louisiana. "As customers' lives improve, communities benefit."

Free tax prep is provided at VITA sites throughout the 2018 tax season. In some locations local community partners are offering drop-off tax prep services, appointments for tax prep services at local VITA sites throughout the tax season, financial coaching, budget workshops, free legal services and more.  For more information on Entergy's Super Tax Day and VITA, visit entergy.com/freetaxhelp.

Entergy Louisiana, LLC provides electric service to more than 1 million customers and natural gas service to nearly 93,000 customers in the greater Baton Rouge area. With operations in southern, central and northeastern Louisiana, the company is a subsidiary of Entergy Corporation.

Entergy Corporation is an integrated energy company engaged primarily in electric power production and retail distribution operations. Entergy owns and operates power plants with approximately 30,000 megawatts of electric generating capacity, including nearly 9,000 megawatts of nuclear power. Entergy delivers electricity to 2.9 million utility customers in Arkansas, Louisiana, Mississippi and Texas. Entergy has annual revenues of approximately $10.8 billion and nearly 13,000 employees. 

                                                        -30-
                                            Twitter: @EntergyLA
---