News Center > Entergy Nuclear Grant Helps Support Technology Program at Van Winkle
For Immediate Release
Entergy Nuclear Grant Helps Support Technology Program at Van Winkle
06/15/2018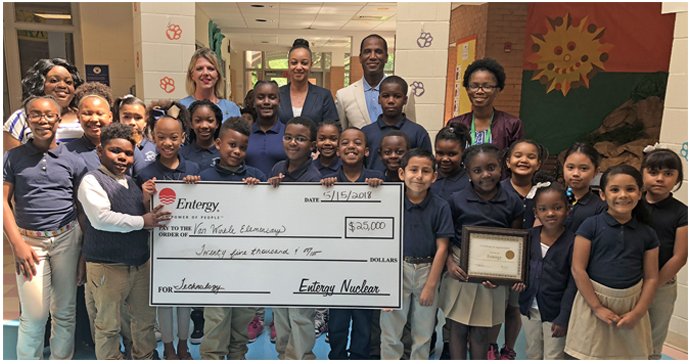 For over 30 years, Entergy Nuclear has been Van Winkle Elementary School's Adopt-A-School Partner.
JACKSON, Mississippi – The voices of the Van Winkle Elementary School students echoed through the school's hallways as the student choir sang "Dream Your Dreams."  As the children sang, faculty and Entergy Nuclear staff gathered to announce a special gift. Entergy Nuclear presented a $25,000 grant to Van Winkle.
For more than 30 years, Entergy Nuclear has been the Adopt-A-School partner with Van Winkle Elementary School. This partnership allows both organizations to build strong relationships and mentorships for the students. Giving back to the community is a key means for creating sustainable value for communities. In fact, communities are one of Entergy's four stakeholders with the other three being customers, employees and owners.
 "Our employees spend time here in the classroom with activities such as reading books, holding drawing contests, judging at reading fairs, providing computer assistance, and mentoring," Kim Pittman, project manager for nuclear operations support, said. "We have held annual drives to help provide items needed by Van Winkle students. For instance, last year we held a back-to-school drive where our employees donated more than $9,000 of school supplies."
Van Winkle will utilize the grant by enhancing the school's technology tools as well as provide hands-on experience in using technology applications.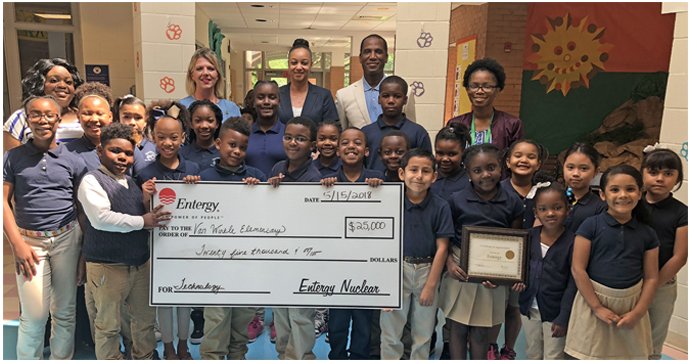 Pictured center back left to right: Entergy Nuclear Project Manager Operations Support Kim Pittman, Van Winkle Principal Kescher Love Rankin and Entergy Nuclear Continuous Improvement Coordinator Garry Brown.
Entergy Mississippi, Inc. provides electricity to approximately 447,000 customers in 45 counties. Entergy Corporation is an integrated energy company engaged primarily in electric power production and retail distribution operations. Entergy owns and operates power plants with approximately 30,000 megawatts of electric generating capacity, including nearly 9,000 megawatts of nuclear power. Entergy delivers electricity to 2.9 million utility customers in Arkansas, Louisiana, Mississippi and Texas. Entergy has annual revenues of approximately $11 billion and more than 13,000 employees.
entergy-mississippi.com
twitter.com/EntergyMS
facebook.com/EntergyMS
---