News Center > Entergy Nuclear Names New Leaders for Strategic Site and Fleet Support and Oversight
For Immediate Release
Entergy Nuclear Names New Leaders for Strategic Site and Fleet Support and Oversight
06/28/2016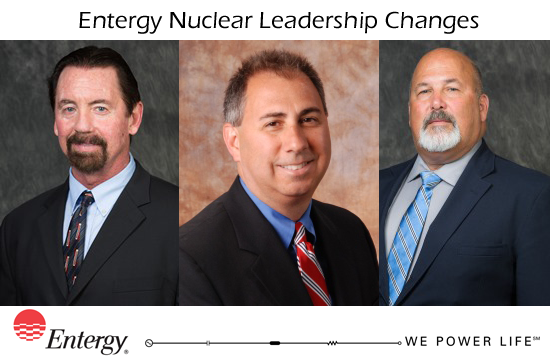 JACKSON, Miss. – Entergy Chief Nuclear Officer Chris Bakken has announced that Larry Coyle, Indian Point Energy Center site vice president, has been named chief operating officer to work alongside COO's Donna Jacobs and John Ventosa. These leaders are responsible for the strategic direction, support and oversight of the company's national fleet of 11 reactors in nine locations.
In other facility moves, Tony Vitale, currently site vice president for Palisades Power Plant in Michigan, was named site vice president for Indian Point Energy Center in New York, and Charlie Arnone, interim vice president of operations support, was named site vice president for Palisades. Coyle, Vitale and Arnone begin their new roles in August.
"We recognize that we face significant challenges at our sites, across the fleet and industry," Bakken said. "These organizational changes are a part of our nuclear sustainability plan aimed at improving fleet performance."
Coyle joined Entergy in 2011 as general manager of plant operations at Indian Point. In 2013, he was named site vice president at FitzPatrick, and has led the team at Indian Point for the last 18 months. He has more than 33 years of commercial nuclear power experience.
He began his nuclear career with Exelon at Dresden Nuclear Power Station and held various positions increasing in responsibility including main control room supervisor, shift manager, mechanical maintenance manager and work management director. During his tenure at Dresden, he served as an operations peer evaluator for the Institute of Nuclear Power Operations.
Following his work at Dresden, Coyle served as operations director at LaSalle Nuclear Power Station. He then accepted the maintenance director position for Braidwood Nuclear Power Station, and was subsequently promoted to plant manager.
Vitale began his career as maintenance engineer at Indian Point. Throughout his 33 year nuclear career, Vitale has held a number of positions with increasing responsibility, including various maintenance, engineering and operations supervisory and management roles before becoming general manager plant operations in 2007. In 2011, he accepted the leadership role at Palisades. 
Arnone began his nuclear career 31 years ago after eight years in the U.S. Navy Nuclear Power program. He has extensive operations experience as a licensed reactor operator and senior reactor operator.
 "I am pleased that Larry, Tony and Charlie have agreed to step into these key fleet and site assignments," Bakken said. "They will have the responsibility for the safe, secure and reliable operations of their respective facilities and will be involved with local communities, take an active role in the industry and partner with our employees as we strive to be one of the best nuclear operators in the world."
Entergy Corporation (NYSE: ETR) is an integrated energy company engaged primarily in electric power production and retail distribution operations. Entergy owns and operates power plants with approximately 30,000 megawatts of electric generating capacity, including nearly 10,000 megawatts of nuclear power. Entergy delivers electricity to 2.8 million utility customers in Arkansas, Louisiana, Mississippi and Texas. Entergy has annual revenues of approximately $11.5 billion and more than 13,000 employees.
-30-
http://entergy.com
Twitter: @entergy or @entergynuclear
Facebook:  www.facebook.com/entergy or Entergy Nuclear
---