News Center > Entergy Nuclear Plant Leadership Changes Announced at Arkansas Nuclear One, Waterford 3
For Immediate Release
Entergy Nuclear Plant Leadership Changes Announced at Arkansas Nuclear One, Waterford 3
09/17/2019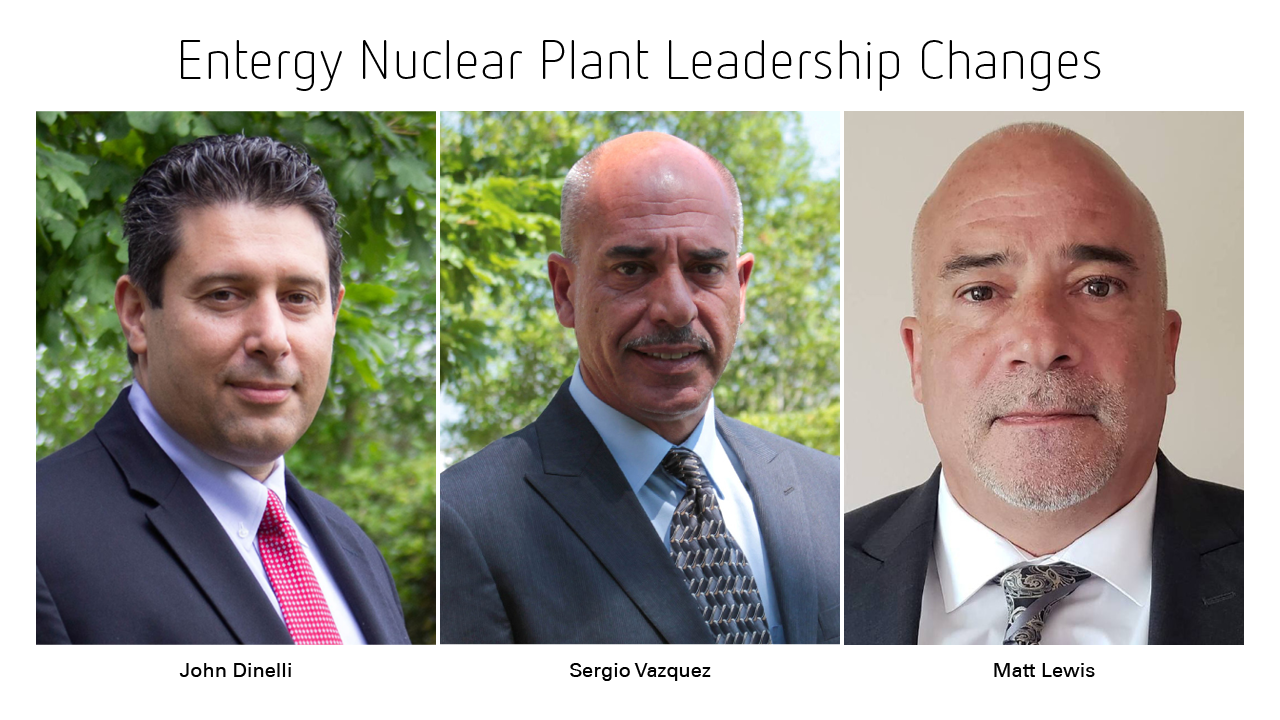 Company is developing and growing leaders from within
JACKSON, Miss. – Entergy Chief Nuclear Officer Chris Bakken has announced senior leadership changes at two of Entergy's nuclear stations, Arkansas Nuclear One and Waterford 3 Steam Electric Station, effective Sept. 30. These personnel moves are in alignment with the company's succession plans and focus on developing and growing leaders from within the organization.
ANO Site Vice President Rich Anderson will be retiring after more than 40 years in the nuclear industry. Waterford 3 Site Vice President John Dinelli is assuming the site vice president role at ANO, reporting to Entergy Nuclear COO-North Larry Coyle. Sergio Vazquez, current Waterford 3 general manager, has been promoted to site vice president at the plant, reporting to Entergy Nuclear COO-South John Ventosa. Matt Lewis, currently regulatory assurance and performance improvement director at Indian Point Energy Center will move to the role of Waterford 3 general manager. Coyle and Ventosa report to recently promoted Chris Costanzo, senior vice president, nuclear operations.
Anderson came to ANO in 2016 and has overseen several accomplishments, including the station's return to Column 1 of the U.S. Nuclear Regulatory Commission oversight action matrix. Dinelli brings more than 25 years of experience to the role, returning to Entergy in 2017 after being on loan with the Institute of Nuclear Power Operations. Vazquez joined Entergy in February 2015 as River Bend Station's engineering director, coming to the company from AREVA.
"I want to thank Rich for his outstanding leadership at ANO," Bakken said. "His strong operations and technical experience, combined with his commitment to setting high standards, were instrumental in the site's improvement efforts."
"Congratulations to John, Sergio and Matt on their new positions," Costanzo added. "They all are valuable leaders in the company and are committed to maintaining and improving high levels of performance at their respective sites."
Prior to working at INPO, Dinelli was general manager, fleet operations support, at Entergy Nuclear headquarters. He started at Indian Point as a college intern in 1990, then was hired on as a shift technical advisor in operations. In 1996, he received his senior reactor operator license and held several roles in the operations department, including general manager. Dinelli has a bachelor's degree in mechanical engineering from Manhattan College.
Prior to joining Entergy, Vazquez worked at D.C. Cook Nuclear Plant as operations director, maintenance director, and systems and production engineering manager. Vazquez has a degree in nuclear engineering from the Stevens Institute of Technology and senior operator license from D.C. Cook. He is also licensed for U.S. Naval Nuclear Power Testing through the Department of Energy.
Lewis started at Indian Point in 1996 as an operator, progressing to senior reactor operator, shift manager operations manager and senior operations manager. In May 2019, Lewis was promoted to director of regulatory assurance and performance improvement. Prior to joining Entergy, he was a plant engineer at Praxair Industrial Gas in Vernon, California. Lewis is a veteran of the U.S. Navy, serving on two aircraft carriers from 1985-1995.
About Entergy Corporation
Entergy Corporation is an integrated energy company engaged primarily in electric power production and retail distribution operations. Entergy owns and operates power plants with approximately 30,000 megawatts of electric generating capacity, including nearly 9,000 megawatts of nuclear power. Entergy delivers electricity to 2.9 million utility customers in Arkansas, Louisiana, Mississippi and Texas. Entergy has annual revenues of $11 billion and nearly 13,700 employees.
-30-
entergy-nuclear.com
Facebook: Entergy Nuclear
Twitter: @EntergyNuclear
---