News Center > Entergy Powers Louisiana Communities with $9.7 Million in Grants
For Immediate Release
Entergy Powers Louisiana Communities with $9.7 Million in Grants
03/11/2019
Lee Sabatini or Charlotte J. Cavell
|
504-576-4132
|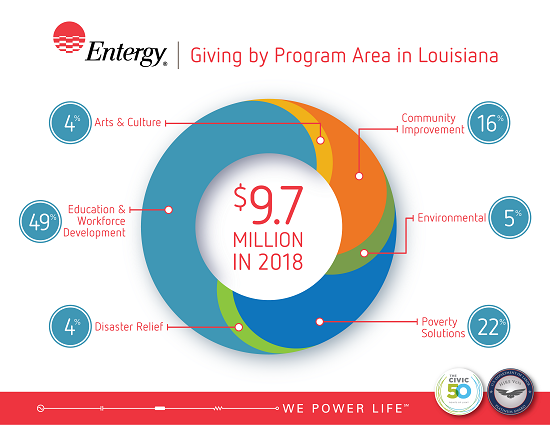 NEW ORLEANS – Entergy shareholders provided $9.7 million in grants in 2018 to support more than 700 nonprofit organizations that provide essential services and help build healthy, vibrant communities across Louisiana. Approximately 50 percent of the contributions went to support education and workforce development.
The Louisiana Resource Center for Educators and Start the Adventure in Reading, Inc., for example, were among the organizations with programs that benefited from Entergy grant contributions. The LRCE is dedicated to supporting innovation in education statewide, while STAIR helps struggling students improve reading and literacy skills through tutoring programs. Both organizations work to support teachers and better the educational experiences of Louisiana students.
"These grants demonstrate the many ways Entergy powers life by supporting vital programs and services that address critical needs in our communities," said Patty Riddlebarger, Entergy's vice president of corporate social responsibility. "Thanks to our outstanding network of partner organizations, Entergy's grants continue making a positive impact on our customers and communities."
Among the Louisiana organizations receiving grants in 2018 were:
Including the money donated in Louisiana, Entergy awarded grants in 2018 totaling more than $18.4 million to more than 2,000 nonprofits in the states where Entergy operates, and employees logged more than 111,000 volunteer hours. Learn more about our community investments here.
Entergy Louisiana provides electric service to more than 1 million customers and natural gas service to nearly 93,000 customers in the greater Baton Rouge area. The company has operations in north, central and south Louisiana.
Entergy New Orleans, Inc. is an electric and gas utility that serves Orleans Parish. The company provides electricity to more than 200,000 customers and natural gas to more than 106,000 customers. Both companies are subsidiaries of Entergy Corporation.
Entergy Corporation is an integrated energy company engaged primarily in electric power production and retail distribution operations. Entergy owns and operates power plants with approximately 30,000 megawatts of electric generating capacity, including nearly 9,000 megawatts of nuclear power. Entergy delivers electricity to 2.9 million utility customers in Arkansas, Louisiana, Mississippi and Texas. Entergy has annual revenues of approximately $11 billion and more than 13,000 employees.
---