News Center > Entergy Recognized for Civic Engagement, Sustainability, Social Responsibility
For Immediate Release
Entergy Recognized for Civic Engagement, Sustainability, Social Responsibility
06/21/2017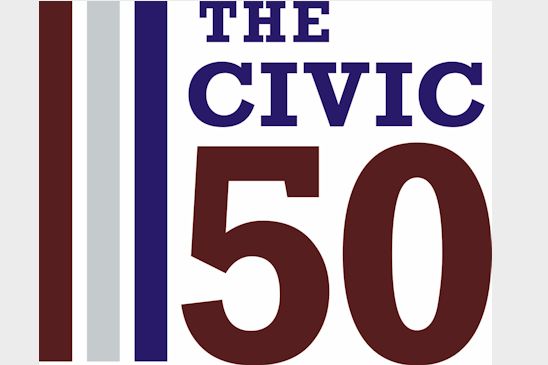 The Civic 50 list spotlights the most community-minded companies in the nation.
NEW ORLEANS- Fifty is nifty for companies engaged in sustainable actions that benefit local communities. Entergy Corporation (NYSE: ETR) is one such company, as noted by The Civic 50.
The Civic 50 is an initiative of Points of Light, the world's largest organization dedicated to volunteer service. The list identifies the 50 most community-minded companies in the nation each year, as determined by an annual survey of participating companies. Criteria are: 
Investment: How extensively and strategically the company applies its resources to community engagement, including employee time and skills, cash, in-kind giving and leadership.
Integration: How the company integrates their community engagement programs into key business functions, including employee engagement, marketing/public relations, diversity and inclusion, recruiting, stakeholder relations and skill-development.
Institutionalization: How the company supports community engagement through organizational policies, systems and incentives.
Impact: How the company measures the social and business impact of their community engagement program.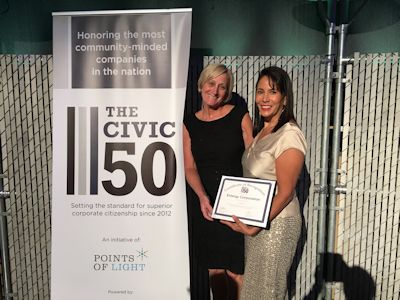 Entergy's Molly Buckley (left) and Patty Riddlebarger accept The Civic 50 recognition on behalf of the company. The Civic 50 annual list is comprised of the most community-minded companies in America.
By benchmarking and celebrating best practices, The Civic 50 provides a framework for good corporate citizenship and showcases how companies can use time, skills and other resources to improve the quality of life in their communities. This is the second consecutive year Entergy has made the list.
"Being named again to The Civic 50 acknowledges the many ways Entergy continues to power life for all of our stakeholders – owners, customers, employees and communities," said Leo Denault, Entergy's chairman and CEO. "The work employees do every day goes beyond providing reliable, affordable power and gas to customers. In thousands of communities throughout our four-state service area, employees are making a positive difference through countless acts of volunteerism and philanthropy. That's why receiving this honor is a proud accomplishment for the entire Entergy team."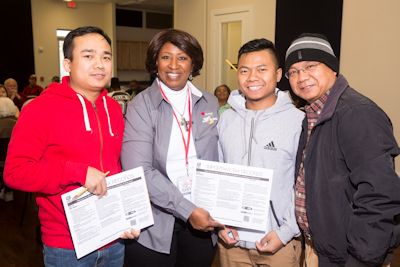 Mary Young, Entergy retiree, provides tax preparation help for customers Thang Muang, Khup Zo and Khai K. Pau. Entergy's Super Tax Day, which helps return $35 million annually to customers through the Earned Income Tax Credit federal program, is one of the many ways Entergy powers life in its communities.  
Entergy invests more than $19 million annually in community improvement programs in the areas of education, workforce development, arts, health and environment. Employees spend more than 100,000 volunteer hours a year encouraging science and math studies in public schools, inspiring young students for careers in the utility industry, participating in local festivals and cultural attractions, running/swimming/biking for healthy lifestyles, and rebuilding wetlands, just to name a few community activities.
"In the fifth year of honoring the most community-minded companies in the nation, The Civic 50 truly highlights the commitment to community and civic engagement of America's leading brands," said Jennifer Lawson, president of networks at Points of Light. "By elevating critical stakeholder voices from employees, customers and communities into their mission statements, The Civic 50 companies are putting themselves at the center of change to create more enduring and sustainable business models."
In 2016, Entergy employees contributed more than 100,000 hours of volunteer service valued at more than $3 million. Additional information on Entergy's commitment to community can be found in the company's 2016 Integrated Report and at "Our Community" on entergy.com.
About Entergy
Entergy Corporation is an integrated energy company engaged primarily in electric power production and retail distribution operations. Entergy owns and operates power plants with approximately 30,000 megawatts of electric generating capacity, including nearly 9,000 megawatts of nuclear power. Entergy delivers electricity to 2.9 million utility customers in Arkansas, Louisiana, Mississippi and Texas. Entergy has annual revenues of approximately $10.8 billion and nearly 13,000 employees.
-30-
entergy.com
Twitter: @entergy
Facebook: www.facebook.com/entergy
---