News Release > Entergy Shareholders Power a Healthier Environment Through $1M in Grants
For Immediate Release
Entergy Shareholders Power a Healthier Environment Through $1M in Grants
02/07/2020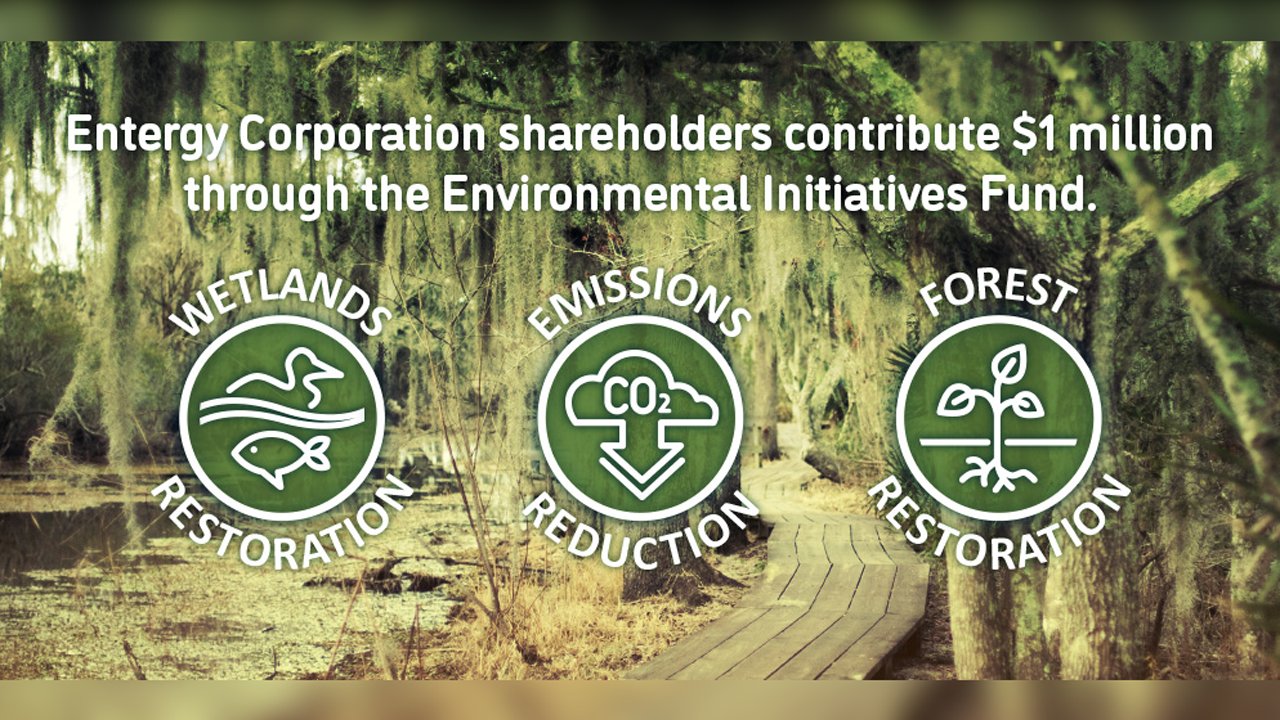 Nearly 20 environmental partners in five states received shareholder-funded grants to support improvement programs and projects
NEW ORLEANS – Entergy Corporation's shareholders are helping protect the environment by contributing approximately $1 million to partnering organizations through the company's Environmental Initiatives Fund. The fund identifies environmentally beneficial projects or programs that help improve our environment by reducing emissions, protecting natural resources and restoring wetlands and forests. The fund also focuses on educating our customers, employees, communities and owners on the value of natural resources and other environmental improvements.
Organizations interested in partnering with Entergy in 2020 on environmental improvement programs and projects can apply for grant consideration here.
"At Entergy, we have a responsibility to partner with our communities to work to reduce environmental risk and seize opportunity for improvement," said Chuck Barlow, vice president of sustainability and environmental policy at Entergy. "We are advancing the growth of our communities while supporting all of our stakeholders through these initiatives and collaborating with environmental partners who work endlessly to make our communities more vibrant. This supports our vision as the premier utility to create long-term, sustainable value that benefits all our stakeholders."
EIF recipients include:
A complete list of 2019 EIF grant recipients can be found here.
Since 2001, more than $35 million of Entergy shareholder contributions have been invested in environmentally beneficial projects and programs through the Environmental Initiatives Fund.
The EIF also contributes to Entergy's leadership role as an environmental advocate, while supporting the United Nations Sustainable Development Goals. The UNSDGs were established in 2015 to create a brighter future on Earth. The company's EIF projects influence UNSDGs, including: (12) Responsible Consumption; (14) Life Below Water; (15) Life on Land and (17) Partnerships for the Goals, among other goals. Learn more about the UNSDGs here.
Entergy and its subsidiaries operate one of the cleanest large-scale generation fleets in the United States, as noted in MJ Bradley and Associates' 2019 Benchmarking Air Emissions Report. In 2019, Entergy released its Climate Scenario Analysis and Evaluation of Risks and Opportunities and announced a new climate goal to reduce its carbon emission rate to 50% below its year 2000 levels by 2030. The company is on target to meet its current climate goal, which lasts through 2020.
About Entergy Corporation
Entergy Corporation (NYSE: ETR) is an integrated energy company engaged primarily in electric power production and retail distribution operations. Entergy owns and operates power plants with approximately 30,000 megawatts of electric generating capacity, including nearly 9,000 megawatts of nuclear power. Entergy delivers electricity to 2.9 million utility customers in Arkansas, Louisiana, Mississippi and Texas. Entergy has annual revenues of approximately $11 billion and approximately 13,500 employees.
-30-
entergy.com
facebook.com/Entergy
Twitter: @Entergy
---