News Release > Entergy Solutions Awards $75,000 to Grambling State University for Energy-Saving Projects
For Immediate Release
Entergy Solutions Awards $75,000 to Grambling State University for Energy-Saving Projects
12/12/2022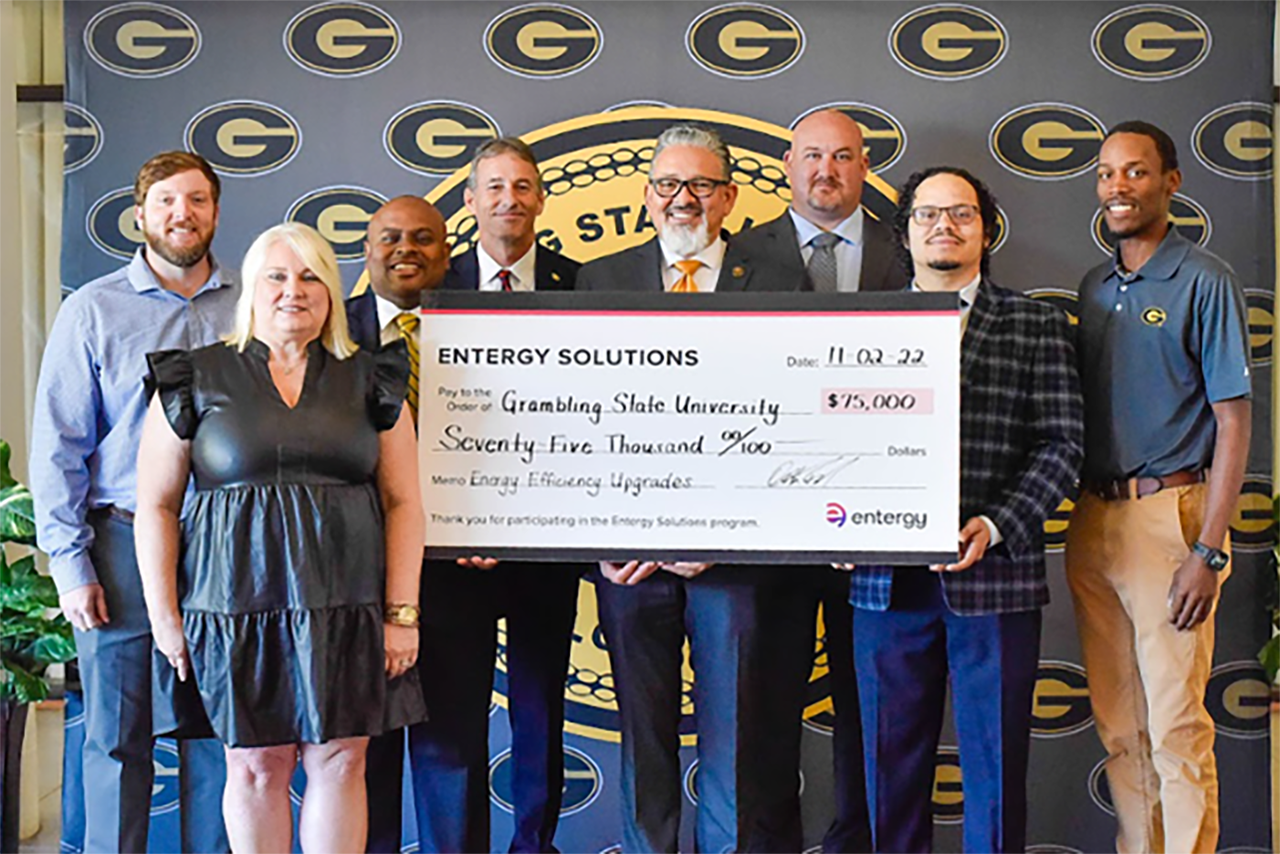 Grambling, La. – Entergy Solutions awarded $75,000 in financial incentives to Grambling State University (GSU) for completing energy efficiency upgrades across seven buildings that will lead to significantly reduced electric consumption. These projects will result in GSU saving over 661,000 kilowatt-hours and reducing electricity costs by more than $50,000 in 2022.
Entergy Solutions is an energy efficiency program open to all Entergy Louisiana customers. The program has served residential and commercial customers for over a decade but recently expanded its offerings to the higher education sector in January. The program's incentives allow schools like GSU to make energy efficiency upgrades to their facilities by reducing project costs and providing a variety of ways to decrease unnecessary energy usage and save on expenses.
"This project resulted in a more productive educational environment for the entire school community," said GSU Director of Facilities Damien Chatman. "Our buildings have better indoor air quality, and students can focus on their studies without the distraction of being uncomfortable in a hot classroom. We look forward to working with Entergy Solutions on future projects that enhance the learning experience, save us money and reduce energy use."
Seven buildings on campus had aging and failing air conditioning equipment, causing increased maintenance attention and uncomfortable conditions for staff and students. Entergy Solutions worked with GSU and trade ally contractor CMC Corporate Solutions to install new chillers and a building automation system.
The building automation system upgrades give GSU Operations control over their HVAC equipment, which allows them to provide air conditioning to spaces that need it and employ schedules to reduce usage during off-hours. A functional system can also help reduce maintenance calls and improve response time to issues. Further, indoor air is monitored to ensure a healthy and comfortable indoor environment.
"Whether you run a small business or a large commercial operation, energy is a major expense," said Program Energy Advisor Dillon Teal. "Entergy Solutions works with business owners, facility managers and trade ally contractors to identify opportunities and provide cash incentives for completing eligible upgrades with proven energy savings. Energy-efficient upgrades like those completed by Grambling can help lower maintenance costs and operating expenses, among other benefits."
About Entergy Solutions
Entergy Solutions offers programs for Entergy Louisiana customers to save energy and money by reducing the up-front cost of a variety of energy efficiency upgrades. The program partners with participating trade allies and retailers, who will help customers find new ways to save. For more information and how to participate, visit entergysolutionsla.com or call 844-829-1300 to speak to an energy advisor.
About Grambling State University
Combining the academic strengths of a major university with the benefits of a small college, Grambling State University fosters an environment where students develop into trailblazers, thought leaders and innovators of the next generation. As one of the country's top producers of African American graduates in Computer Information Science, the university takes pride in preparing graduates who are unafraid to forge new paths and exceed boundaries. Founded in 1901 in Grambling, Louisiana, the historically black university offers 46 undergraduate and graduate academic programs on its historic 590-acre campus and is home to world-class athletics, an internationally renowned marching band and vibrant student life. Grambling's student-focused philosophy is central to what they do and is exemplified by their motto: Where Everybody is Somebody. For more information, visit www.gram.edu.
About Entergy Louisiana
Entergy Louisiana, LLC provides electric service to more than 1 million customers in 58 parishes and natural gas service to more than 94,000 customers in Baton Rouge, Louisiana. Entergy Louisiana is a subsidiary of Entergy Corporation, an integrated energy company engaged in electric power production, transmission and retail distribution operations. Entergy delivers electricity to 3 million utility customers in Arkansas, Louisiana, Mississippi and Texas. Entergy owns and operates one of the cleanest large-scale U.S. power generating fleets with approximately 30,000 megawatts of electric generating capacity, including 7,000 megawatts of nuclear power. Headquartered in New Orleans, Louisiana, Entergy has annual revenues of $10 billion and approximately 12,000 employees.
---