News Center > Entergy to Test Indian Point Siren System
For Immediate Release
Entergy to Test Indian Point Siren System
08/28/2017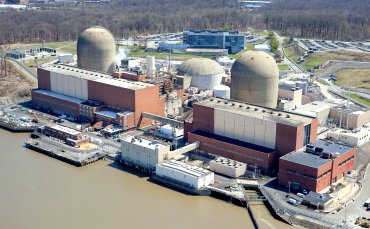 Buchanan, N.Y. – The Indian Point Energy Center emergency notification sirens will sound during a regular quarterly test of the system on Wednesday, August 30 between 6:00 and 6:30 p.m.
As part of this test, sirens will sound at full-volume for approximately four minutes in Westchester, Rockland, Orange, and Putnam counties.
Because this is only a test, the public is not required to respond during the siren sounding.
PLEASE NOTE: Sirens are not a signal to evacuate. In an actual emergency, the sirens would sound to alert the public to tune in to a local EAS radio or television station for important information and direction. These stations are listed in the emergency planning booklet mailed to households and businesses in the 10-mile Emergency Planning Zone around Indian Point. An electronic version of the booklet is posted on the Indian Point web site, www.safesecurevital.com.
Additional information about emergency planning related to Indian Point can be found on the New York State Office of Emergency Management's website, http://www.nyalert.gov/IP_Home.aspx.
Indian Point Energy Center, in Buchanan, N.Y., is home to two operating nuclear power plants, Unit 2 and Unit 3, which generate approximately 2,000 megawatts of electricity for homes, business and public facilities in New York City and Westchester County. Indian Point Unit 2 began commercial operation in 1974 and Unit 3 in 1976. Entergy purchased Unit 3 in 2000 from the New York Power Authority and Unit 2 -- along with the permanently closed Unit 1 -- in 2001 from Consolidated Edison.
Entergy Corporation is an integrated energy company engaged primarily in electric power production and retail distribution operations. Entergy owns and operates power plants with approximately 30,000 megawatts of electric generating capacity, including nearly 9,000 megawatts of nuclear power. Entergy delivers electricity to 2.9 million utility customers in Arkansas, Louisiana, Mississippi and Texas. Entergy has annual revenues of approximately $10.8 billion and nearly 13,000 employees.
-30-
entergy.com & safesecurevital.com
Facebook.com/IndianPointEnergy
Twitter: @Indian_Point
---