News Center > Entergy Texas Announces Agencies to Receive $150K to Help Harvey Victims
For Immediate Release
Entergy Texas Announces Agencies to Receive $150K to Help Harvey Victims
11/20/2017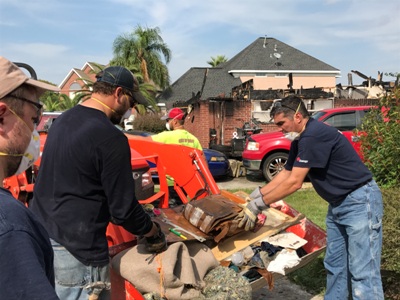 This Thanksgiving could be a difficult one for victims of Hurricane Harvey, and Entergy Texas is making the season a little brighter by giving to those in need.
Entergy Texas today announced the names of nonprofit organizations that will receive $150,000 in hurricane relief contributions from Entergy. The contributions are part of the $400,000 commitment that the company made in the days following Hurricane Harvey.  Since that time additional funds raised from employees and vendors, combined with shareholder matching funds, bring the total contributions from Entergy to more than $532,000.
"Hurricane Harvey caused financial hardships on many of our communities, and these donations by Entergy Texas will help local nonprofit organizations provide assistance to even more families," said Sallie Rainer, president and CEO of Entergy Texas, Inc. "Whether it is food for their holiday table or shelter for the coming year, it is hoped that these contributions will help our customers get back on their feet."
Those agencies and the donations they are receiving include:
* Salvation Army in Beaumont, $25,000
* Salvation Army in Port Arthur, $25,000
* Salvation Army in Orange, $25,000
* Southeast Texas Food Bank in Beaumont, $15,000
* United Way of Beaumont and North Jefferson County, $10,000
* Montgomery County Community Foundation in The Woodlands, $15,00
* Montgomery County Food Bank in Conroe, $5,000
* The Mission Northeast in New Caney, $10,000
* Covenant with Christ International in Cleveland, $10,000
* Montgomery County United Way in Spring, $7,500
* Community Impact Center in Shepherd, $2,500
The remaining funds include a $150,000 corporate donation to the American Red Cross and an additional $50,000 in employee contributions through employee fund-raising drives that will benefit fellow employees who suffered loss in the storm. In addition, Entergy shareholders are matching employee donations up to $50,000.
Entergy Texas, Inc. provides electricity to more than 440,000 customers in 27 counties. It is a subsidiary of Entergy Corporation, an integrated energy company engaged primarily in electric power production and retail distribution operations. Entergy owns and operates power plants with approximately 30,000 megawatts of electric generating capacity, including nearly 9,000 megawatts of nuclear power. Entergy delivers electricity to 2.9 million utility customers in Arkansas, Louisiana, Mississippi and Texas. Entergy has annual revenues of approximately $10.8 billion and nearly 13,000 employees.
---