News Center > Entergy Texas Awards $140,844 in Energy Efficiency Incentives to Jefferson County
For Immediate Release
Entergy Texas Awards $140,844 in Energy Efficiency Incentives to Jefferson County
10/12/2021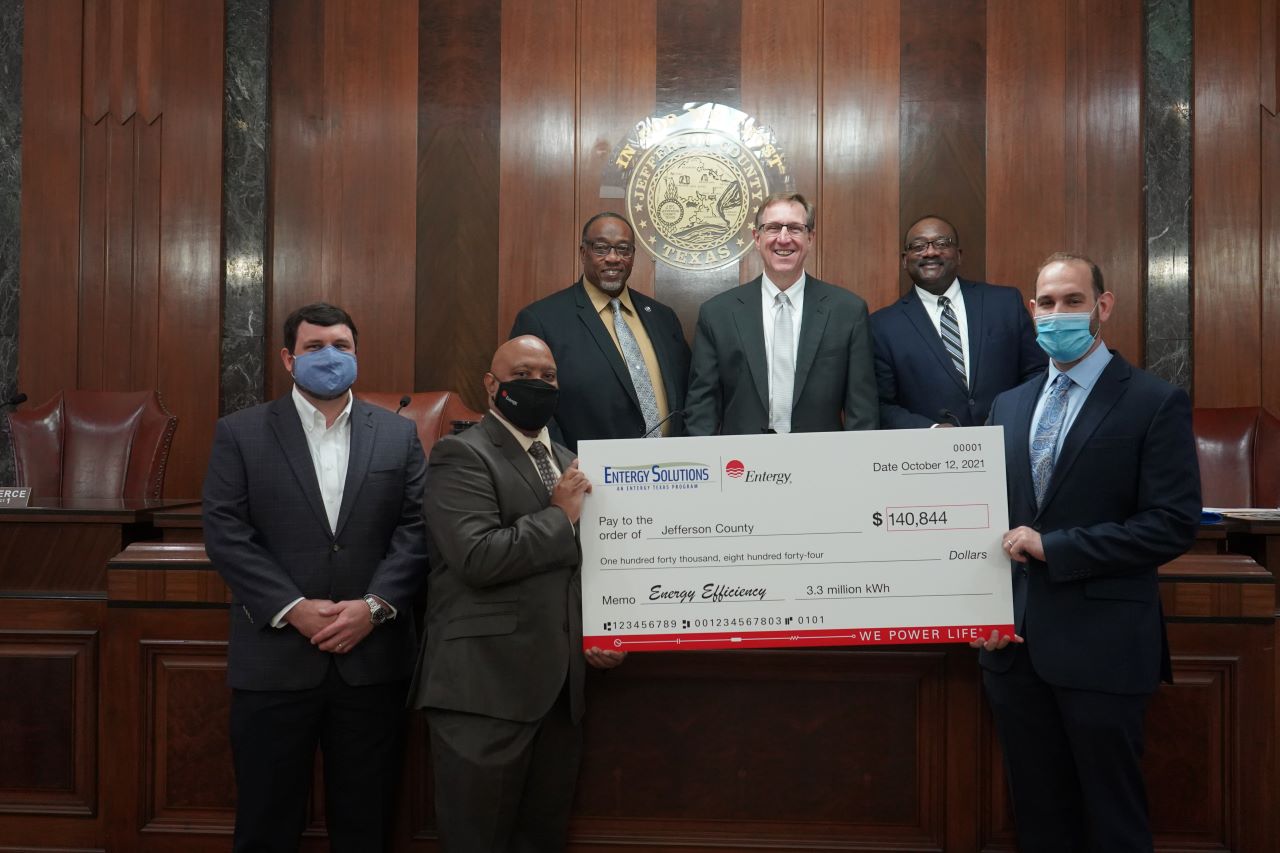 Entergy Texas, Inc. awarded $140,844 in incentives to Jefferson County as part of its Commercial Solutions Program through Entergy Solutions, which provides technical and financial support to help customers identify and implement projects that reduce energy use.
The Commercial Solutions Program is offered to businesses, institutional and public entities, including local state and federal governments, public/private schools and colleges in the Entergy Texas service area. The program helps facility professionals understand the technical and financial benefits of investing in energy efficiency and develop an improvement plan. The program does not prescribe technologies or end uses but instead provides a framework through which the participants can receive incentives for implementing and installing a wide range of energy efficiency improvements at their sites.
"This was a great partnership between Entergy Texas and Jefferson County," said Jefferson County Judge Jeff Branick. "Through lighting and HVAC upgrades in 18 county buildings, the county is able to see significant energy savings. Entergy Texas is a valued partner for Jefferson County, and we appreciate their work to improve our communities and save tax dollars."
The energy-efficient improvements Jefferson County has already implemented are saving more than 3.3 million kilowatt-hours annually, which is the equivalent to eliminating the carbon dioxide emissions from about 265,281 gallons of gasoline, according to Environmental Protection Agency calculations. The $140,844 incentive supported retrofit and upgrades to HVAC systems and lighting in correctional facilities, courthouses, maintenance facilities, offices, airport facilities, and other county buildings. Johnsons Controls was the contractor.
"Entergy Texas is committed to partnering with our customers to develop tailored energy solutions to help keep costs down and better manage energy usage," said Stuart Barrett, vice president of customer service for Entergy Texas. "We are thrilled we were able to work with Jefferson County to make these recent building enhancements happen. These upgrades will make the county's facilities more energy-efficient, which ultimately benefits residents and taxpayers across Jefferson County."
Entergy Texas has a portfolio of energy efficiency programs for both residential and business customers. To learn more about these programs, visit www.entergy-texas.com/energy_efficiency/.
About Entergy Texas
Entergy Texas, Inc. provides electricity to approximately 473,000 customers in 27 counties. Entergy Texas is a subsidiary of Entergy Corporation, an integrated energy company engaged in electric power production, transmission and retail distribution operations. Entergy delivers electricity to 3 million utility customers in Arkansas, Louisiana, Mississippi and Texas. Entergy owns and operates one of the cleanest large-scale U.S. power generating fleets with approximately 30,000 megawatts of electric generating capacity, including 7,000 megawatts of nuclear power. Headquartered in New Orleans, Louisiana, Entergy has annual revenues of $10 billion and approximately 12,500 employees. Learn more at entergy.com and follow @Entergy on social media.
-30-
Twitter: @EntergyTX
Facebook: Facebook.com/EntergyTX
---