News Center > Entergy Texas breaks ground on Orange County Advanced Power Station
For Immediate Release
Entergy Texas breaks ground on Orange County Advanced Power Station
04/24/2023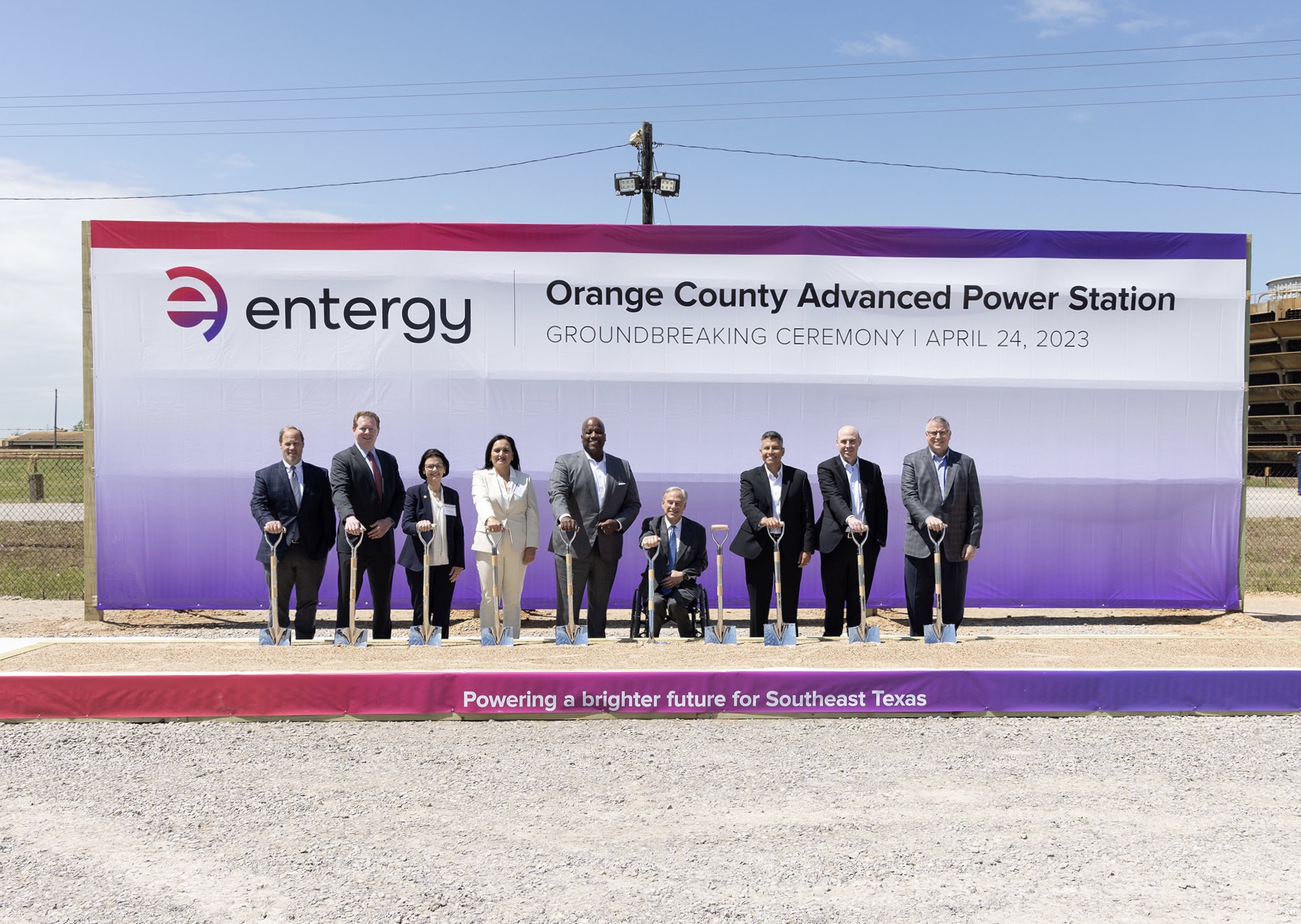 The project will bring $1.8 billion in economic activity and more than 7,000 jobs to the community
ORANGE, Texas – Entergy Texas executives, Texas Governor Greg Abbott, government officials and community leaders gathered to celebrate a new chapter for reliable, affordable and sustainable energy across Southeast Texas. Nearly 200 people attended a special groundbreaking ceremony to commemorate the start of construction on the Orange County Advanced Power Station, a project underway next to Entergy Texas' Sabine Power Plant in Orange. At full capacity, the combined-cycle power plant will be capable of producing 1,215 megawatts of electricity per year, which is enough to power 230,000 homes.
"This groundbreaking marks the start of an exciting opportunity to serve the growing demand across Southeast Texas," said Eliecer Viamontes, president and CEO of Entergy Texas. "By investing in modern and fuel-efficient technology, we can meet the needs of our customers today while laying the foundation for future growth across our region."
The construction of OCAPS will create nearly $1.8 billion in total economic activity in Southeast Texas, and result in more than 7,000 direct and indirect jobs.
"Facilities like the Orange County Advanced Power Station will ensure that reliable power is available in Southeast Texas for generations to come," said Governor Abbott. "I want to thank the Orange County City Council and community leaders for all your hard work bringing such a great company to this wonderful city. And thank you to Entergy for continuing to invest in Texas and the great people of Orange. The new facility will be a Texas-sized investment in the future of Southeast Texas."
A consortium of Mitsubishi Power Americas, Inc., Sargent & Lundy and The Industrial Company will provide Entergy Texas with engineering, procurement and construction services. The plant is expected to be in service by 2026.
Pictured left to right: Public Utility Commission of Texas Commissioner Jimmy Glotfelty, PUCT Chairman Peter Lake, PUCT Commissioners: Kathleen Jackson and Lori Cobbs, Entergy Utility Operations Group President Rod West, Texas Gov. Greg Abbott, Entergy Texas President and CEO Eliecer Viamontes, Entergy Chairman and CEO Drew Marsh, and Entergy Executive Vice President and Chief Operating Officer Pete Norgeot.
About Entergy Texas
Entergy Texas, Inc. provides electricity to 499,000 customers in 27 counties. Entergy Texas is a subsidiary of Entergy Corporation, a Fortune 500 company headquartered in New Orleans. Entergy powers life for 3 million customers through its operating companies across Arkansas, Louisiana, Mississippi and Texas. Entergy is creating a cleaner, more resilient energy future for everyone with our diverse power generation portfolio, including increasingly carbon-free energy sources. With roots in the Gulf South region for more than a century, Entergy is a recognized leader in corporate citizenship, delivering more than $100 million in economic benefits to local communities through philanthropy and advocacy efforts annually over the last several years. Our approximately 12,000 employees are dedicated to powering life today and for future generations. For the latest news from Entergy, visit the Newsroom.
---