News Center > Entergy Texas Making Progress in Power Restoration
For Immediate Release
Entergy Texas Making Progress in Power Restoration
09/20/2019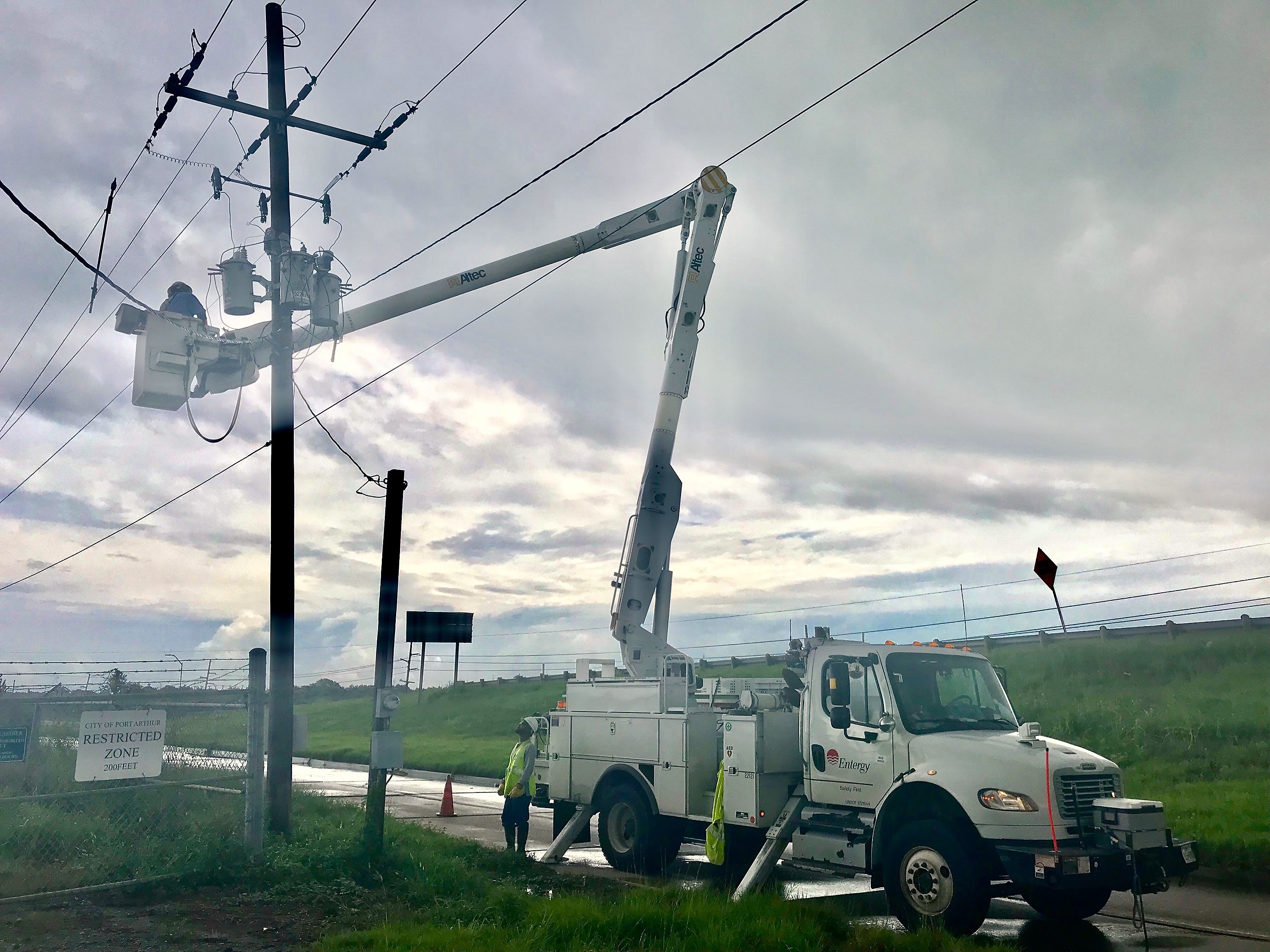 Entergy power restoration workers are chipping away at outage cases caused by Imelda's wrath.
Entergy Texas, Inc. has amassed nearly 700 workers as well as airboats, high-water vehicles and drones to restore power. As of 9 a.m. Entergy Texas had restored more than half of the customers affected by Imelda's torrential rainfall. Crews are working today to restore approximately 13,000 customers still without power.
Floodwaters have begun to recede, but travel conditions remain difficult in some areas, which can slow the company's efforts to move people and equipment around for restoration work.
Estimated times of restoration for all affected customers who can receive power is 8 p.m. Saturday. Some customers in Montgomery and Liberty counties are expected to be restored sooner. These estimates may change if crews encounter additional damage, or floodwaters continue to present travel challenges. Should these times need to be adjusted, registered customers will receive text notifications. Customers can send and receive text messages about storm and restoration efforts by texting REG to 368374. Our View Outages map also will reflect these changes.
"We've made great progress, but repairing Imelda's damage will take some time in the heaviest flooded areas," said Allen East, vice president of distribution for Entergy Texas, Inc. "In addition to the damage to the system, closed roads, traffic congestion and access to flooded areas could certainly slow our progress. We are committed to our customers and are working hard to get their power on just as safely and as quickly as we can."
Just because customers don't see a truck in their neighborhood doesn't mean crews aren't working farther down the line to get power restored to their street. Additionally, if an area did not experience flood damage, parts of the electric system serving the area may have experienced flood damage.
The electrical system restoration process is a team effort. Restoration involves not only workers from our area but also Entergy crews from other states. Repairs begin with major lines to the substations, then to the lines and equipment serving neighborhoods, businesses and homes.
Service lines to individual homes and businesses will be restored last because fewer customers are involved. In the case of fewer outages spread over larger areas, it often takes more time to get power back on.
Customers should refrain from approaching utility workers at job sites. These can be dangerous locations and interruptions will slow workers' progress.
While waiting for power to be restored, there are several things customers can do to ensure their homes or businesses are ready to receive it.
Check outside and around structures for damage to electrical equipment.
If the meter or any of the piping and wires on the outside wall is missing or looks damaged, call an electrician to make repairs.
If the home or business has been flooded, customers will need to contact the city or county where you live or work for an electrical inspection before service can be restored.
Entergy Storm Center has information on how to spot damages.
Safety is of utmost importance for the public and Entergy employees.
There is no way to know if a downed line is energized. Stay away and call 1-800-9OUTAGE (800-968-8243).
Stay away from standing water and debris from trees and other vegetation. It may be electrically charged from underground or downed power lines.
Another danger comes from customers who improperly connect a generator to their home. A registered electrician needs to connect it to your home to prevent damage to your home's electrical system or death or injury to our linemen.
Entergy Texas, Inc. provides electricity to approximately 450,000 customers in 27 counties. Entergy Corporation is an integrated energy company engaged primarily in electric power production and retail distribution operations. Entergy owns and operates power plants with approximately 30,000 megawatts of electric generating capacity, including 9,000 megawatts of nuclear power. Entergy delivers electricity to 2.9 million utility customers in Arkansas, Louisiana, Mississippi and Texas. Entergy has annual revenues of $11 billion and nearly 13,700 employees.
-30-
entergytexas.com
Twitter: @EntergyTX
Facebook: Facebook.com/EntergyTX
---