News Center > Grand Gulf Celebrates 30 Years of Service, Community Partnerships
For Immediate Release
Grand Gulf Celebrates 30 Years of Service, Community Partnerships
09/15/2015

700 Employees, Contractors Key to Success
 
PORT GIBSON, Mississippi -- Thirty years ago this summer, Entergy made history when Grand Gulf Nuclear Station connected to the electric grid for the first time. Three decades later, the people of Grand Gulf, located outside of Vicksburg, are building upon that legacy, providing safe, secure, clean, reliable and affordable power.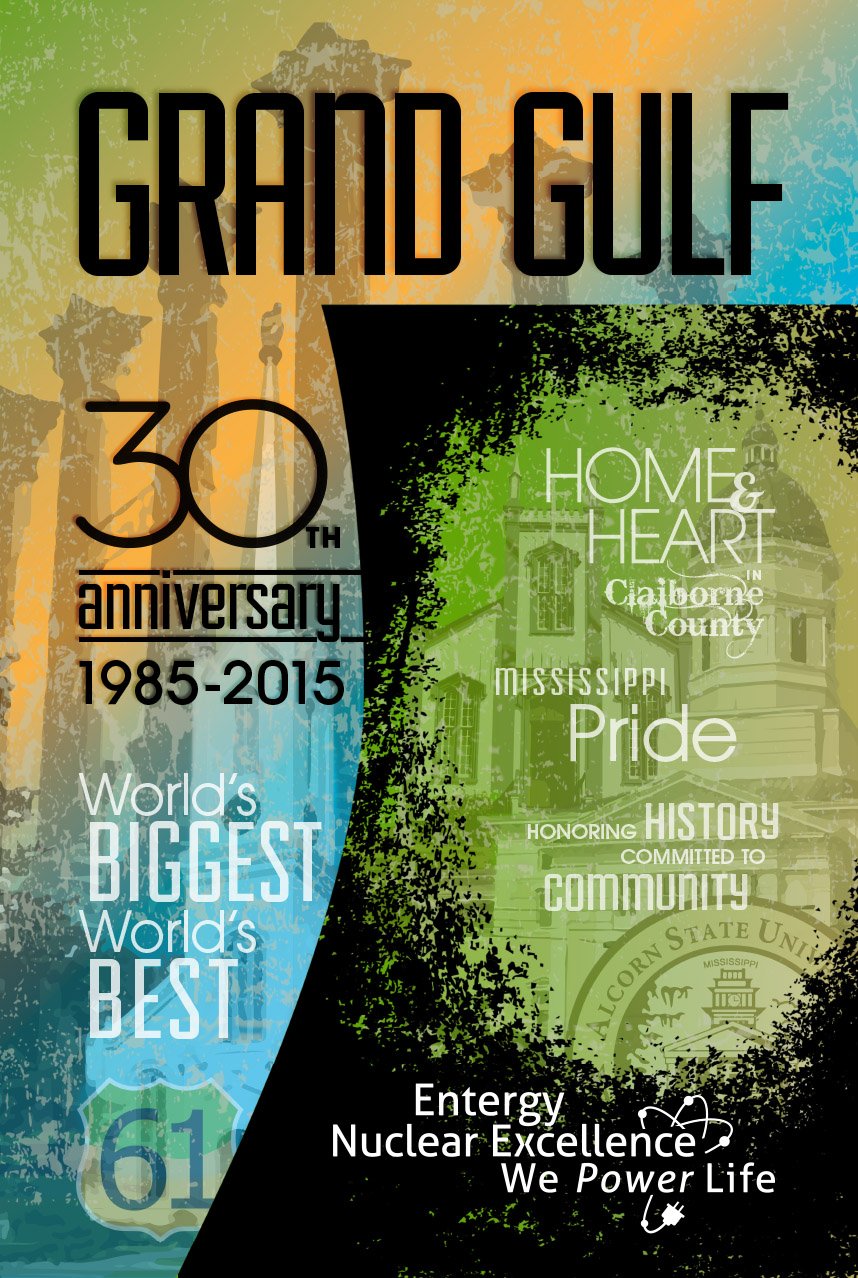 Three years ago in June 2012, Grand Gulf completed a robust power upgrade that makes it the largest single-unit boiling water reactor in the country and fifth largest in the world. The facility's total electricity output is now more than 1,440 megawatts.
The action was part of Entergy's overall strategy to close a growing gap between the amount of power the company produces and the amount that customers use. Today, Grand Gulf is the one of the most affordable sources of electricity in Mississippi.
"Grand Gulf is proud to be a good neighbor in our community and state," said Kevin Mulligan, site vice president, Grand Gulf. "At Entergy, we know our employees are our greatest asset -- we live, work and raise our families here. As we celebrate our 30th anniversary, we will stay committed to high standards in everything we do, in our work and in our communities. Grand Gulf is the world's biggest, and we aim to be the world's best."
Grand Gulf is dedicated to supporting the local economy and the communities it serves, and this commitment is exhibited by Grand Gulf in many ways. On average, Grand Gulf contributes $20 million in annual tax revenues to local municipalities, the state general fund and the 45 counties to which it supplies power.  Each year, more than $9 million is spent with local and state companies to purchase materials, services and fuel. In addition, Grand Gulf partners with Entergy Mississippi to support local initiatives through charitable contributions process, donating $968,720.to improve local communities over the past decade.
Grand Gulf is licensed to operate through 2024, but Entergy already has submitted an application with the U.S. Nuclear Regulatory Commission seeking a 20-year license extension. The plant is owned and operated by System Energy Resources, Inc. (90 percent) and South Mississippi Electric Power Association (10 percent).
Entergy Corporation is an integrated energy company engaged primarily in electric power production and retail distribution operations. Entergy owns and operates power plants with approximately 30,000 megawatts of electric generating capacity, including nearly 10,000 megawatts of nuclear power, making it one of the nation's leading nuclear generators. Entergy delivers electricity to 2.8 million utility customers in Arkansas, Louisiana, Mississippi and Texas. Entergy has annual revenues of more than $12 billion and approximately 13,000 employees.
-30-
Entergy Nuclear's online address is www.entergy-nuclear.com.
Its Twitter-Facebook feeds are @EntergyNuclear
---