News Center > How to Manage Energy Usage this Winter
For Immediate Release
How to Manage Energy Usage this Winter
11/17/2021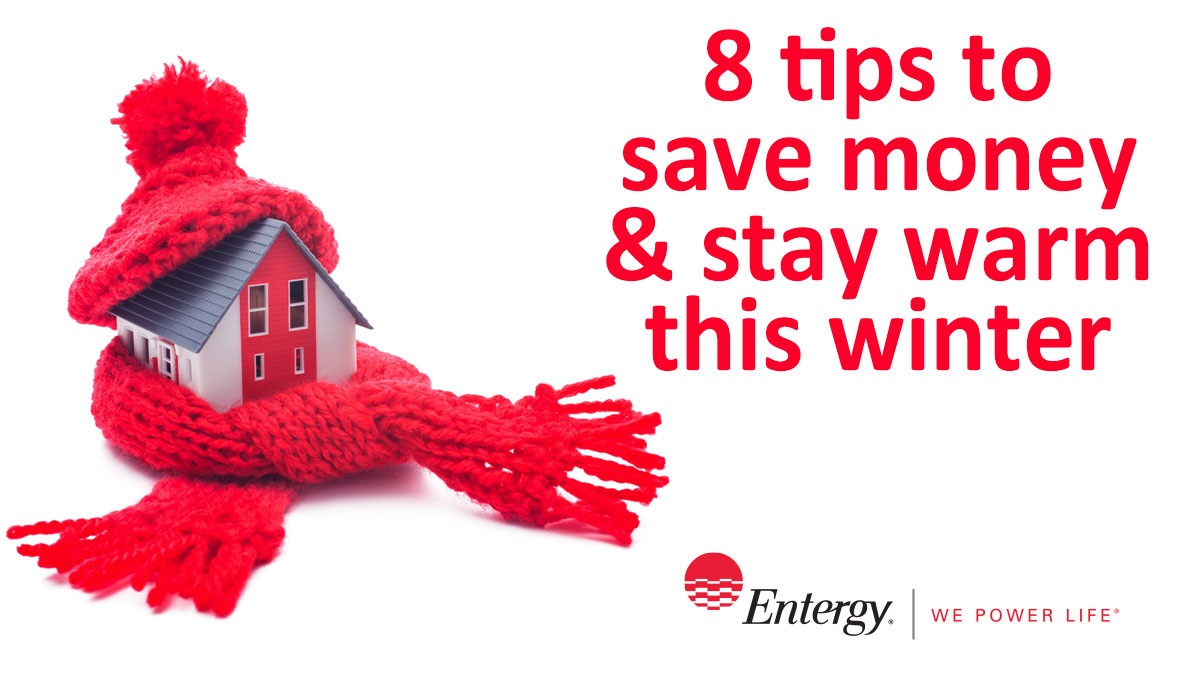 The first taste of cool weather is always welcomed in southeast Texas following the stifling heat of summer. With winter fast approaching and news of higher natural gas prices, customers may be wondering the effect of winter temperatures on their energy bill.
When it comes to higher energy bills, it's important to remember that usage and weather have a significant impact on energy bills during warmer or colder months. In fact, heating and cooling costs can account for as much as 55% of a customer's monthly energy usage. The bigger the difference between inside and outside temperatures and the more consecutive days of higher or lower temperatures, the more energy customers use, which results in higher bills.
In addition to increased energy usage during the winter months, worldwide conditions have resulted in increases in the cost of natural gas, which Entergy uses to generate power for its customers. Due to these increases, customers could see an impact on their electricity bill. 
To break it down, Entergy Texas charges residential customers a fixed fuel rate for the energy they use. The fixed fuel rate is adjusted semi-annually through filings each February and August using a formula approved and reviewed by the Public Utility Commission of Texas. That formula averages Entergy Texas' fuel costs over the most recent 12 months, which reduces the volatility of immediate impacts to customers when there are short-term spikes in fuel prices. However, given the increase in natural gas prices over the past several months and that higher prices are expected to continue through the winter, customers should ready their homes and businesses for winter weather and prepare for higher electricity bills.
Knowing about the potential for bill increases due to higher gas prices and increased usage during colder months, customers can take steps today to prepare for winter. Entergy Texas is preparing for winter and customers should too. Here are a few tips to help save energy and money this winter:
Call a pro. Contact a qualified professional to clean and inspect your heating system before the start of winter.
Replace air filters. Dirty filters make your heating system work harder. Replace them regularly according to the manufacturer's instructions.
Weatherize doors and windows. Examine windows and exterior doors for air leaks and seal them with caulk or weatherstripping.
Close the gaps. Check for gaps around exterior plumbing and wiring in your attic. Seal them with caulk or foam insulation.
Seal air ducts. Look for holes or poor connections in accessible ductwork and seal with mastic take. Insulate any ducts in conditioned areas, such as a garage or crawlspace.
Install a programmable thermostat. Programmable thermostats automatically lower temperatures at night or when you're not at home.
Adjust your thermostat. Every degree above 68 on the thermostat can increase your bill by about 3%. So, if you crank it up to a toasty 78 degrees, you've already added 30% to your bill.
Monitor your usage. Customers can access detailed energy usage information through their online account, including daily usage information. Energy usage is updated several times daily, with displayed usage in 15-minute increments for customers. Through proactive alerting, customers can set a monthly budget and energy use goals and receive notifications when nearing the selected goal. Visit entergy.com/myadvisor and sign in to your account to check it out.
Entergy Texas has a number of bill-payment options for those needing help paying their energy bills, including payment extensions, deferred payment arrangements and level billing. Entergy Texas also helps seniors and disabled individuals in crisis through its customer-assistance fund, The Power to Care, which is funded by donations from Entergy employees, customers and shareholders. In addition to The Power to Care, bill-payment assistance also is available through the federal Low-Income Home Energy Assistance Program. For more information on bill payment options and assistance, please visit https://www.entergy-texas.com/bill-help/.
About Entergy Texas
Entergy Texas, Inc. provides electricity to approximately 473,000 customers in 27 counties. Entergy Texas is a subsidiary of Entergy Corporation, an integrated energy company engaged in electric power production, transmission and retail distribution operations. Entergy delivers electricity to 3 million utility customers in Arkansas, Louisiana, Mississippi and Texas. Entergy owns and operates one of the cleanest large-scale U.S. power generating fleets with approximately 30,000 megawatts of electric generating capacity, including 7,000 megawatts of nuclear power. Headquartered in New Orleans, Louisiana, Entergy has annual revenues of $10 billion and approximately 12,500 employees. Learn more at entergy.com and follow @Entergy on social media.
-30-
Twitter: @EntergyTX
Facebook: Facebook.com/EntergyTX
---