News Center > Indian Point Unit 2 Nuclear Power Plant Returns to Service
For Immediate Release
Indian Point Unit 2 Nuclear Power Plant Returns to Service
06/28/2017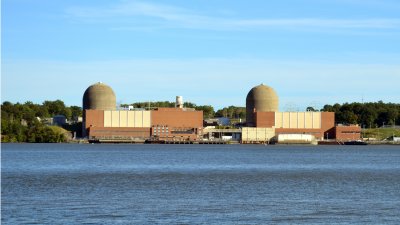 Buchanan, N.Y. – Indian Point's Unit 2 nuclear power plant returned to service this morning after maintenance professionals completed repairs to the speed control system on one of the unit's two main boiler feed pumps. The main boiler feed pumps are located on the non-nuclear side of the plant and feed water into the plant's four steam generators so it can be heated and turned into steam to make electricity.
Control room operators manually shut down Unit 2 Monday afternoon following an issue with the feed pump's speed control system, which regulates pump speed to match turbine load. Personnel repaired the issue with the speed control system and conducted inspections of both of unit 2's main boiler feed pumps prior to returning the plant to service.
Unit 2 had been online for 355 continuous days prior to Monday's shut down. Unit 3 is currently online and operating at full power.
Indian Point Energy Center, in Buchanan, N.Y., is home to two operating nuclear power plants, Unit 2 and Unit 3, which generate approximately 2000 megawatts of electricity for homes, business and public facilities in New York City and Westchester County. Entergy Corporation is an integrated energy company engaged primarily in electric power production and retail distribution operations. Entergy owns and operates power plants with approximately 30,000 megawatts of electric generating capacity, including nearly 9,000 megawatts of nuclear power. Entergy delivers electricity to 2.9 million utility customers in Arkansas, Louisiana, Mississippi and Texas. Entergy has annual revenues of approximately $10.8 billion and nearly 13,000 employees.
-30-
Entergy's online address is entergy.com
Indian Point Energy Center's online address is www.safesecurevital.com
Twitter: @Indian_Point
Facebook: Facebook.com/IndianPointEnergy
---