News Center > Lake Charles Power Station: Following the Blueprint for a Bright Future
For Immediate Release
Lake Charles Power Station: Following the Blueprint for a Bright Future
01/22/2018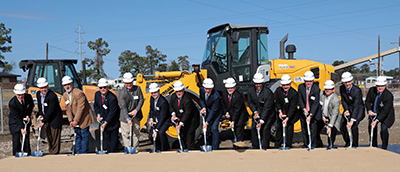 Entergy Louisiana breaks ground on combined-cycle power plant

WESTLAKE, La. – Entergy Louisiana took another important step toward modernizing its generating fleet, enhancing reliability and securing a long-term supply of lower cost energy for customers with today's ceremony formally kicking off construction of the Lake Charles Power Station.

State and local officials joined Entergy executives and employees at the groundbreaking for the combined-cycle, natural gas-fired plant. The plant's estimated cost is $872 million, including transmission and other project-related costs. It is expected to enter commercial operation by June 2020.

The highly-efficient plant is projected to lower customer energy costs between $1.3 and $2 billion over its anticipated 30-year life. Combined-cycle units, compared to Entergy's older gas-fired plants, will on average cut carbon dioxide emissions by approximately 40 percent.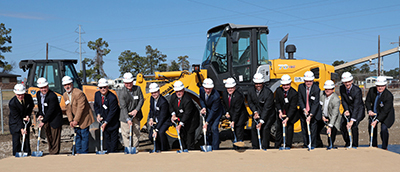 Gov. John Bel Edwards praised Entergy Louisiana's decision to build the plant. "We are truly blessed by the tremendous amount of new industrial construction and economic activity centered around Lake Charles," Edwards said in a statement. "In addition to billions in private-sector investment, we are embarking on several hundred million dollars of public investment in road and port projects. Our commitment to improving our infrastructure is critical and serves as one of the primary reasons investors are flocking to Louisiana. We're proud to support Entergy in this vitally important project to produce cleaner, more efficient power for residential and commercial ratepayers in Louisiana."

Leo Denault, chairman and CEO of Entergy Corporation, said, "The Lake Charles Power Station will provide much-needed generating capacity for the region, and it represents another step toward increasing our environmental efficiency and modernizing Entergy Louisiana's fleet. The plant, much like the St. Charles Power Station currently under construction, is expected to produce significant customer savings over the long term. It will also add another highly efficient resource to our generation fleet, which already ranks as one of the cleanest in the country."

Phillip May, president and CEO of Entergy Louisiana, said, "This new unit is another element of our plan to ensure there is an abundant supply of clean, affordable, safe and reliable energy available to meet the needs of our current customers as well as keep pace with Louisiana's expanding economy. The Lake Charles area is one of the fastest-growing regions in the nation thanks to the billions being invested in new and expanded industrial facilities."

"Many groups and individuals, including the Louisiana Public Service Commission and the civic and community leaders of Calcasieu Parish, have helped us make this project not just part of a plan, but a reality. Our pledge to them is to continue following the blueprint to create a bright future for Louisiana," May said.

LED Secretary Don Pierson said, "Entergy's investment in Southwest Louisiana will serve the incredible, multibillion-dollar economic development investments we've welcomed to this region, and demonstrates Entergy's commitment to being the utility partner that allows us to maintain and build on our momentum. Our industrial electricity rates are among the lowest in the nation. By building this highly efficient, combined-cycle plant, Entergy brings greater reliability and capacity to the market. That action sends a strong signal to current and potential new investors that Louisiana and this region are indeed prepared to serve the demand of today's industrial base, and also ready to compete for the next generation of manufacturing projects."

George Swift, president and CEO of Southwest Louisiana Economic Development Alliance, said, "Entergy Louisiana continues to demonstrate its commitment to the region through investments and its economic development efforts.  This project is a continuation of the long, positive relationship between the residents of Calcasieu Parish and Entergy Louisiana. We look forward to strengthening that relationship as well as to the opportunities this project will provide our local workforce."

The economic impact from the construction of the plant will be felt across the state, but the effect will be largest in Calcasieu Parish, according to an analysis by Louisiana economist Dr. Loren Scott. The parish is expected to see $1 billion in new business sales and $282.9 million in new household earnings during the construction phase, according to Scott's analysis.

At the height of construction activity, there will be approximately 700 people employed directly on site. Once complete, Entergy Louisiana expects to employ 31 people full-time.

CB&I, an engineering, procurement and construction contractor that employs approximately 4,800 Louisiana residents, was selected by Entergy Louisiana and will work with an Entergy management team on the completion of the Lake Charles Power Station.

Entergy Louisiana, LLC provides electric service to more than 1 million customers and natural gas service to nearly 93,000 customers in the greater Baton Rouge area. With operations in southern, central and northeastern Louisiana, the company is a subsidiary of Entergy Corporation.

Entergy Corporation is an integrated energy company engaged primarily in electric power production and retail distribution operations. Entergy owns and operates power plants with approximately 30,000 megawatts of electric generating capacity, including nearly 9,000 megawatts of nuclear power. Entergy delivers electricity to 2.9 million utility customers in Arkansas, Louisiana, Mississippi and Texas. Entergy has annual revenues of approximately $10.8 billion and nearly 13,000 employees.

B-ROLL FOOTAGE: https://vimeo.com/252240323/727f4b4b14 

For highest quality, download original file.
                                                              -30-
                                                  Twitter: @EntergyLA
---