News Center > Light Up Beaumont!
For Immediate Release
Light Up Beaumont!
01/09/2017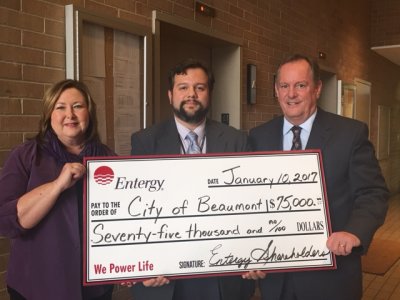 Entergy donation to bring LED streetlights to Beaumont freeways
BEAUMONT, Tex. – Your commute is about to get brighter thanks to a donation from Entergy Texas, Inc. to the City of Beaumont.
Entergy Texas announced a $75,000 donation to the City of Beaumont to help fund the installation of new Light Emitting Diode (LED) streetlights at today's City Council meeting.  These new streetlights will replace old, high pressure sodium streetlights along M.L. King Jr. Parkway, Cardinal Drive, I-10 Service Road, and U.S. 69, 96, 287 Service Road.  The city plans to replace 220 lights as part of this project.
LED streetlights offer many benefits over the current high-pressure sodium streetlights in place. According to the City of Beaumont, LED lights use 48 percent less energy, last five times longer and cut the maintenance hours in half.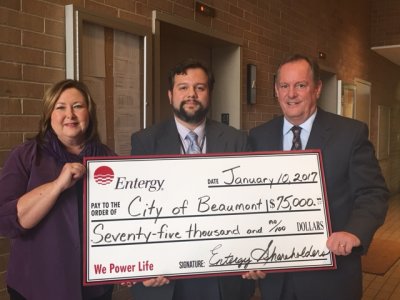 Pictured at the check presentation to the City of Beaumont are: Pamela Williams, Entergy Texas customer service representative; Carlos Aviles, City of Beaumont roadway designer and Vernon Pierce, Entergy Texas vice president of customer service.
"The City of Beaumont is looking forward to installing LED streetlights to provide a better quality of illumination on our streets, with lower maintenance requirements for our staff, and lower operating costs," said Dr. Joseph Majdalani, Public Works Director for the City. "In conjunction with Entergy's City Smart program we want to turn these cost savings in to more opportunities to improve public safety and positively impact our environment."
"We look to invest in our communities to make them better places for all residents," said Vernon Pierce, Entergy Texas vice president of customer service. "These new LED streetlights will help the city save money and energy."
The improvements are made possible through Entergy's Environmental Initiatives Fund. Since 2001, approximately $34 million has been contributed by Entergy shareholders to projects that help support cleaner air, reduced carbon emissions, wetlands restoration, reforestation and more environmental benefits.
The City's participation with Entergy's City Smart Program will grant the city additional incentives for switching over to LED Lamps. For each corridor in the scope of this project that the City replaces an HPS lamp with an LED lamp, City Smart will award the city a check based on the annual energy savings from each fixture. With these incentives the City will have more opportunities to invest these dollars in to more energy efficient lighting.
Entergy Texas, Inc. provides electricity to more than 430,000 customers in 27 counties. Entergy Texas is a subsidiary of Entergy Corporation (NYSE: ETR), an integrated energy company engaged primarily in electric power production and retail distribution operations. Entergy owns and operates power plants with approximately 30,000 megawatts of electric generating capacity, including nearly 10,000 megawatts of nuclear power. Entergy delivers electricity to 2.8 million utility customers in Arkansas, Louisiana, Mississippi and Texas.
-30-
entergytexas.com
Twitter: @EntergyTX
Facebook: Facebook.com/EntergyTX
---