News Release > New substation in Liberty County will help improve service and support economic development
For Immediate Release
New substation in Liberty County will help improve service and support economic development
09/08/2023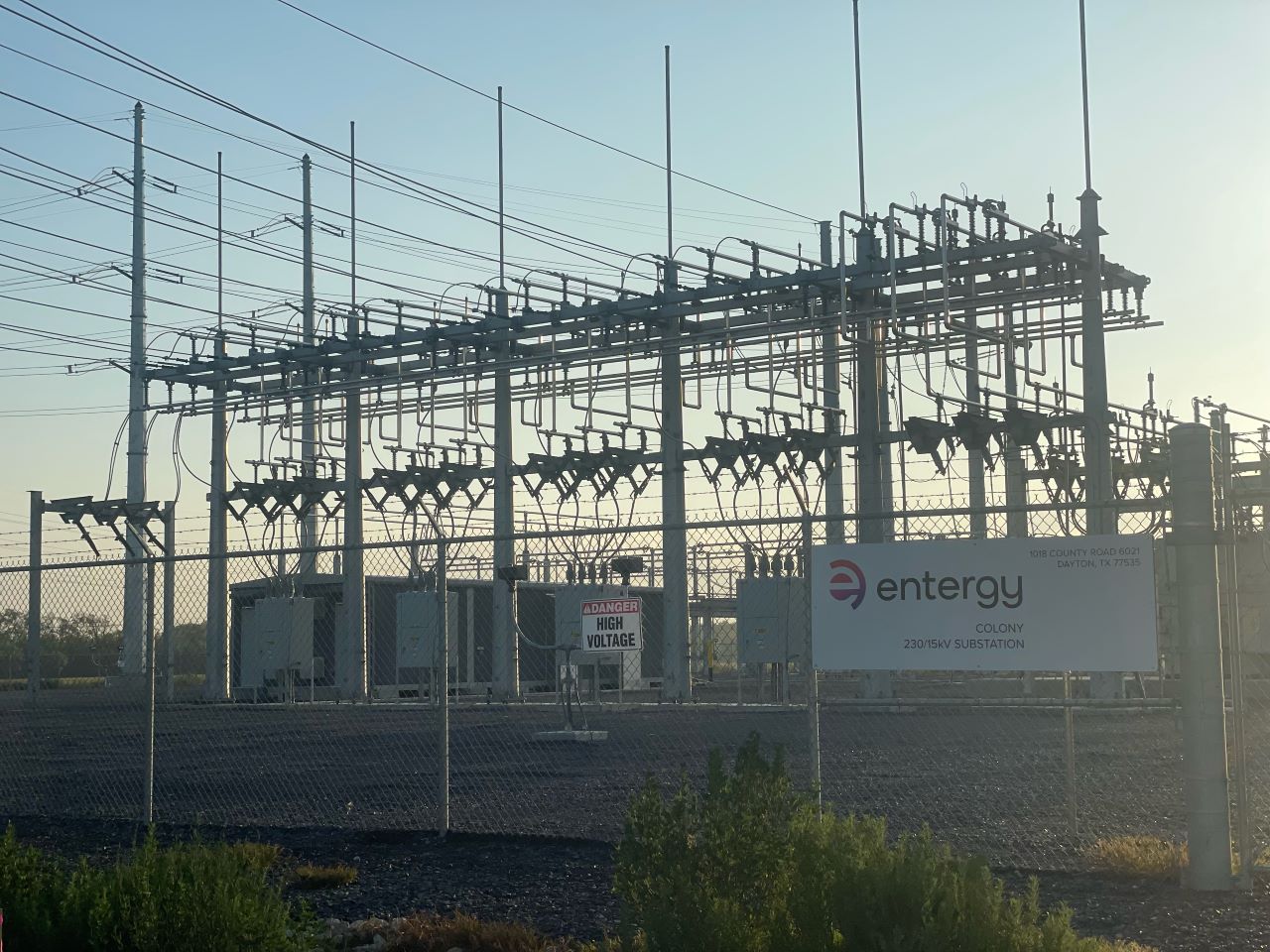 The ~$28 million investment helps strengthen the electrical grid in Southeast Texas.
LIBERTY COUNTY, TX – Entergy Texas successfully installed a new substation that will help improve reliability and support the growing electricity needs in Liberty County. The new Colony substation improves reliability in Dayton, Texas, and will support the expected commercial development along the Grand Parkway area.
"Our customers depend on us to deliver affordable and reliable service to help power their daily lives," said Melanie Taylor, vice president of reliability at Entergy Texas. "The completion of the Colony substation is another example our commitment to strengthen and modernize our electrical system and enable growth throughout our service territory."
Liberty County is home to more than 100,000 people, which is an 11% population increase from 2020. As the area continues to grow, the new Colony substation will play a significant role in supporting the increased energy needs for residential, commercial and industrial customers.
"Liberty County, specifically the City of Dayton, is on the rise as developers, businesses and individuals consider moving to the area,' said Paul Blackburn, Entergy Texas customer service manager. "The new Colony substation will help provide reliable power to customers and support economic growth." 
At Entergy, our business is centered around our customers, which is why we are constantly making improvements to our electric distribution system to deliver reliable power. 
To learn more about our reliability efforts, visit entergy.com/reliability. And to learn more about how the company is developing resilient solutions for a sustainable future, visit entergy.com/future. 
About Entergy Texas
Entergy Texas, Inc. provides electricity to 499,000 customers in 27 counties. Entergy Texas is a subsidiary of Entergy Corporation, a Fortune 500 company headquartered in New Orleans. Entergy powers life for 3 million customers through its operating companies across Arkansas, Louisiana, Mississippi and Texas. Entergy is creating a cleaner, more resilient energy future for everyone with our diverse power generation portfolio, including increasingly carbon-free energy sources. With roots in the Gulf South region for more than a century, Entergy is a recognized leader in corporate citizenship, delivering more than $100 million in economic benefits to local communities through philanthropy and advocacy efforts annually over the last several years. Our approximately 12,000 employees are dedicated to powering life today and for future generations. For the latest news from Entergy, visit the Newsroom.
---