News Center > Nuclear Professionals Return Arkansas Nuclear One's Unit 2 to Service
For Immediate Release
Nuclear Professionals Return Arkansas Nuclear One's Unit 2 to Service
04/22/2020
Taylor Kendrick, Nuclear Communications
|
479-393-9504
|
Mike Bowling, Nuclear Fleet Communications
|
601-214-8808
|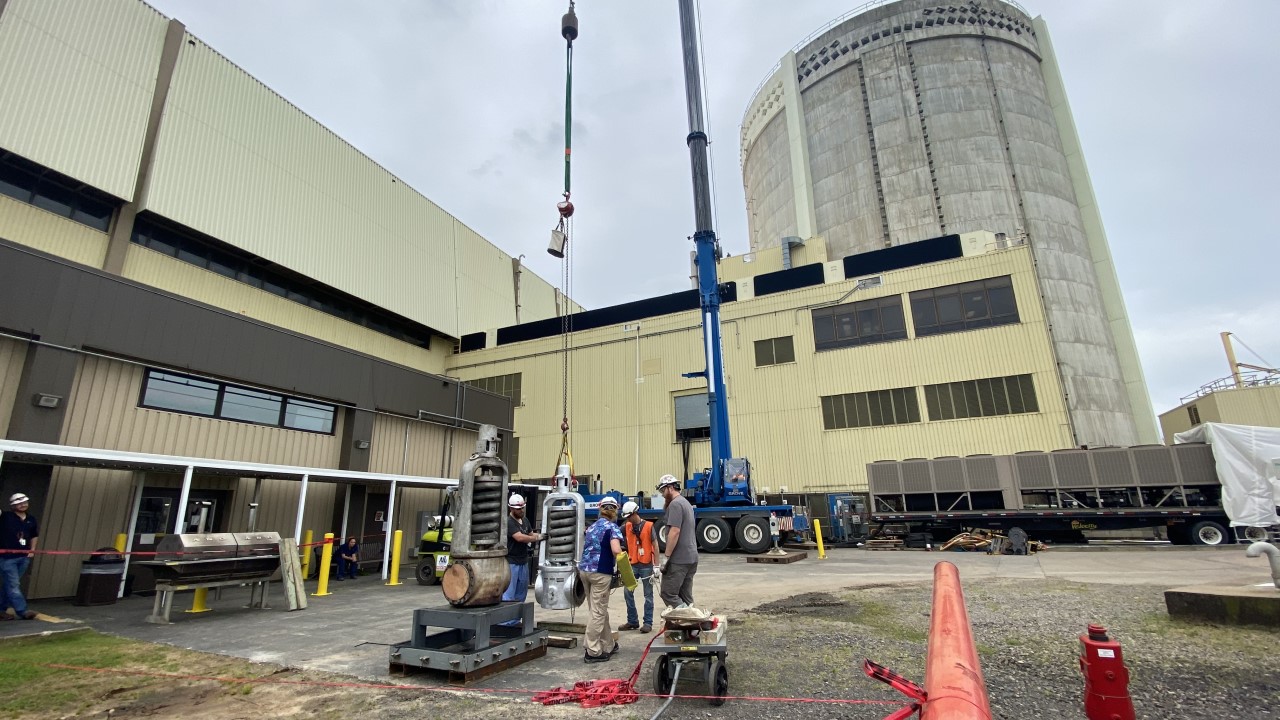 Plant gets $60 million in upgrades 
RUSSELLVILLE, Ark. – Entergy's Arkansas Nuclear One Unit 2 nuclear power plant returned to service Tuesday following a successful scheduled refueling and maintenance outage. While Unit 2 was in its scheduled outage, Unit 1 continued operating reliably, sending clean, carbon-free electricity to the grid.
Entergy continues to make significant investments in ANO and its team to position the facility for additional years of safe, secure and reliable operations. Unit 2's 27th refueling outage continues that positive trend, with more than $60 million in upgrades and improvements that will benefit customers, employees, communities and owners.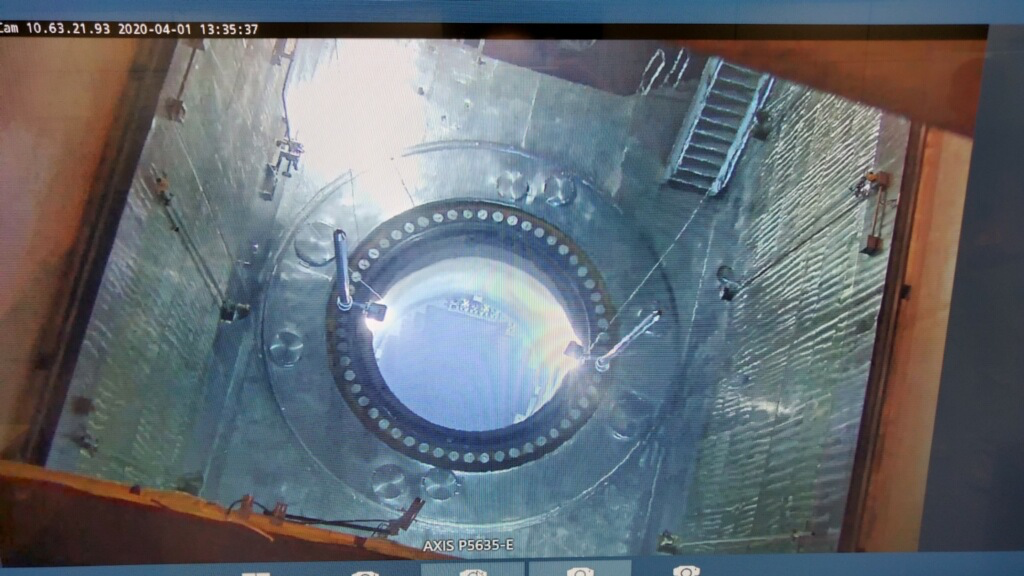 ANO's spring refueling outage provides a unique look inside the Unit 2 reactor that provides safe, reliable energy for the region.
"I am extremely pleased with the nuclear professionalism and teamwork of the Arkansas Nuclear One employees, those supporting from the fleet and our dedicated contracting partners during the refueling and maintenance outage of Unit 2," said Entergy Chief Nuclear Officer Chris Bakken. "The team did a phenomenal job of safely refueling the unit, completing important upgrades and maintenance and returning it to service under extraordinary circumstances. Our key stakeholders depend on us to keep the clean electricity flowing, and ANO is a critical part of this country's infrastructure."
Bakken added, "Imagine if hospitals, nursing homes, police and fire departments and grocery stores did not have electricity, and if those impacted by recent storms had no way of receiving it in the near future. Imagine if students could not anticipate doing their school work on-line, our phones and computers were drained, our refrigerators and freezers were off and there was no way to turn them back on. The situation we are currently facing as a country would be even more dire. I am proud of everyone associated with ANO and our fleet."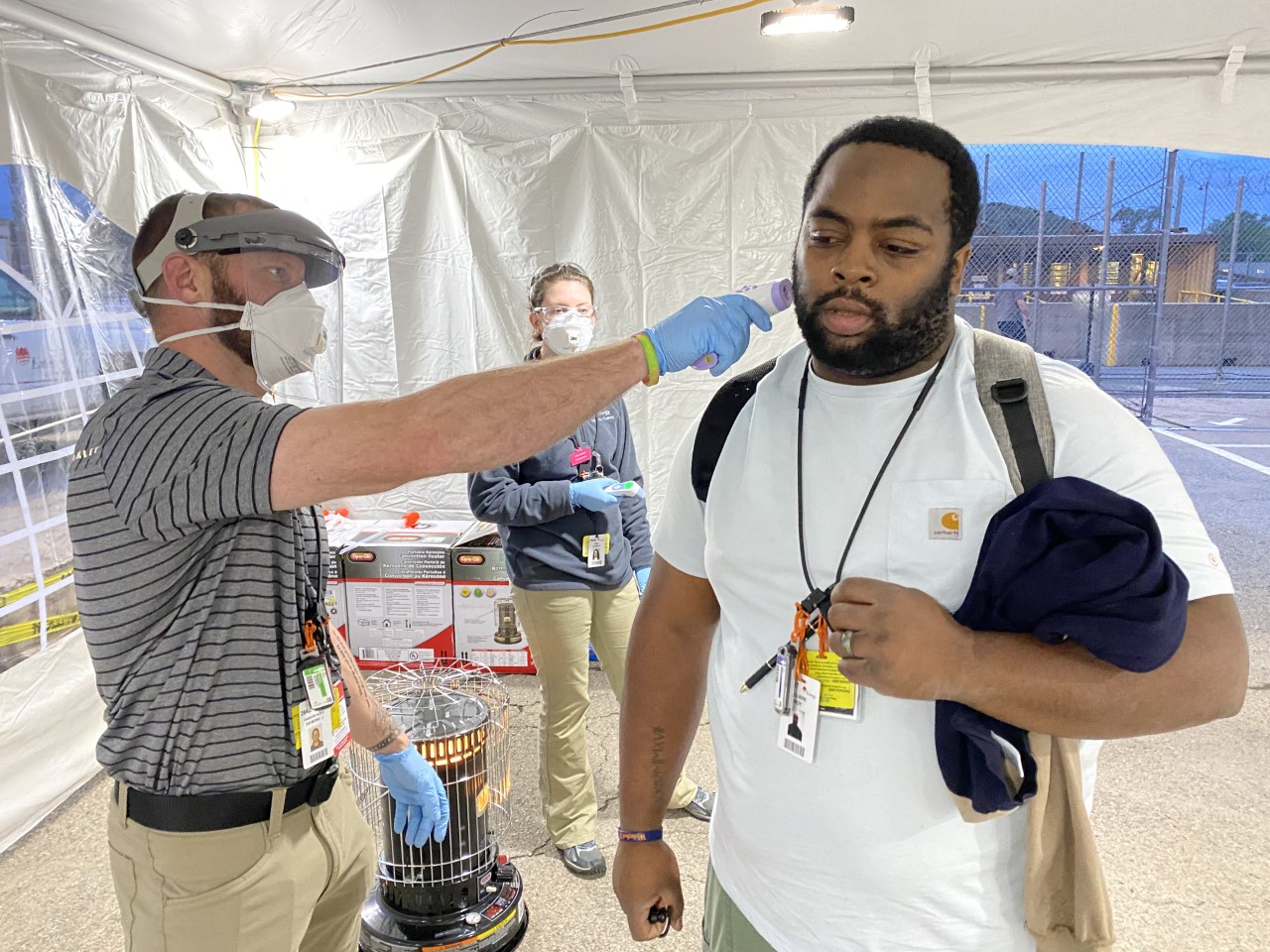 Entergy security officers conduct real-time temperature checks to prevent any workers with high temperatures from entering the plant. Temperature checks, combined with enhanced social distancing, portable handwashing stations and other prevention mechanisms helped ensure a safe refuel.
ANO Site Vice President John Dinelli noted that refueling outages allow the plant "to provide safe and reliable electricity in a cost-effective manner. I commend everyone's focus and dedication during this outage. With more than 1,000 additional contractors onsite, the global pandemic presented new challenges. As an added precaution to protect our workforce, no-touch temperature and general COVID-19 health screenings were implemented, along with additional safety measures around social distancing, sanitizing and face coverings."
ANO's Unit 2 alone produces nearly 990 megawatts of electricity. The unit's most recent refueling outage occurred in November 2018.
An estimated 1,200 skilled specialty workers supplemented approximately 1,100 Entergy employees during Unit 2's outage to complete the refueling and other maintenance projects, which included a low-pressure feedwater heater change-out, the final phase of a cooling tower fill replacement, and a reactor coolant pump bearing change-out.
About Arkansas Nuclear One
Arkansas Nuclear One, in Russellville, Ark., is home to two operating nuclear power reactors, Unit 1 and Unit 2, which generate approximately 1,800 megawatts of electricity for homes, businesses and public facilities in the state.
About Entergy Corporation
Entergy Corporation is an integrated energy company engaged primarily in electric power production and retail distribution operations. Entergy owns and operates power plants with approximately 30,000 megawatts of electric generating capacity, including nearly 9,000 megawatts of nuclear power. Entergy delivers electricity to 2.9 million utility customers in Arkansas, Louisiana, Mississippi and Texas. Entergy has annual revenues of $11 billion and approximately 13,600 employees. More information is available at www.entergy.com.
---