News Center > Sheridan School District Receives $148,000 in Incentives for Energy Efficiency
For Immediate Release
Sheridan School District Receives $148,000 in Incentives for Energy Efficiency
01/21/2020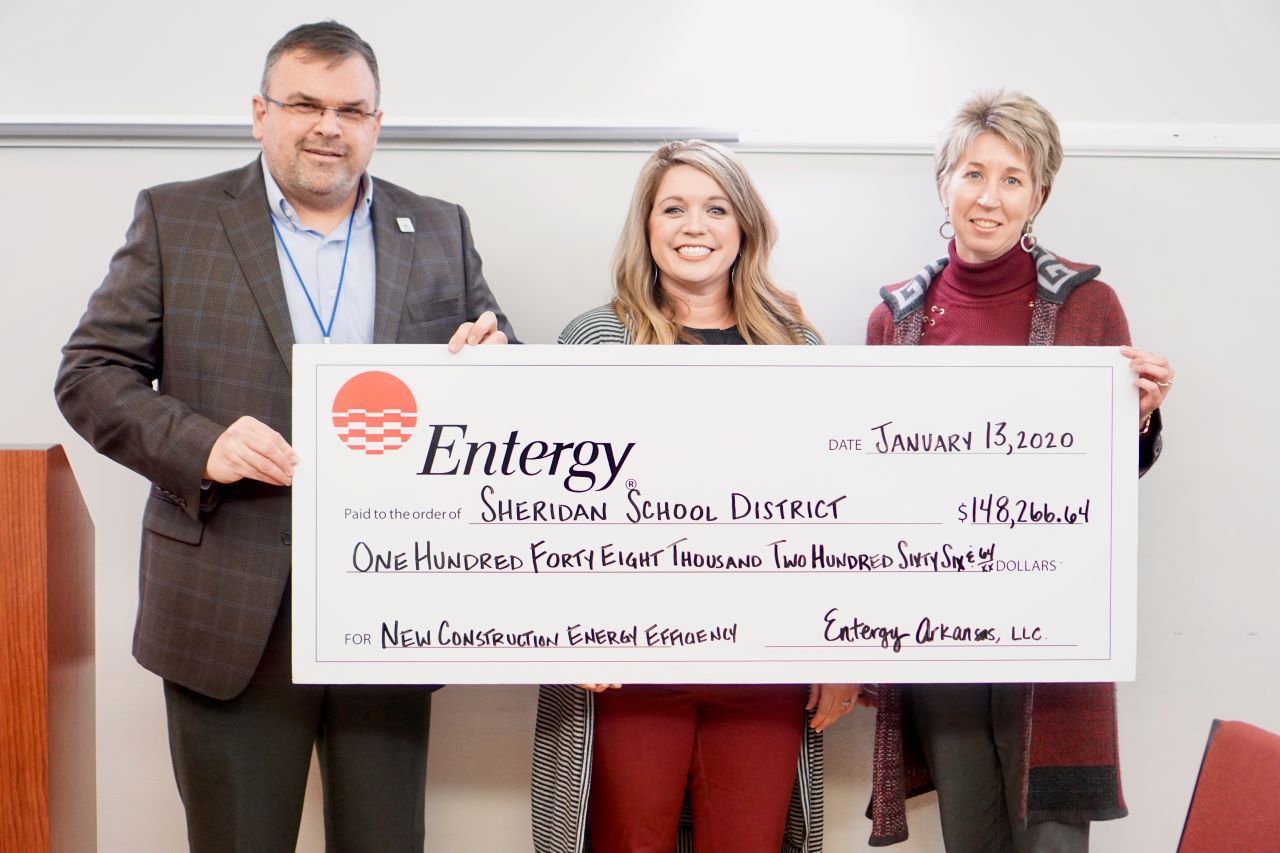 Sheridan School District recently received incentive checks totaling $148,000 from the Entergy Arkansas Entergy Solutions Program. The program provides technical and financial support to help Entergy Arkansas customers identify and implement projects that reduce energy usage. 
Sheridan School District is a public K-12 school district serving portions of Grant County, Saline County and the unincorporated area of East End. As part of the result of a recent millage passing, Sheridan School District is building three new schools. The first two to be completed were the East End Middle School and the Sheridan High School. Sheridan School District partnered with Energy Arkansas and the CitySmart™ Program to utilize energy-efficient HVAC systems and LED lighting and within the schools. 
The improvements will save about 1.1 million kilowatt hours annually, which is the equivalent to eliminating the carbon dioxide emissions from about 90,000 gallons of gasoline, according to Environmental Protection Agency calculations.  
Sheridan School District Superintendent Jerrod Williams said, "We are thankful to Entergy for helping us maximize the energy efficiency in our buildings through the CitySmart™ Program. In 2019, we opened two new facilities, so the decision to participate in this program and install energy-efficient equipment was an easy one to make. Between the Entergy rebates and the long-term energy savings, this program will continue to make a significant impact on our school district because spending less on energy means we can spend more on direct services for our students."
"Taking steps to be more energy efficient helps not only Sheridan School District's bottom line, but all Entergy Arkansas customers because when we reduce the overall demand for electricity, we defer the need to build expensive new power plants," said Entergy Arkansas Customer Service Manager Tongia Gaston. "That's a win-win for communities, companies and the Natural State."
Entergy Corporation is an integrated energy company engaged primarily in electric power production and retail distribution operations. Entergy delivers electricity to 2.8 million utility customers in Arkansas, Louisiana, Mississippi and Texas.  Entergy Arkansas has an award-winning portfolio of energy efficiency programs for both residential and business customers. To learn more about these programs, visit entergysolutionsar.com.
---