Insights > 2021: A Year in Review
2021: A Year in Review
12/20/2021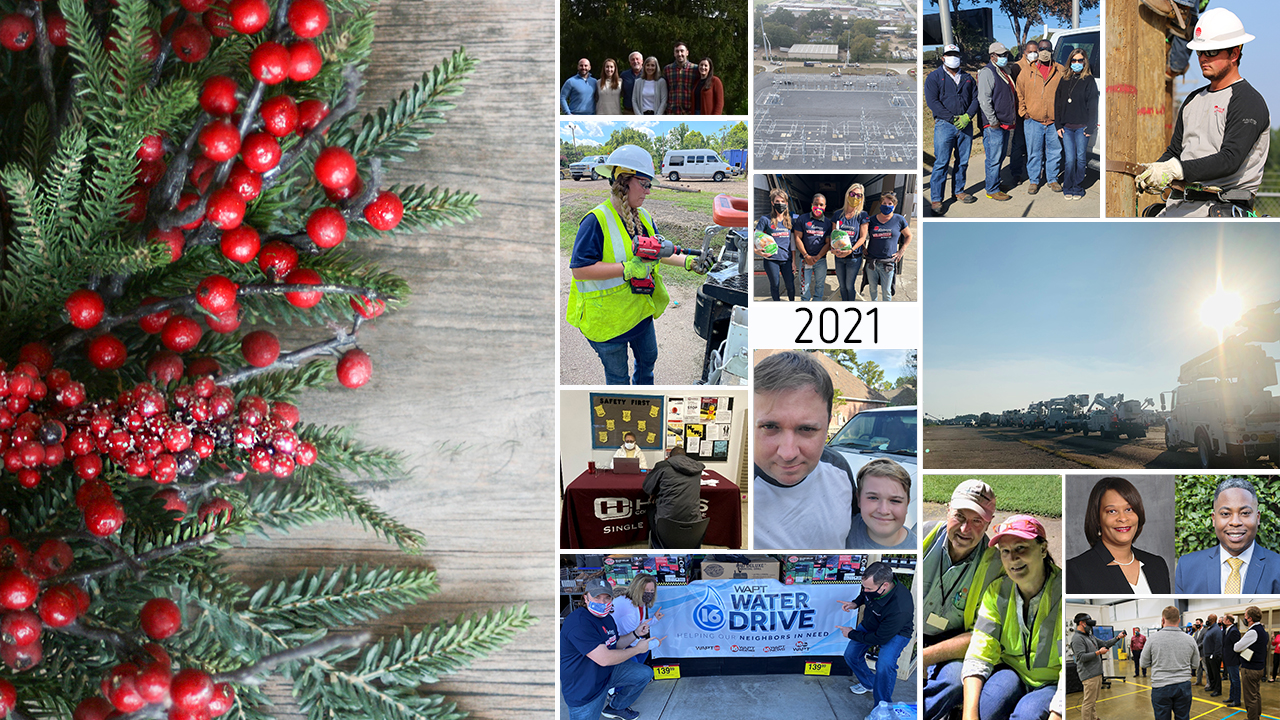 As the year draws to a close, our thoughts turn to all things merry and bright as we remember the past and look forward to a new year filled with hope and promise. It was a busy 2021 at Entergy Mississippi, one filled with silver linings and good news. News about growth and economic development in our communities. About building the utility of the future. And about our employees giving back to the communities in which they live and work.
These are a few of our favorite stories that added sparkle throughout the year:
January
We kicked off the new year with the grand opening of Entergy's new Center of Excellence, a high-tech training facility for new line workers. Located in Clinton, the COE consolidates training for line workers without previous experience from Entergy locations in Arkansas, Louisiana, Texas and Mississippi. The center is a great example of providing our employees with the new equipment and modern technology needed to become the premier utility.
February
When a water crisis hit central Mississippi, we partnered with the Mississippi Food Network and WAPT to collect and distribute more than 1 million bottles of water to our neighbors across the tri-state area. Working over a three-day span, 70 volunteers in seven different locations accomplished this amazing feat!
Also in February, an Entergy retiree and his wife came to the rescue of several women with disabilities who were scared and without power at their independent group home after an ice storm.  
March
In March, Entergy Mississippi completed a $31-million service reliability improvement project that provides a strong, new source of power into a rapidly growing area of the capital city. The new Mill Street substation and supporting infrastructure upgrades support economic growth in Jackson's medical corridor and in the expanding Fondren area. The investment also enhances grid reliability for the entire metro area.
We also highlighted one of our newest apprentices, who reflected on how Entergy's boot camp helped him build the necessary skills to safely restore power in any weather.
April
April showers may bring May flowers, but those flowers aren't the only thing that broke through the ground this month! Our partner, Recurrent Energy, broke ground on Entergy Mississippi's Sunflower Solar facility, a 100-Megawatt solar farm near Ruleville in the Mississippi Delta. It will go into operation in 2022, bringing clean, green energy to our customers and economic benefits to Sunflower County and the Delta. It will also make Mississippi more attractive to industries looking to locate in areas that offer renewable energy resources.
And besides showers, flowers and solar farms, April also brings the surety of taxes. Our VITA volunteers continued to offer free tax-return assistance with our community partners, helping customers receive Earned Income Tax Credits which is one of the most effective tools for lifting low-income workers and their families above the poverty line. Many of our employees and retirees say volunteering with VITA is the most gratifying way they can support their community. 
Story continues after photo gallery.
May
In the competitive world of economic development, everyone is looking for that extra edge. In May, 10 Mississippi communities got help with that in the form of 50/50 matching grants from Entergy Mississippi's Excellerator Competitive Communities program. Now in its fifth year, the program helps county economic development organizations pursue projects that make them more attractive to companies looking to expand or locate new facilities. Congrats (again!) to these winners: Natchez, Inc., Greater Grenada Partnership, Madison County Economic Development Authority, Montgomery County Economic Development Authority, Vicksburg Warren Partnership, Cleveland – Bolivar County Chamber, DeSoto County Economic Development Council, Hinds County Economic Development Authority, Rankin First Economic Development and Tate County Economic Development Foundation.
June
June marked the start of the 2021 Hurricane Season and what a doozy it was! But every cloud has a silver lining, and if there was anything positive that came out of the storms, it's this heart-warming story of a father and son helping out a victim of Hurricane Ida. Entergy Mississippi's David Rose teaching his son Alex  the importance of volunteering to help others and the value of a hard day's work is one of our favorite memories of 2021.
July
It may have been the dog days of summer, but no one was sleeping on the job in July! We had a couple of big announcements around modernizing our grid and improving our service reliability. Entergy Mississippi completed a $37-million transmission upgrade that improves service reliability to customers in the Flowers area of Warren County. This includes the growing Ceres Industrial Park, as well as residential customers. We also sharpened our FOCUS on service reliability in other parts of our service area. Entergy's FOCUS program finds root causes for poor performing devices and addresses those issues. In 2021, our engineers designed 32 projects while also beginning the next round of choosing FOCUS devices to inspect and design. The program has been very successful, as we continually work to improve our grid, looking toward a future where power flows uninterrupted and outages are a thing of the past.
No matter the weather - sweltering heat or frigid cold – anytime is a good time to remind customers about generator safety. As the height of hurricane season approached, we shared a real-life example of how employee Matt Courtney's quick thinking and safety knowledge helped his neighbor avoid a potentially fatal generator situation. 
August
Donna Eubanks made Entergy Mississippi history as our first ever linewoman! She's based in our Brookhaven office and this profile piece in The Daily Leader gives a glimpse into why she chose this profession and what working in her boots is like.
September
"I get by with a little help from my friends," sang the Beatles in one of their more famous tunes. But when a monster storm knocks you off your feet, you need a LOT of help from your friends! When Hurricane Ida made landfall on the Louisiana coast on August 29 as one of the strongest storms on record, the storm didn't spare the magnolia state. Tens of thousands of Mississippians lost power due to downed trees and power lines. Within days, crews from utilities in 18 states came to the rescue, and within a week every last customer who could take power was restored. We could not have done it without them and when we count our blessings this holiday season, we count them among them.
October
By October the new school year was well underway, and several of our employees were actively involved as volunteers with the J-TECHS program on the Tougaloo campus in Jackson. A partnership between Entergy, Jackson Public Schools and Tougaloo college, J-TECHS seeks to strengthen Mississippi's future workforce. The program has been so successful that this year, the Jackson Public School – Tougaloo Early College High School Program presented the "Bringing Excellence and Service Together" award to Entergy workforce development team members Betina Brandon and Alexander Washington, Ph.D. The B.E.S.T. award recognizes those who provide outreach efforts with the early college high school program. Give them a round of applause!!
November
It was big news in November when Entergy Mississippi announced the largest expansion of renewable power in state history! The company plans to replace some aging natural gas plants with 1,000 megawatts of renewable energy, such as solar, over the next five years. Called EDGE for "Economic Development with Green Energy", the strategy is two-fold: give Mississippi an edge in recruiting industry while simultaneously giving Entergy customers an effective hedge against volatile natural gas prices. It also helps the company meet its climate goals. We think that's a win-win for everybody!
This month, we also partnered with Extra Table to help put 1,000 turkeys on the tables of food insecure families for Thanksgiving. Entergy volunteers helped distribute turkeys to food banks in Jackson and Indianola and the company also supported the cause with a financial contribution.   
December
Winter holiday traditions are a big deal in New York City, and there may be none bigger than the annual Rockefeller Christmas Tree Lighting, which took place Dec. 1. But what was an even bigger deal to us here in Mississippi, is that the fabulous 79-foot Norway Spruce chosen this year was donated by none other than an Entergy employee from right here in Jackson! Devon Price, Entergy Corporation director of nuclear fleet outage services, and his family own property in Elkton, Maryland, which was where the tree comes from.
Ending the year on a high note, Site Selection magazine recognized Entergy as one of the nation's top 10 electric utilities in economic development for the 14th year in a row. Attracting businesses like AWG, Google and Amazon to invest in Mississippi developments, innovative programs Entergy offers and the more than $659 million invested and 2,360 jobs we helped bring to Entergy Mississippi's service area were part of the selection criteria.  
---