Insights > Back to the Superdome: Rogers Named Entergy Lineman of the Game for Saints' Season Opener
Back to the Superdome: Rogers Named Entergy Lineman of the Game for Saints' Season Opener
08/01/2019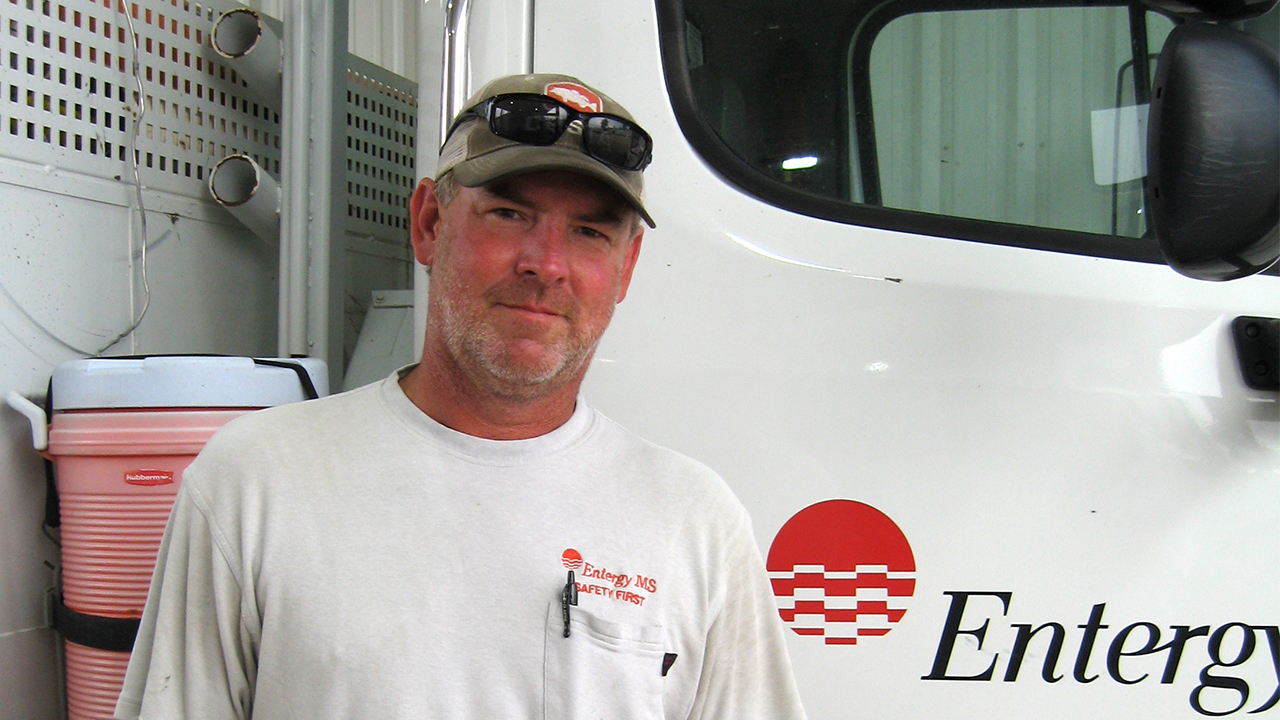 When you share your hometown with Archie Manning, it's hard not to be a New Orleans Saints fan. As a boy, Kevin Rogers moved to Drew, Mississippi, and became an instant fan of the town's most famous football son.
"Archie was a big hero from our town, and I became a Saints fan because of him," said Rogers, a senior lineman in Entergy Mississippi's Cleveland office.
Rogers vividly remembers attending a Saints vs. Houston Oilers game in the Superdome with his baseball team when he was about 12 years old. He was in awe of the city, its tall buildings and the stadium. That experience sealed his appreciation for Saints football, NOLA and its cuisine.
He's likely to be in awe again on Aug. 9 during the Saints' pre-season opener against the Minnesota Vikings. Rogers will be recognized on the field as Entergy's Lineman of the Game, the first for this football season. He was chosen for his excellent job performance, commitment to safety and community involvement.
A lineman for 19 years, Rogers has responded to many storms close to home and afar. He was one of many linemen who restored power and hope after hurricanes Katrina, Ike and Gustav. He is a past chairman of the Entergy Mississippi Safety Advisory Board and has served as an instructor for the company's safe driving program. Earlier this year, Rogers and two of his colleagues received the company's Presidential Lifesaving Award for rescuing a stranded motorist from floodwaters.
Though utility work is Rogers' second career, he'd grown up around linemen and knew it would be a rewarding job.
"I got hurt playing baseball and was figuring out what I wanted to do," the former San Francisco Giants' pitcher explained. "My father-in-law worked for the company and encouraged me to become a lineman. I'm glad he did, because I love it.
"There's a lot of uncertainty in what you'll be doing every day, especially when we're responding to storms. It's also very rewarding work. There's always a need, and there's a special need when a storm causes power outages and upsets people's lives. We're so used to having electricity, and it's inconvenient when the power goes out. It's a good feeling to see the power come back on, especially when we're trying our best to help others who are affected by a devastating situation."
There's no uncertainty around going back to the Superdome 40 years after his first visit. Rogers is looking forward to being in the electric atmosphere of the stadium and the city. As a self-proclaimed 'wannabe' chef, he's also already thinking about what he's going to eat. 
"We love Cajun cooking and that's part of the New Orleans culture we will definitely take in on this trip," he said.
Rogers' wife, Kim, who is a teacher, will join him for the game. He said it's the perfect time to get away before the school year gets into full swing. The couple stays busy with their daughters Riley, a radiology technician, and Tate, a 10th grader and multi-sport athlete. When he's not coaching his daughter's softball team or volunteering with his church, Rogers spends as much time as possible outdoors.
---