Insights > Employee Helps Students Succeed as Posse New Orleans Volunteer
Employee Helps Students Succeed as Posse New Orleans Volunteer
03/15/2018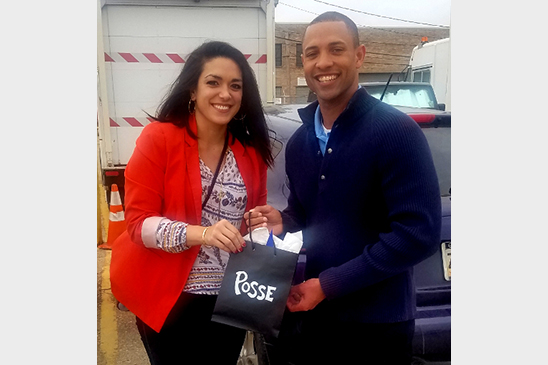 Tonia Salas, career program manager for the Posse Foundation, presents a thank-you gift bag to Drew Thompson for his participation in a job-interviewing workshop for students. 
Entergy New Orleans' customer service representative Drew Thompson appreciates the support he received to make a successful transition from high school to college. Thanks to Posse New Orleans, he's returning the favor for a new generation of students.
Thompson was one of several local business leaders who recently presented a career workshop for Posse New Orleans students. The national Posse program provides college preparation, access and support for high-school scholars and enables many low-income minority students to attend Tier 1 universities.  
The program's name refers to the practice of sending scholars to campus in multicultural teams — or posses — of 10 students who provide critical support for one another.
"In high school, I participated in a similar program called INROADS that helped students make the transition to college," Thompson said. "When I needed help in a subject, they would provide tutors and other support services. It was the same concept of a community of students helping each other." 
After graduating from Sarah T. Reed High School in New Orleans, Thompson received an electrical engineering degree from Southern University A&M College and an MBA from the University of Phoenix. 
During the Posse workshop, Thompson and other business leaders reviewed job interviewing basics, participated in mock interviews and gave feedback to help future job seekers polish their interviewing skills. After the program, he received personal thank-you cards from students.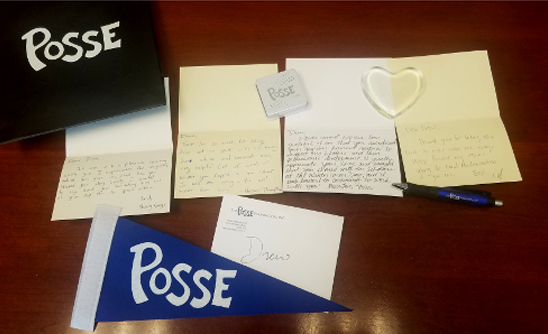 After helping present a job-interview workshop, Drew Thompson received personal thank-you notes from Posse New Orleans students.
Thompson made a point to reach out to Posse New Orleans when he became president of Entergy New Orleans' Diversity & Inclusion Council. After learning about the program, he wanted to get involved.
"Drew regularly looks for opportunities to work with and mentor others in the community," said Tad Patella, senior customer service manager for Entergy New Orleans. "He selflessly devoted his personal time to meet with students, share his experiences and answer questions. I'm sure his involvement in the workshop made a positive impact." 
Thompson said the next Posse workshop will focus on writing effective résumés, and he plans to encourage his co-workers to help students succeed by becoming Posse volunteers. 
"Entergy's support has been critical to Posse New Orleans' success, and I want to help continue the partnership," Thompson said.  "It's a very positive program, and I appreciate the work they're doing. They're going to make a difference in kids' lives." 
---