Insights > Entergy Arkansas Helps With Saline Solution
Entergy Arkansas Helps With Saline Solution
10/29/2021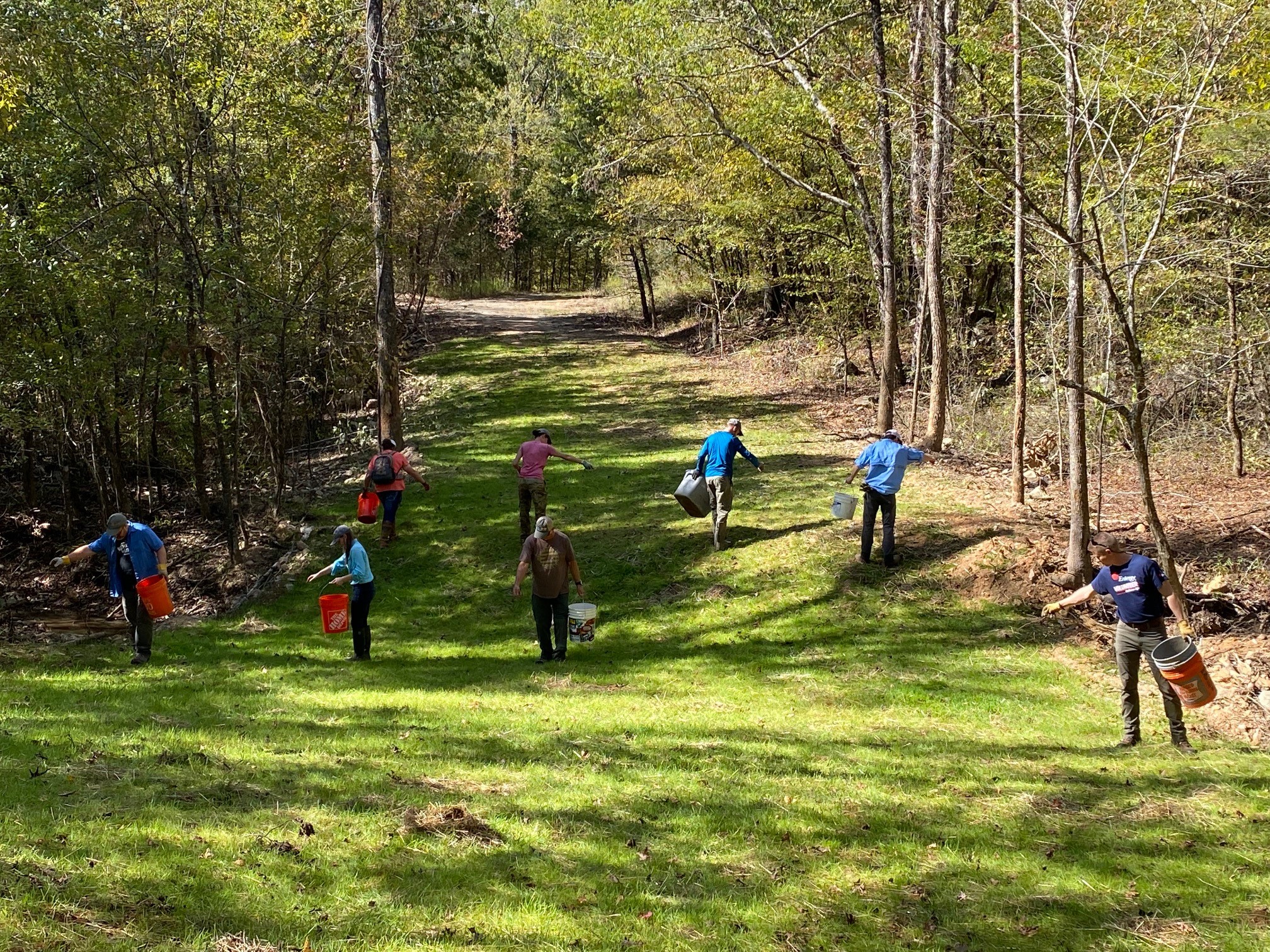 Entergy Arkansas is a long-time supporter of The Nature Conservancy, both financially and with donated talent and muscle. We recently donated $40,000 from the Entergy Environmental Initiatives Fund toward completion of the Saline River project described below, and former Entergy Arkansas Chairman and CEO Hugh McDonald is chairman of the board of the Arkansas Chapter of The Nature Conservancy.  
The Nature Conservancy explains the project as follows:
October 21 The Nature Conservancy staff, Entergy Arkansas volunteer David Wasson, and staff from the Arkansas Natural Heritage Commission gathered at the Alum Fork Natural Area in Saline County to collect native seeds from a variety of blooming grasses and plants and redistribute them along a recently restored stretch of stream. 
Just a few months prior, The Nature Conservancy had removed a major barrier – an old, washed-out road and culvert system – from this site situated along a tributary to the Alum Fork of the Saline River. The crossing here had been impassable for years, yet was causing erosion that ultimately landed in the Saline River, and that was preventing fish from migrating up and down the river system.
The restoration involved completely removing the old crossing and big metal culverts, decommissioning the road and rebuilding the river channel to once again connect it to its historic floodplain. The final phase was to stabilize the channel by planting native vegetation along its newly formed banks, a task the volunteers were completing this day.  By spring, the hope is visitors to the site will experience a walk through newly emerged plants and shrubs to find a healthy, meandering stream, and perhaps never know it was once a dry, dirt road.   
Thousands of old, outdated crossings like this exist on rivers and streams throughout the Ouachitas and Ozarks. The Nature Conservancy works with communities, landowners, state and federal agencies, and other partners to remove and repair crossings and other major sources of sediment to improve quality of water for people and wildlife. This restoration on the Alum Fork was one of the first barrier removals in the Saline River watershed, the start of more projects to come. Support from Entergy's Environmental Initiatives Fund helped launch this work and attract additional public funding to help conserve the Saline River.   
---