Insights > Entergy Employees Continue the Earth Day Momentum
Entergy Employees Continue the Earth Day Momentum
06/26/2017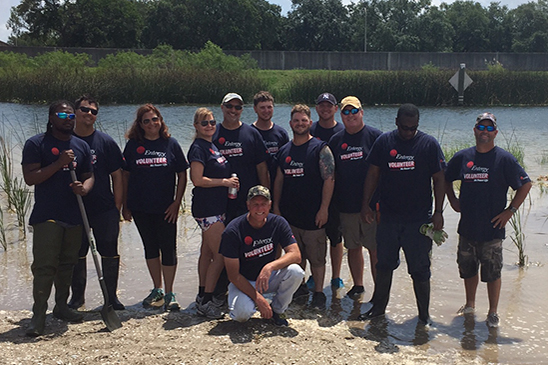 The official Earth Day events may have taken place in April, but that didn't stop Entergy employees across the metro New Orleans area from volunteering in local environmental projects long after the celebration was over.
From clearing invasive plants to rebuilding a marsh to picking up trash in the heart of the city, employee volunteers were glad to help. Let's take a look: 
Spring Sweep  
The largest effort was the Lake Pontchartrain Basin Foundation's Spring Sweep presented by Entergy where employee volunteers were among 350 people tackling projects in Orleans, Jefferson, St. Charles and St. Tammany parishes on May 20. The effort collected more than 4,000 pounds of trash from lakefront streets and ditches.
Entergy New Orleans, Entergy Louisiana and corporate employees focused their efforts on two large projects in Orleans Parish – one in City Park and one at Bayou St. John.
In City Park, Entergy volunteers gathered to eliminate invasive plant species, including cutting down 23 large, invasive Chinese Tallow trees, and remove standing debris along waterways. Not only did they remove the invaders, they also provided vegetation personnel to grind large branches that can later be used as mulch. Through this effort, they gave native plants a chance to flourish and enhanced this natural area for all to enjoy.
At Bayou St. John, Entergy volunteers helped rebuild a section of the urban marsh where the natural waterway enters Lake Pontchartrain. As part of the effort, volunteers cleaned an 8,000-square-foot area, repaired 50 feet of containment dike by placing 120 sand bags to reinforce it, and re-graded the land to make it more suitable for wetland planting. Once the area was ready, the volunteers planted California bulrush and Spartina alterniflora to help protect the marsh from future erosion.  
Lafitte Greenway
Prior to that, Entergy volunteers picked up 130 pounds of trash along Lafitte Greenway, a 2.6-mile green corridor in the middle of New Orleans that connects neighborhoods from City Park to Armstrong Park. The Greenway, which was originally a canal connecting Bayou St. John to the edge of the French Quarter, opened in November 2015. It hosts a bicycle and pedestrian trail and is a favorite among locals.
"We're proud to sponsor events such as these and to give back to the communities we serve in such a personal and meaningful way," said Entergy customer service representative Ann Johnson, who was part of the team coordinating the Spring Sweep events. "By taking care of outdoor green spaces, or helping to rebuild marsh, we're not only helping the environment, but we're also making the area in which we live and work a place everyone can enjoy."
Entergy customer service specialist Demetric Mercadel, who worked with the Friends of the Lafitte Greenway to coordinate the April cleanup effort, agrees.
"Volunteerism helps to make this company great and is just one way we power life," said Mercadel. "It's so gratifying to have this natural space in the heart of the city that has spurred revitalization after Hurricane Katrina destroyed so much and is attracting significant residential and commercial development. We're happy to join with others to maintain and preserve its beauty."
Learn more about our environmental commitment and efforts, or how our employees give back through volunteerism as just some of the many ways We Power Life.
---