Insights > Entergy employees "Stuff the Bus" as the school year begins
Entergy employees "Stuff the Bus" as the school year begins
08/07/2016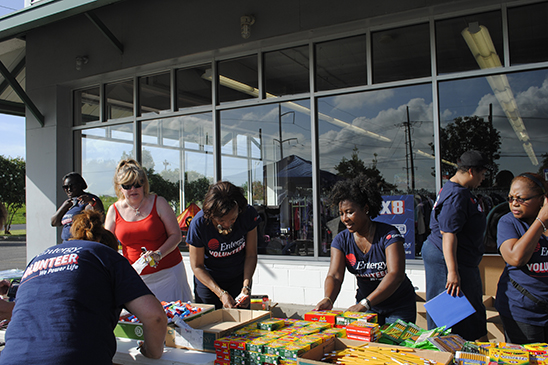 By Ja'Mesha Holmes
Returning to school can be exciting, especially when students are eager to put their new school supplies to use. But it can also be a stressful time for families who have trouble affording the necessary supplies to start the year off right. Entergy employees were proud to be able to alleviate some of those troubles again this summer through the annual Stuff the Bus campaign in New Orleans and Baton Rouge last month.
At the end of the Stuff the Bus school supply drive, we delivered approximately 1,000 pounds of school supplies to two Walmart locations in Baton Rouge and the Salvation Army in New Orleans. Employees got involved with donating, loading the trucks and distributing the supplies. The company also got exposure from TV stations WBRZ and WVUE during live broadcasts.
At Entergy, we want every child to succeed, and we realize that having adequate materials is vital for their education. Without the necessary tools, students begin the year at a disadvantage. With the help of generous donors, we were able to help power life for communities by providing school supplies for hundreds of kids.
Our vision was through the volunteerism of the employees who wanted to contribute to the lives of children. We all know that education is essential and that investing in children's education prepares them to be future leaders. These same leaders may one day be Entergy employees and power life for others. Seeing the looks on the children's faces as they received their backpacks full of supplies and their parents' gratitude was priceless. Knowing that we made a difference was even more rewarding.
Employee Tamera McGuire said, "It's amazing to see how many school supplies were donated. This event gave many children the shopping experience of picking their own items to prepare them for a good start to the upcoming school year. Being a volunteer is an energizing adventure for me. It can take dedication and hard work, but the reward of seeing how much you can help your community makes it all worth it. I'm glad I was able to share my energy with the dedicated team of volunteers who made the school supply drive successful."
This multicity initiative involved diversity and inclusion councils from Entergy Louisiana, legal, Entergy Shared Services and human resources, and Entergy New Orleans. Supply collection stations were hosted at various Entergy offices. Individuals donated items including pens and pencils, loose-leaf paper, spiral notebooks, pocket folders, scissors, glue, glue sticks, crayons, erasers, pencil pouches and more.
---