Insights > Entergy Waterford 3's Kyle Sanford – Why I Volunteer
Entergy Waterford 3's Kyle Sanford – Why I Volunteer
04/06/2016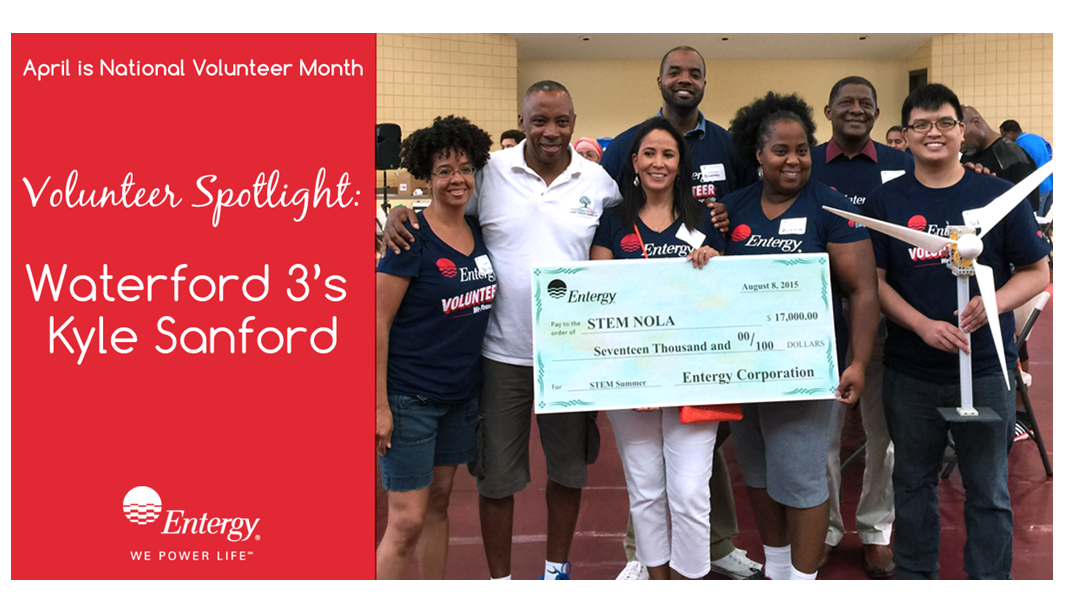 I volunteer because I am the product of several individuals who took time from their busy life to help me grow into a man. Their investment taught me that it is everyone's responsibility to help others achieve a common goal.
I believe that volunteering is the ultimate expression of the goodness in human relationships. As a volunteer, I am filled with a sense of joy and happiness to see my community grow around me. I know that, ultimately, my time and efforts allow others to foster empathy and philanthropy, passing on their desire to contribute and help.
And now I stand on the shoulders of giants, with the means and resources to help those as I have been helped. I do this through organizations that offer aid to communities including Entergy, STEM NOLA, Habitat For Humanity, Alpha Phi Alpha Fraternity Inc., Greater Philadelphia Baptist Church Food Bank, Rotary Club Intl. and Boys & Girls Club of America.
All of the organizations I have joined and work through offer great opportunities for growth and change, and I'm proud to be a part of each and every one. But I have to say that the one volunteer effort that affected me the most was while volunteering at the Boys & Girls Club of America.
The children who attend the organization's programs, along with their parents, asked me to help them form a tee-ball team. I spent time writing letters, petitioning and making calls to not only form a team but to secure sponsorship for the team. Our efforts paid off and the team was formed – but we were missing one thing – a coach. I did the only thing I could do. I filled the position.
I'm proud to say that after a lot of hard work and effort, we were rewarded by taking home first place in our division. You can't take that moment away from my team or me. I will never forget the impact it had on me, and neither will they.
---